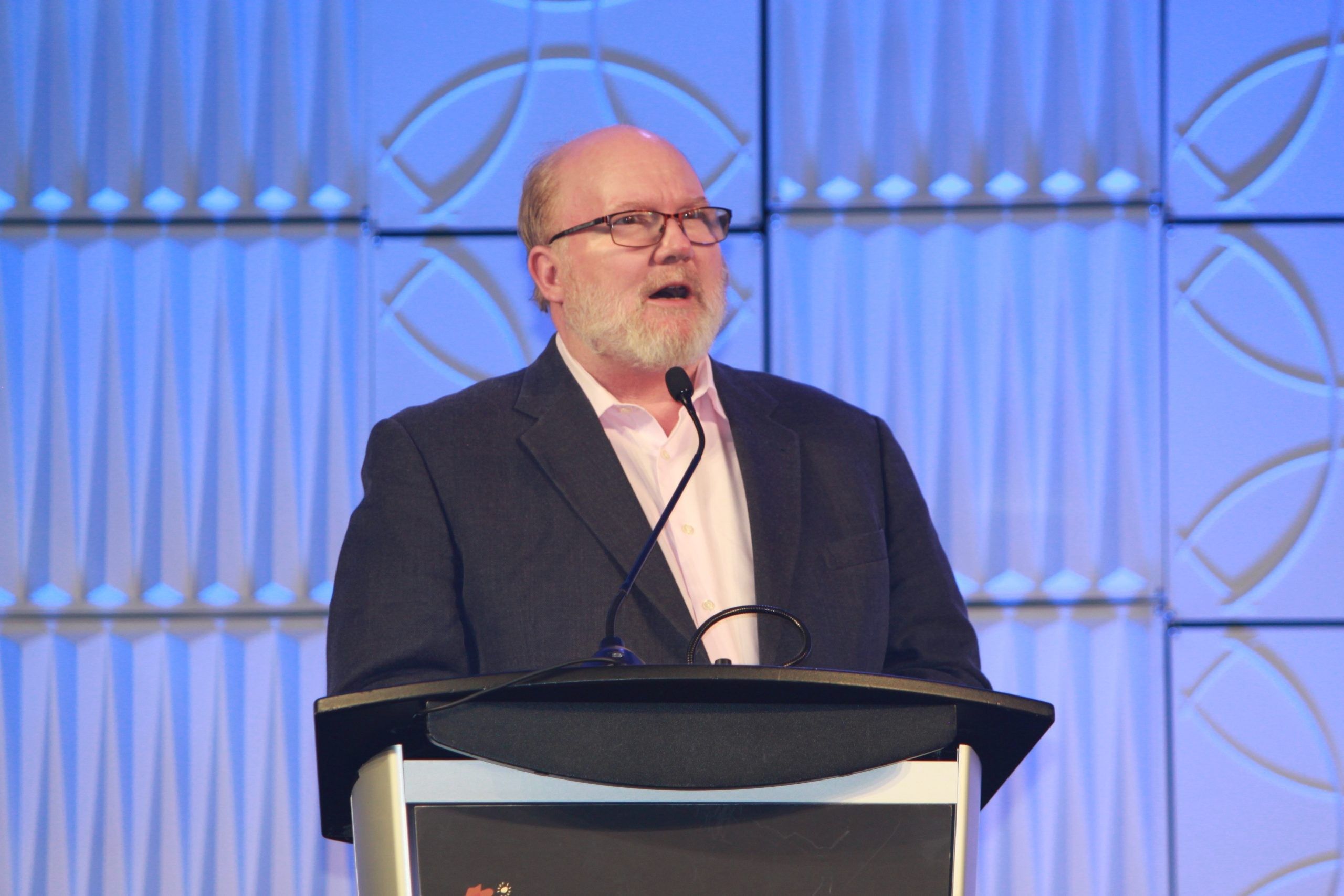 THE U.S. HOTEL industry is "beginning to get back to getting back to it," according to a speaker at The Lodging Conference 2022, held Sept. 19-22 in Phoenix. More than 2,500 people attended the event at the JW Marriott Desert Ridge Resort, continuing the industry's return to normalcy after more than two years of pandemic.
Talk of the economy during the conference was mostly positive, though concerns about the labor shortage remained high as well as some apprehension about overall economic stability. Women were strongly represented on the stage with the awarding of the annual Castell Award. AAHOA's leadership team also contributed to the conference conversation.
What the experts said
On the second day of the conference came reports from several different market research firms probing the state of the industry. They included Bruce Ford, senior vice president and director of global business development at Lodging Econometrics.
"Welcome to Phoenix. Welcome to the Lodging Conference and welcome to the beginning of the recovery for the hotel business," Ford told the audience during his panel, Speed Stats Part II. "And when I say the beginning of the recovery, we've seen lots of different stats so far, and we're talking about maybe, and somehow, and this might go. But, the most important thing that you should feel in the industry right now is we're beginning to get back to getting back to it."
Ford said the pipeline is currently bloated as developers announce more hotels than they open. People are trying to pick up the pieces, he said, but the rising number of hotel transactions tell him some are still selling and buying assets.
"We're also still renovating assets, we're converting assets and we are seeking third party management," Ford said. "So, the tools are really all in play right now."
Research firm HotStats has collected profit and loss data from more than 10,000 hotels and found some positive trends, said Michael Grove, the company's chief operating officer.
"Looking at, for instance, at revenues, I never thought we would be where we are right now," Grove said. "Overall, we are back where we were in 2019 at the same time, and that has been for the last few months."
The industry continues to recover, albeit in unexpected ways, said Mark Lomanno, partner and senior advisor at Kalibri Labs
"This has been a very unusual recovery in that it's the first time in the history of the industry where ADR has led to recovery as opposed to demand and occupancy," Lomanno said. "What we think is going to happen is going forward the rest of 2022 and into 2023 is that it will turn into a more normal looking recovery with demand getting stronger and ADR plateauing."
The hotel owners and operators on the conference's panels also shared mostly positive feelings. However, the celebration was muted by certain realities.
The professionals' opinions
So far, 2022 has gone well for Noble Investment Group, including several hotel acquisitions and a recent expansion of its leadership team. The company's leader, Mit Shah as CEO, on Sept. 9 was named 2023 Hospitality Executive of the Year by Penn State School of Hospitality Management in the College of Health and Human Development and the Penn State Hotel & Restaurant Society.
"If we go back to just what everybody thought about the economy coming out of the second quarter earnings report, some of you saw company after company, from Amex to Hilton, Marriott and REITs in our space, all beat guidance," Shah said during the conference's "A View from the Top panel." "I believe that we're all feeling the impacts of dollars coming into the system and trying to get soaked back up. And so, the real question is, can we move rate pricing power faster than the other kinds of spending slow down and interest rates go up? I think we feel a lot differently about it than we did six months ago."
Shah had mixed expectations for hotel transactions in 2023.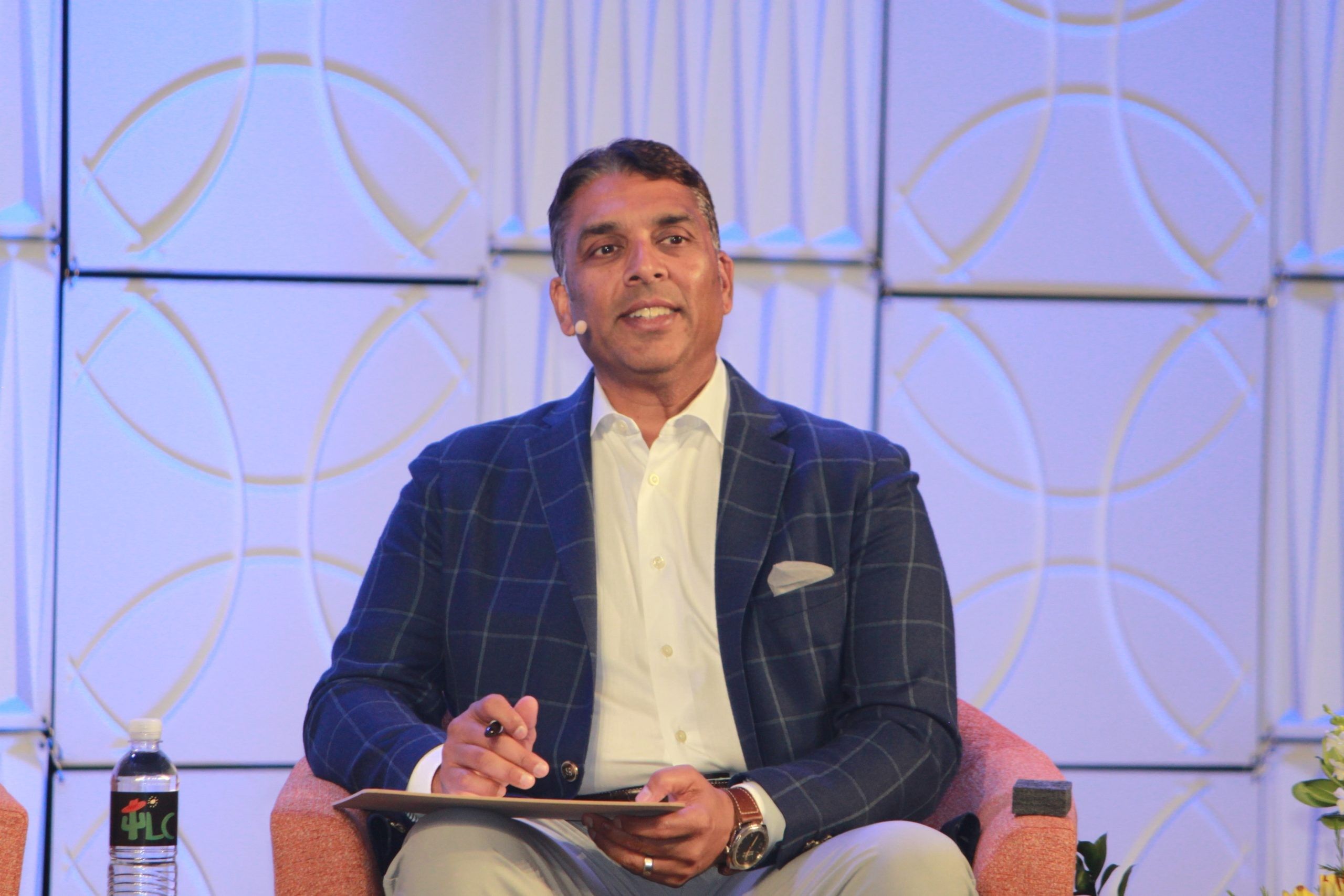 "There's going to be this place where budgets will come in, they'll look positive, but with less growth than I think a lot of people expect and you'll have maturities that are coming due," Shah said. "There was $236 billion in lodging loans originated in 2017, '18 and '19, and you've got CAPEX that hasn't been spent in hotels for the better part of three years. All of those things combined are going to put a number of different stresses on the marketplace."
He expects to see greater emphasis on cash deals resulting in "a lot of interesting dynamics" in the second half of this year.
"The other thing just keep in mind, my last point, is that there's no permanent capital market right now," Shah said. "There's no place for these loans in which to go. These large banks that have historically led can't make a whole lot of new loans unless they get paid off."
Overall, the market is in a better position, said Mark Purcell senior vice president for development in North and Central America for Accor, during the "Deals, Development, M&A" panel on the first day of the conference.
"Some of the really tough supply chain issues have gotten a lot better," Purcell said. "The biggest issues we have right now are higher energy costs, higher insurance costs, higher wage rates, double digit increases in wages over the last 12 to 18 months. But fortunately, you can combat that by raising your rate every day."
The supply chain disruption from earlier in the year had forced many hotel operators to get creative with finding material from multiple sources, said Brian Quinn, chief development officer for Sonesta Hotels & Resorts. That's no longer necessary.
"I think the blessing of inflation is they're finally raising rates, so we're able to right now outpace additional operating costs," Quinn said. "For right now, we continue to outpace our expenses for the most part. But be careful, because there's a cap to that, we can't do that forever."
Chip Ohlsson, executive vice president and chief development officer for Wyndham Hotels & Resorts, also advised cautious optimism about improvements in the hotel industry.
"If you'd asked me six months a year ago, it would have been something else. But right now, there's uncertainty in the marketplace of where the growth is going to come from," Ohlsson said. "Is it conversion? Is it new construction? What segment is it going to come in? And trying to predict the future is almost an impossibility. So being prepared and making sure that we as a company, continue to innovate, and look at things differently and not fall back on our laurels, I think that's to make sure they're always looking for the next great thing for customers."
Speaking from the chair
Neal Patel, chairman of AAHOA, took to the stage on the last full day of the conference for the "Leaders in Hospitality" panel. The labor shortage was one of the first subjects he addressed, saying it was a major issue for the association's members.
"In 2019, AAHOA did a survey of the membership when it came to labor challenges because that is our number one challenge and continues to be our number one challenge," Patel said. "In the survey, 91 percent of the hotels had job openings. And COVID definitely did not help. Right now, if you were to ask the same question, it'd be 100 percent."
Patel said new technology that surged in the pandemic has helped. In his own company, Blue Chip Hotels, they were having a hard time finding labor despite paying competitive wages.
"At night, we had to shut down our offices because of a lack and shortage of labor," he said. "Now we have a kiosk, which connects to you and someone who's sitting in India, and it's costing me $8 an hour at the same time. It can accept cash, it will give you change, and at the same time also prints your key for the room."
Technology may not be a final solution to the problem, but it is likely to remain helpful.
"Once the labor does come back, hopefully soon, then the kiosk will remain there. But now my guest service will now be more of a concierge, helping guest out with the people who actually want to chat," Patel said.
Later, however, Patel said the technology that should be developed may not include one of the most common solutions offered today, cloud-based apps.
"Technology, I think that is the future, but the cloud is not the future," Patel said. "We need to decentralize our servers so it's not that easy to hack them. And when you decentralize things, you're splitting everything up in different fragments, and you're making it so much safer."
Another subject Patel addressed was the ongoing threat posed by unregulated short-term rentals to traditional motels.
"Going back to 2004, my family and I moved from India, we had a 20-room hotel. Every weekend, we went to Blockbusters and rented a movie for family time," Neal said. "And then Netflix and other streaming services took over the market share. I think that is exactly what's happening with our industry right now and regulation has a lot to do with it."
Recently the AAHOA board unanimously decided to launch a short-term rental bill which will take the power to regulate the rival business away from the states and give it to the local authorities, Patel said. Just in Nashville, short-term rentals bring in about $30 million a month.
"That's the market share going away from our industry into these unregulated homes or hotels in different neighborhoods, and we're trying to avoid that," he said. "I think we have the membership on the ground, they'll continue to push this at the local and the state level. And that is our goal is how can we make all 50 states adopt this bill which we'll be launching."
A study in leadership
In July, the Castell Project and the American Hotel & Lodging Association Foundation named Leslie Hale, president and CEO of RLJ Lodging Trust and vice chair of the AHLA board of directors, as winner of the third annual Castell Award. During the conference, Hale accepted the award, which honors a female trailblazer in the hospitality investment arena who paves the way for more women to rise to the top.
Peggy Berg, founder of the Castell Project, introduced Hale.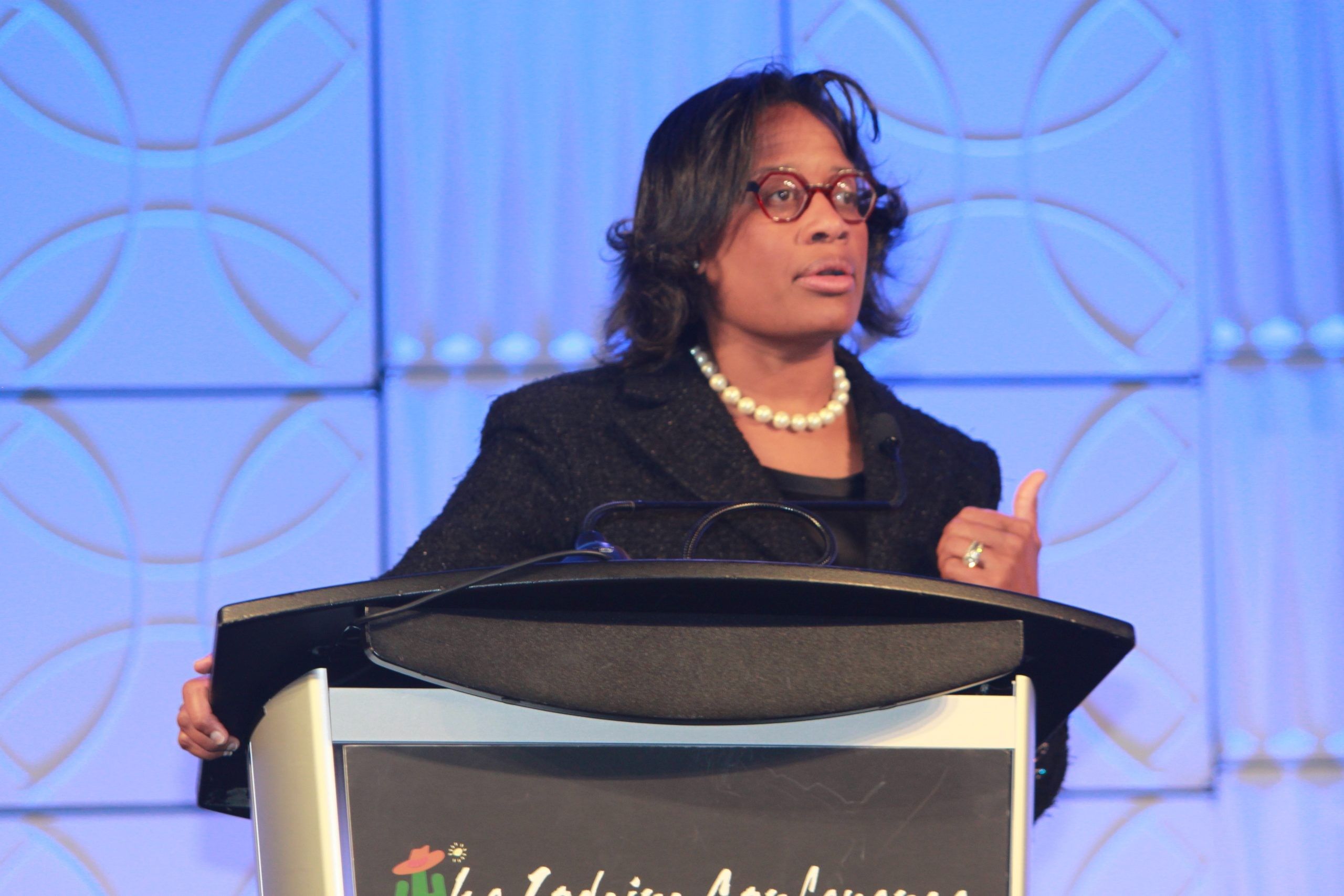 "We established the Castell award because we wanted the very male world of hotel ownership and development to see women in leadership, and for women in the industry to see women in leadership so that all of you know that there's an opportunity out there in this industry," Berg said. "And it's had such an impact. You look around this room, we are more diverse than we've ever been before. We're making progress from the men and the women in this room, and the effort you're putting into this."
Hale said she was honored to accept the award, not just for herself but for other women in the industry.
"These efforts are really important because they have the ability to change the way that women see our industry, but also and more importantly, change the way they see themselves in the industry," Hale said. "I believe this is important because on my very best day, I'm just simply emulating the women who inspired me, who mentored me and who coached me along the way."
She went on to say her mission to help others would continue.
"There are many women in the hospitality industry who are equally as talented as I am, who just need access to opportunities that can lead to executive level roles, sponsorship and encouragement," she said. "Knowing this, I feel a deep sense of responsibility to help women lean in elevate and excel extend to leadership roles."