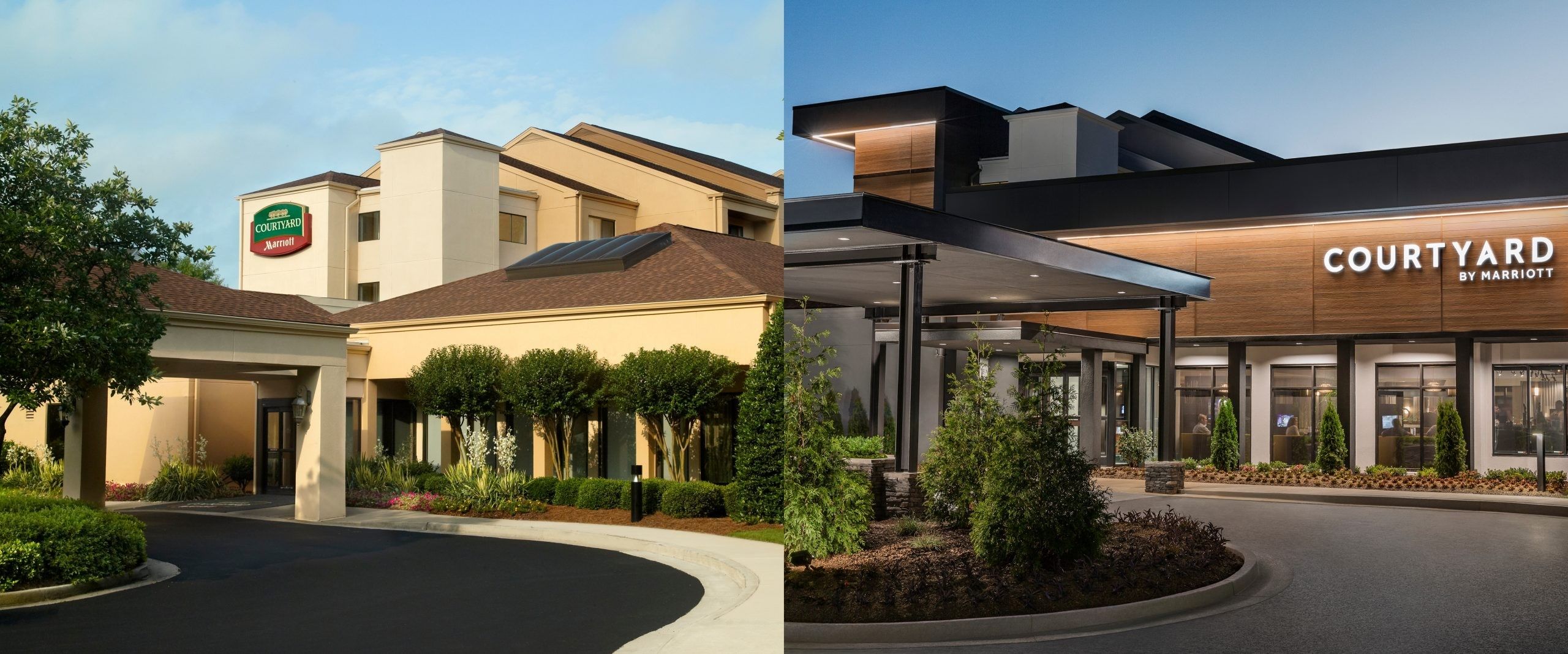 MORE THAN 375 of Courtyard hotels in the U.S. and Canada will be modernized with exterior renovations by 2024 as part of Marriott International's redesign and renovation strategy, the company said in a statement. Many hotels are also expected to receive new interior designs in their public spaces and guest rooms as part of the facelift.
"Over 38 years ago, Courtyard was the first hotel brand specifically for business travelers. Our new design strategy builds on that Courtyard legacy in ways that are perfectly suited for both leisure and business travelers," said Diane Mayer, vice president and global brand leader for Classic Select brands. "As the pioneer amongst select service brands, Courtyard continues to adapt to the changing ways that guests live, work, and play through thoughtful innovation to provide the best possible guest experience."
According to the statement, the new façade includes a redesigned porte-cochere, reframed and repainted exterior surfaces, ambient lighting, new signage, and fresh landscaping.
Besides renovations, Courtyard has introduced a new prototype with exterior and interior design that will also be adopted by earlier generation hotels. From day to night, hotel public spaces including lobby, meeting spaces, and enhanced fitness centers would be adaptable and welcoming.
An urban-inspired lobby with individual check-in desks accented by warm, wooden textures and modern light fixtures is part of the new prototype. At the center focal point of the lobby is the Bistro Bar-a casual bar and dining destination featuring a Classic American menu with a contemporary twist.
The open environment lobby also provides ample space for guests beyond their rooms with a large communal table for casual conversation and interaction. Courtyard's signature media pods, each with their own TV screens and a residential sectional sofa, offer semi-private workspaces.
In the back of the lobby, increased lounge seating is anchored by large windows, giving way to views of the outdoor courtyard with firepits and outdoor seating. Courtyard's expanded fitness centers with dedicated weightlifting and stretching areas, as well as exercise equipment and a dedicated hydration station for guests.
At participating hotels, guest rooms will be equipped with electronic locks that allow guests to enter their rooms via a digital room key. This feature is available on the Marriott Bonvoy Mobile App, which gives guests access to interactive technology features including mobile check-in and the ability to send requests for services and amenities.
Courtyard hotels, both new and renovated, including: Courtyard Jacksonville Butler Boulevard, Courtyard Atlanta Perimeter Center, Courtyard San Diego Miramar, Courtyard Raleigh/Cary Crossroads, and Courtyard Memphis East/Galleria.
In October, Choice Hotels International introduced a new prototype for its upscale Cambria brand during the 2021 Lodging Conference in Phoenix.