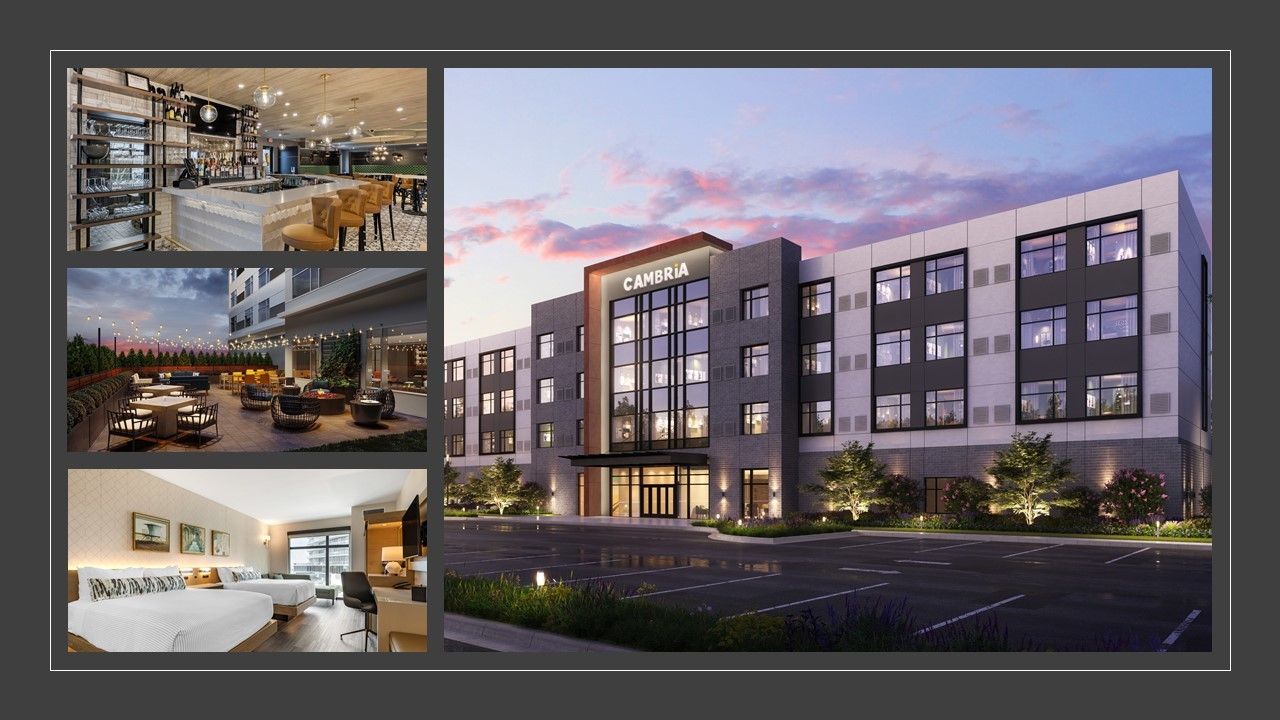 CHOICE HOTELS INTERNATIONAL introduced a new prototype for its upscale Cambria brand during the 2021 Lodging Conference in Phoenix last week. The new design is meant to ease the brand into new, urban markets by reducing size and maximizing use of space.
The new prototype was created in response to the growth the company had already seen from the brand, said Janis Cannon, Choice's senior vice president of upscale brands during a press conference on the new design. Cambria has increased its portfolio by 16 percent since the beginning of 2020, she said,  and it has entered eight of the top 10 markets and 36 of the top 50 in the U.S. Also, guest reviews have been high.
"Regardless of what the metric is, whether it's guest satisfaction, whether it's owner satisfaction, whether it's financial performance, whether its growth in terms of earnings growth and unit growth, Cambria has really performed extremely well during this period," Cannon said. "As a result of that, there is a big opportunity. Because guests want more accessibility to Cambria, they want more hotels in places that they're traveling to. And then, owners are wanting to develop as well in certain markets."
The company has set its sights on more than 300 secondary and leisure markets for expansion. Cannon said the strategy was born from experiences during the COVID-19 pandemic.
"When Cambria first launched, we really focused on the business and visual travel," Canon said. "But, during the pandemic, we've learned as well that our hotels in leisure destinations do extremely well. That's allowed us to really think about how we evolve."
To accomplish this goal, the new prototype is more cost-effective to develop with its square footage 20 percent reduced from 76,000 square feet to about 56,000 square feet, said Mark Shalala, Choice's senior vice president of development, upscale brands.
"The new sort of magic number on number of keys is 107 keys over that 56,000 square feet," Shalala said.
Other features of the new prototype include staffing optimized for the new, reduced size; a modified F&B palette that includes cutting kitchens by 35 percent; and flexibility to include custom design items, such as reduced entry canopy, lobby, and journey to room, as well as the inclusion of local artists.
"We've created a very cost-effective new prototype option that's going to continue to provide the flexibility that developers really have come to love with the Cambria," Shalala said. "What this is going to do is going to allow us to get into potentially another 300 to 350 plus markets with the brand, where our developers want to be developing, where they're chasing deals and opportunities for where our Cambria guests want to stay."
While Cambria's current pipeline of 19 properties under construction are mostly too far along to incorporate the new design, Cannon and Shalala said the first use of the prototype could come by late 2022 or early 2023.
During the 2021 AAHOA Convention & Trade Show in August, Red Roof Inn introduced its new HomeTowne Studios prototype that the company said features a cost-effective development footprint, and a layout that offers improved operational efficiency. Also, G6 Hospitality, parent company for Motel 6 and Studio 6, introduced its Studio 6 Suites to meet what it sees as increased demand of extended-stay brands.