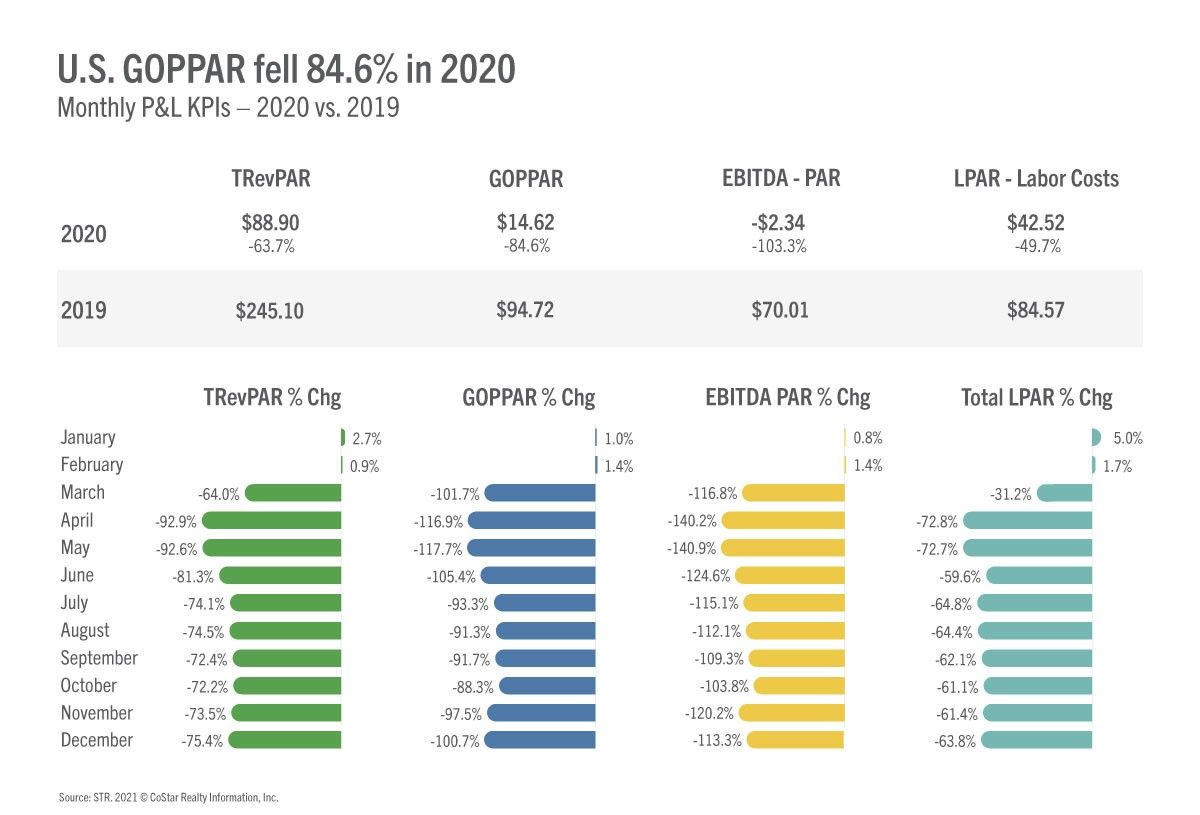 U.S. HOTELS' PROFITS dropped 84.6 percent in 2020, according to STR. The industry also went another month little to no profit in December, according to STR and HotStats.
The annual dip in GOPPAR includes a 100.6 percent decline in December, according to STR. The December decline is the worst for any month since June, and in November it dropped 97.5 percent from November 2019.
TRevPAR for the year was $88.90, down 63.7 percent from $245.10 in 2019. It dropped 75.4 percent in December. EBITDA for the year was negative $2.34, down 103.3 percent from $70.01 in the previous year. It declined 113.3 percent in December. Labor cost for 2020 was $42.52 per room, down 49.7 percent from 2019's $84.57. It fell 63.8 percent in December.
"Lower demand in December coupled with fixed expenses for hotels meant profit declines on par with early in the pandemic," said Raquel Ortiz, assistant director of financial performance for STR. "That only worsened the overall 2020 figures, which showed an average profit level less than $15 per room after coming in at almost $95 in 2019. As noted in our revised forecast, this year is off to a slow start amid a worsening pandemic situation, so the pattern of dwindling profitability will likely continue in the coming months."
STR also said six major markets reported GOPPAR declines worse than 100 percent in 2020. They included New York City with the steepest decline, down 136.5 percent, and Minneapolis/St. Paul with the largest decrease in TRevPAR, down 83.8 percent.
HotStats had somewhat more positive results for the global market, in which GOPPAR for the year was $15.76, down 77.6 percent from 2019. TRevPAR for the year was recorded at $91.87, a 53 percent decrease over 2019, while in December it reached $126.25, the first time it hit triple digits since February but still down 42 percent year over year.
For the U.S. alone, GOPPAR for 2020 was down 93.7 percent from 2019 to $6.20, and in December it dropped 98.9 percent to $0.89, according to HotStats. TRevPAR was down 68.3 percent to $84.85 for the year and down 76.3 percent to $57.55 for December. Labor for the year dipped 52.4 percent to $45.67 and went down 68 percent to $29.91 for the month.    –
"The U.S. popped back to break-even profit in December, and at $0.89, it was only the second time since February that the country achieved positive GOPPAR," HotStats said in its report. "Efficiencies that hoteliers found and implemented in the face of the pandemic are likely to carry forward in 2021 and, potentially, beyond. Think labor structure and changes in F&B service and procurement."