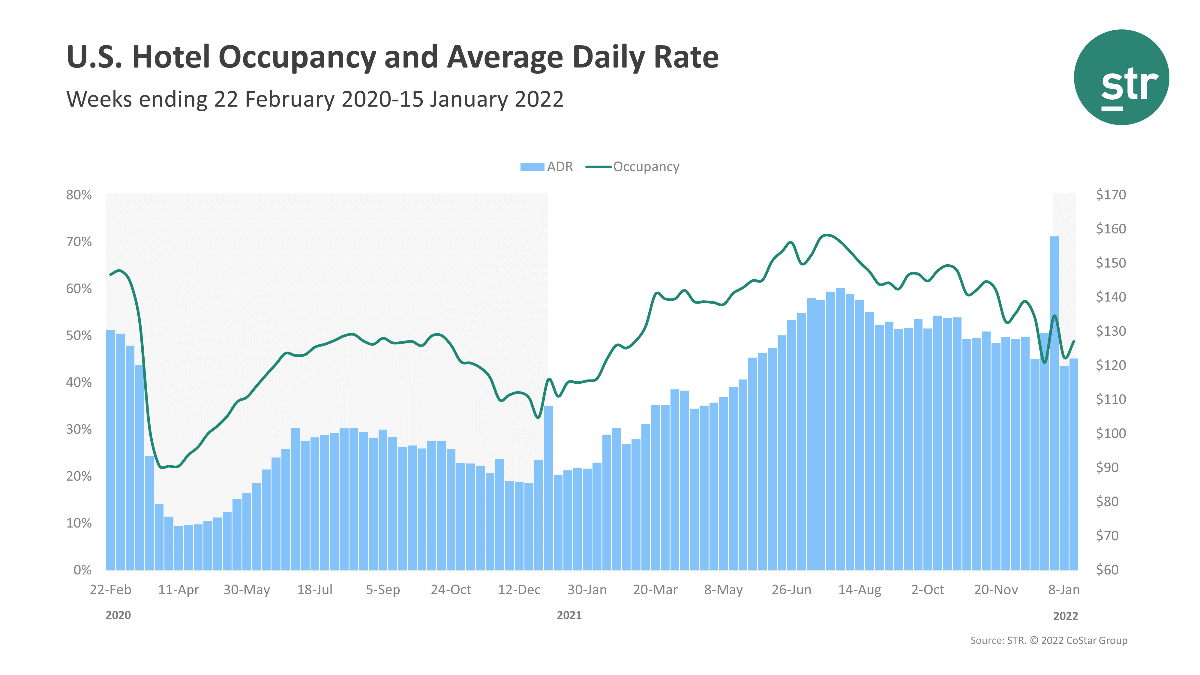 AS A RESULT of a larger impact from the Omicron variant, U.S. hotel occupancy worsened in the second week of January in comparison with pre-pandemic levels, according to STR. However, occupancy was higher than the previous week on an absolute basis.
Occupancy was 48.8 percent for the week ending Jan. 15, up from 45.4 percent the week before and down 16.3 percent from the comparable week in 2019. ADR was $122.12 for the week, up from $119.92 the week before, but down 1.6 percent from two years ago.  RevPAR reached $59.57, up from $54.47 the prior week and down 17.6 percent from the same period two years ago.
According to STR, ADR and RevPAR were up week over week and when indexed to 2019.
None of STR's top 25 markets recorded an occupancy increase over 2019. Norfolk/Virginia Beach came closest to its pre-pandemic comparable, down 8.4 percent to 44.1 percent. Miami registered the largest ADR increase, up 16.6 percent to $271.21.
The largest occupancy drop happened in San Francisco/San Mateo, down 53.9 percent to 37.3 percent. The steepest RevPAR deficits were in San Francisco/San Mateo, fell 69.6 percent to $58.84, followed by New York City, down 53.9 percent to $68.93.