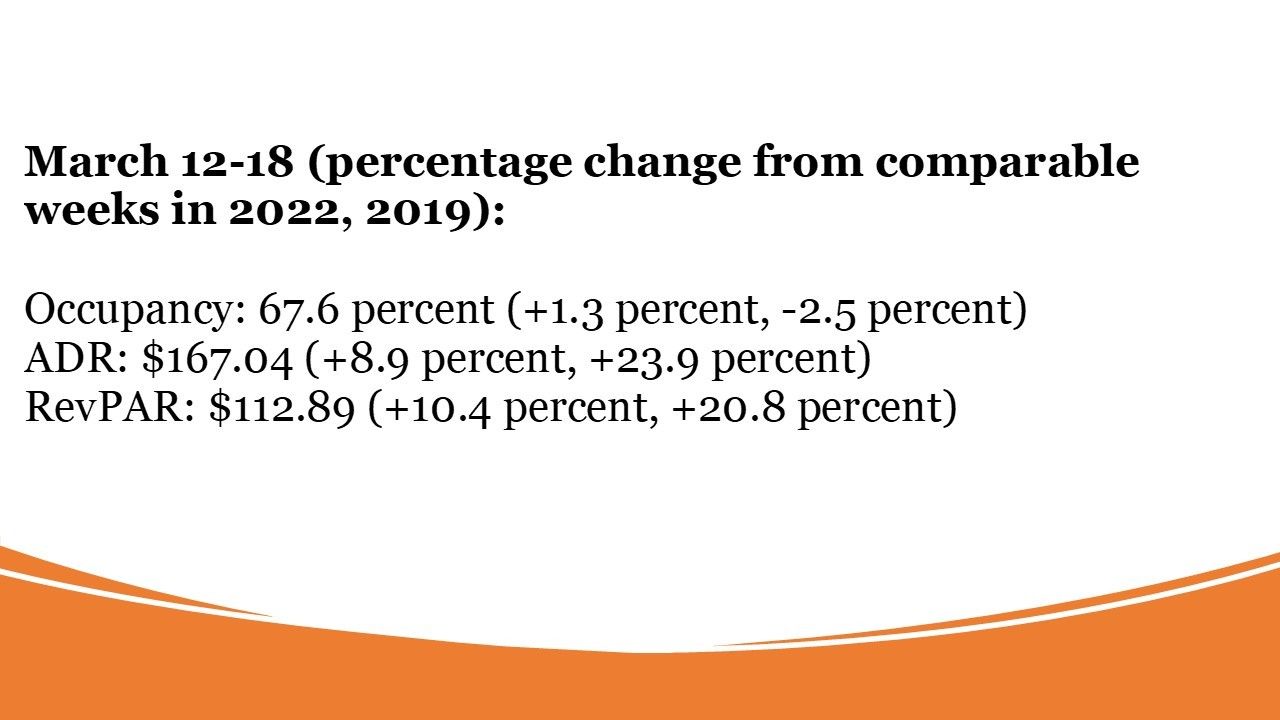 IN THE WAKE of spring break travel, U.S hotel performance continues to register growth in the third week of March compared to the previous week, according to STR's latest data through 18 March.
Occupancy stood at 67.6 percent for the week ending March 18, up from 64.7 percent the week before, 1.3 percent more than the comparable week in 2002 and 2.5 percent down the comparable week in 2019. ADR was $167.04, increased from $158.20 the week before and up 8.9 percent and 23.9 percent over the same month in 2022 and 2019, respectively. RevPAR arrived at $112.89 in the third week, up from $102.38 the previous week, and an increase of 10.4 percent and 20.8 percent against the same month in 2022 and 2019.
Among the Top 25 Markets, Boston saw the highest year-over-year increase in occupancy, up 17.8 percent to 71.8 percent, while Houston witnessed the highest occupancy increase over 2019, increased 9.6 percent to 72.5 percent.
Las Vegas reported the highest ADR, up 77.9 percent to $306.79 and RevPAR increased 101.5 percent to $277.09 year-over-year. Las Vegas market also posted the highest increases in the measuring of ADR (up 113.2 percent to $306.79) and RevPAR (increased 116.9 percent to $277.09 percent), against 2019.
The steepest RevPAR declines were reported in San Francisco, down 39.7 percent to $139.73 and Philadelphia, decreased 12.9 percent to $83.68, over 2019.  Miami reported the largest year-over-year RevPAR decrease, down 8.9 percent to $252.69.