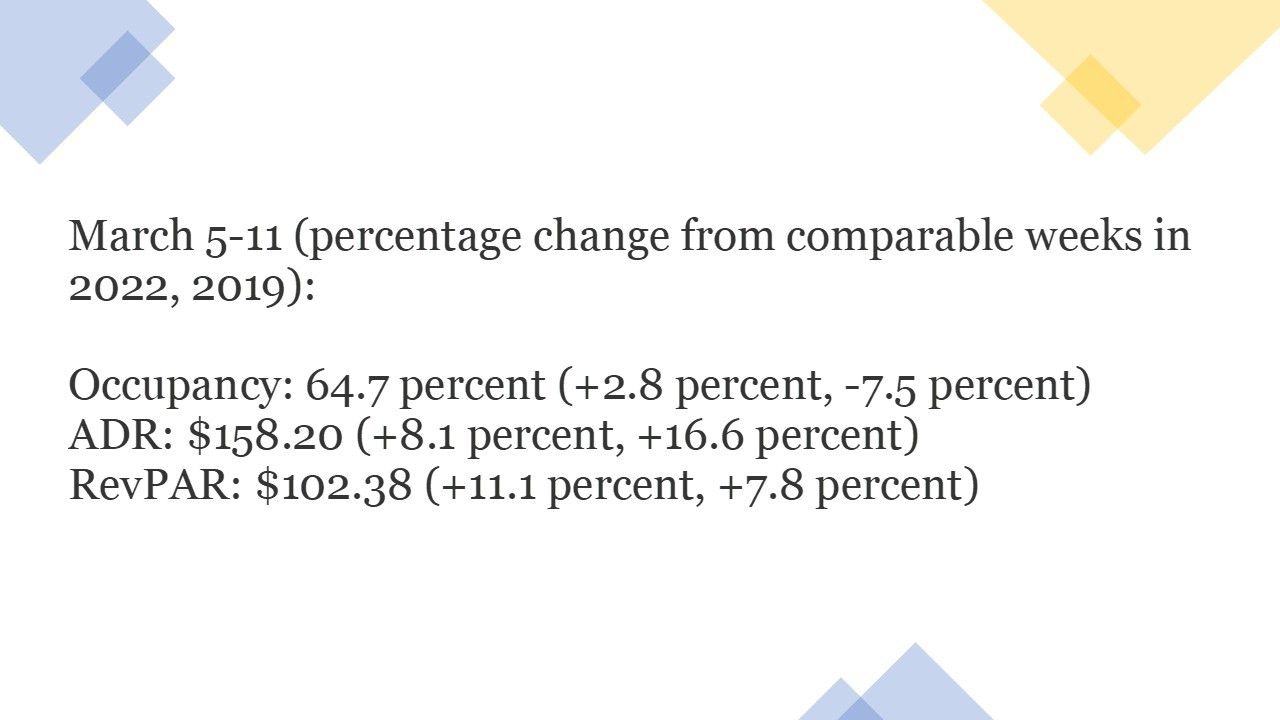 HELPED BY THE onset of spring break travel, U.S. hotels' performance bettered in the second week of March from the previous week, according to STR's latest data through 11 March. The top 25 markets were up on a weekly basis but still behind 2019 levels.
Occupancy for the week ending March 11 came in at 64.7 percent up from 62.8 percent the week before, 2.8 percent more than the comparable week in 2022 and 7.5 percent below the comparable week in 2019. ADR stood at $158.20, up from $151.35 the previous week and also up 8.1 percent and 16.6 percent over the same month in 2022 and 2019, respectively. RevPAR was reported at $102.38, up from $95.06 the previous week, and an increase of 11.1 percent and 7.8 percent over the same month in 2022 and 2019.
Among the top 25 markets, Washington, D.C., witnessed the highest year-over-year occupancy increase compared to 2019, up 21.8 percent to 67.6 percent. However, none of the Top 25 Markets saw an occupancy lift over 2019.
Meanwhile, D.C. also registered the most substantial ADR increase at $183.86 against 2019, up 23.4 percent. D.C.'s RevPAR rate also climbed up 50.2 percent to $124.33 year-over-year.
Anaheim reported the highest ADR increase for spring break week, up 51.4 percent to US$245.62 and RevPAR rose 42.2 percent to $189.81, when measuring against 2019.
The steepest RevPAR declines from 2019 were seen in San Francisco, which dropped 22.8 percent to $144.02 and Minneapolis, down 15.2 percent to $61.44.   San Diego was down 16.1 percent to $61.99 year-over-year, reporting the largest RevPAR decrease.