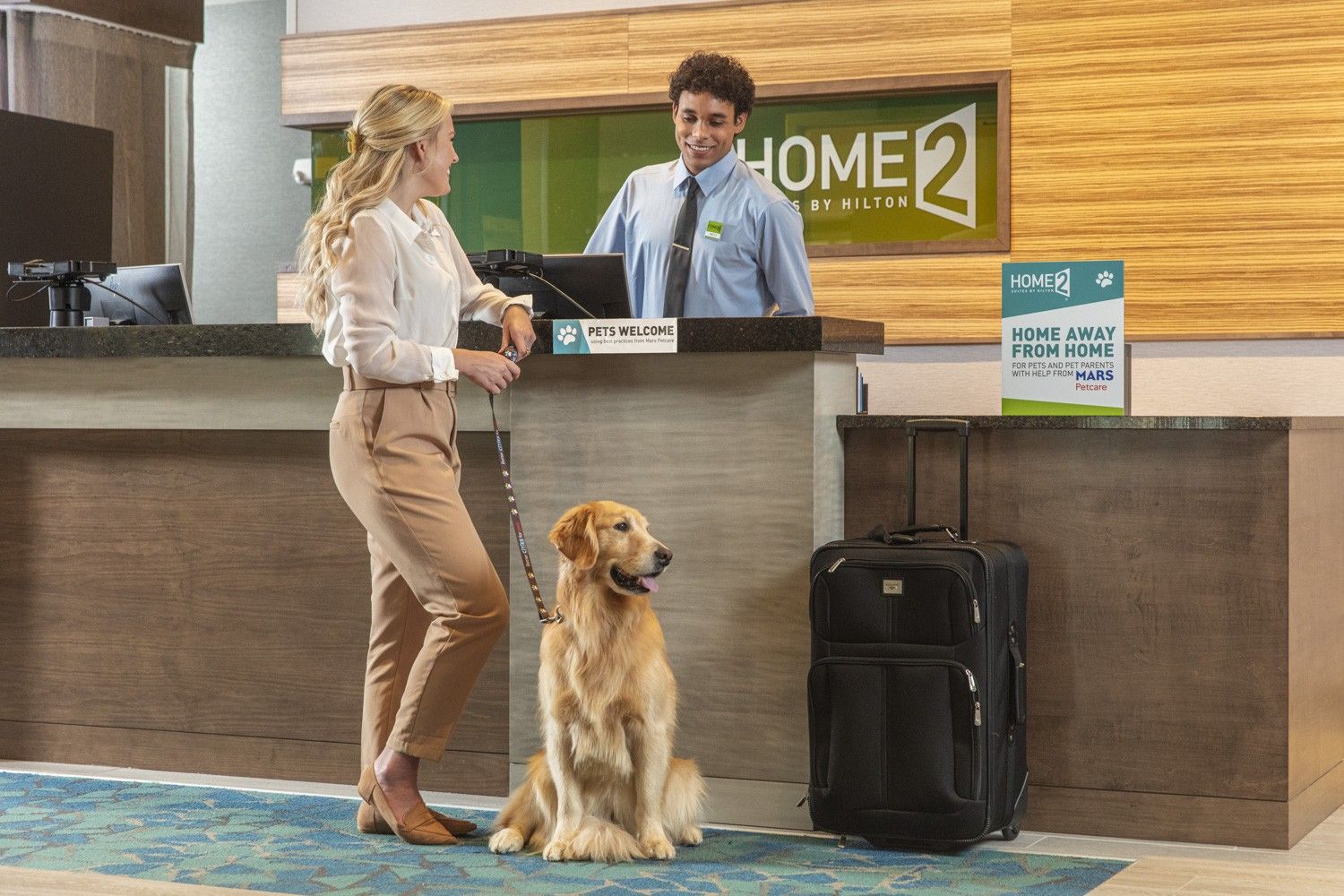 MORE PEOPLE ARE traveling, and more of them are bringing a pet with them on vacation. Hilton is aiming to corner that market for its extended-stay brands, Homewood Suites by Hilton and Home2 Suites by Hilton, with a new partnership with pet care company Mars Petcare.
Under the new agreement, Homewood Suites and Home2 will implement pet-focused programming and benefits in the U.S. and Canada. Additionally, by Jan. 1, 2022, both brands will become a 100 percent pet-friendly and will introduce consistent pet fees, starting at $50 per stay.
Offering expert advice
The new programs will be based on data from Mars Petcare's Better Cities for Pets program. As part of the agreement between the two companies, guests at Homewood Suites and Home2 Suites locations will have early access to a Mars Petcare digital service pilot program offering expert tips to help pets adjust to the new environment. That service will initially be available in Dallas; Jackson, Wyoming; Miami; Nashville, Tennessee; and Phoenix.
"Pets are an integral part of many of our guests' families, and we're proud to collaborate with Mars Petcare on the journey to become pet hero brands," said Bill Duncan, global head for Hilton's all suites and focused service brands. "Our extended-stay brands offer a home away from home for travelers, and their pets, especially with our spacious accommodations. We look forward to spreading the light and warmth of hospitality by creating a more inclusive and seamless travel experience for our guests and their furry friends."
Pets and families on the road
The new policy is motivated by a recent survey from KRC Research that found 85 percent of pet owners say they're likely to travel in the next year, and 65 percent say they'll bring their pets along. Another survey from the American Society for the Prevention of Cruelty to Animals, conducted in May, found that approximately 23 million U.S. homes have welcomed a new pet since the beginning of the COVID-19 pandemic. After months of isolation with those pets, 58 percent of said they look for pet-friendly accommodations when traveling.
Extended-stay brands, including Homewood Suites and Home2 Suites, are particularly suited to families traveling with pets, Hilton said, because they include separate living and sleeping areas and full kitchens. The agreement with Hilton fits well with the Better Cities for Pets program, said Ikdeep Singh, regional president for Mars Petcare North America.
"We've seen first-hand the undeniable bond that pet parents have formed with their pets particularly over the past year, and we are more committed than ever to our purpose: A Better World for Pets," Singh said. "We are honored to come together with Hilton to address a common pain point for pet parents as we continue on our mission to create a more welcoming world for people and their pets."
Home2 Suites recently opened its 500th property, the Home2 Suites by Hilton Fort Myers Airport in Fort Myers, Florida, 10 years after the brand was launched. The 123-key hotel is owned by Columbia, Maryland-based Baywood Hotels, led by Al Patel as president.