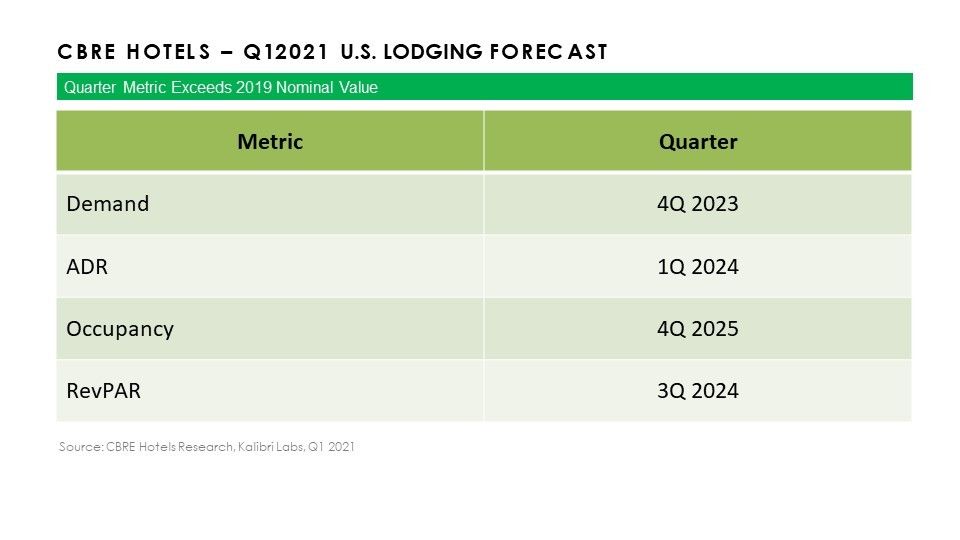 THE FUTURE IS looking brighter for the U.S. hospitality industry, according to the latest forecast from CBRE Hotels Research. The research agency now predicts U.S. lodging demand will return to pre-pandemic levels by the fourth quarter of 2023.
Signs that the economy is recovering and indications that the COVID-19 pandemic is dissipating (except for the recent spread of the Delta variant) during the first quarter of the year are the basis of CBRE's new forecast. Occupancy levels were continuing to rise in July, according to STR.
New supply may offset gains in occupancy some, according to CBRE, because fewer development and conversion projects were side-lined than previously forecast. That will delay the recovery of occupancy until fourth quarter of 2025 while supply grows more during the 2020 – 2022 period than coming out of prior recessions and 2019 RevPAR levels will not return until the third quarter of 2024.
ADR for U.S. hotels will return to 2019 nominal levels by the first quarter of 2024, according to CBRE Hotels Research's June 2021 edition of Hotel Horizons. Hoteliers are taking advantage of the current surge in travel interest maximize room rates in an effort to make up for a 22.5 percent ADR decline during 2020. CBRE projects a 4.3 percent increase in ADR for all of 2021, followed by an 11.4 percent rise in 2022.
"We are encouraged by the pace of demand growth so far in 2021, not just for hotels, but for air travel, rental cars and alternative forms of lodging, as well," said Rachael Rothman, CBRE's head of hotels research and data analytics. "Clearly there is a pent-up desire to get back on the road, especially for leisure travel. Anecdotally, we are seeing early signs of improvement in group travel, but the overall pace of the recovery in group travel and corporate travel is less certain at this point."
An expected 2.1 percent supply increase for 2021 could dampen demand growth, the article said. Properties that closed in 2020 are reopening, but face delays in the delivery of furniture and equipment as well as labor shortages that pushed back some openings.
"Local market factors increasingly are influencing the projected performance of U.S. hotels," Rothman said.  "In general, properties located in smaller, remote and resort markets suffered less and are poised to recover to pre-pandemic levels faster. On the other hand, the larger, urban, gateway markets that are more dependent on in-bound international visitors and group demand will lag in recovery."
San Bernardino, California; Virginia Beach, Virginia; and Dayton, Jacksonville and St. Petersburg, Florida, are forecast to achieve a market average RevPAR at 80 percent or more of 2019 levels by the end of this year. Conversely, recovery for hotels in New York and San Francisco will be extended as they are expected to see RevPAR of less than 40 percent of their 2019 levels in 2021.
CBRE also recently forecast a rise in costs of operating hotel telecom systems while revenue generated by the systems shrink, and suggested strategies hotels can take to lower costs and increase revenue.