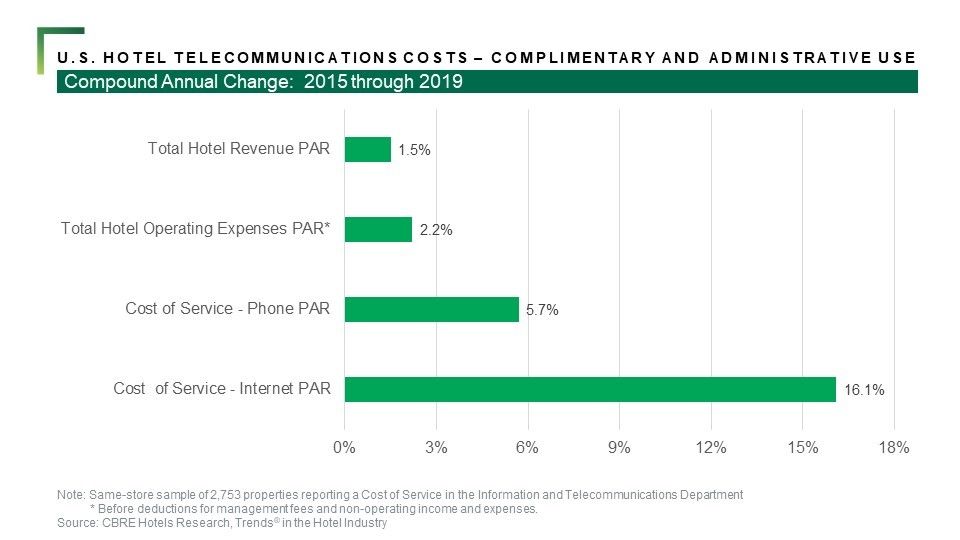 THE COSTS OF operating hotel telecom systems are rising while the revenue generated by the systems continues to shrink, according to an article from CBRE Hotels Research. The article suggests strategies hotels can take to lower costs and increase revenue.
Telecom service costs steadily increased between 2015 and 2019, according to a survey cited by the article that was written by Robert Mandelbaum, CBRE's director of research information services, and  Michael Kane, business operations manager in the firm's Denver office.
The total operating expenses increased at a compound average annual growth rate of 2.2 percent in the nearly 3,000 hotels that participated in the annual trends in the hotel Industry survey by the firm. Meanwhile, the hotels' cost for telecom service increased at a CAGR of 9.7 percent.
Individually, the cost of phone service rose by a CAGR of 5.7 percent, while the cost of internet service increased at an average annual pace of 16.1 percent. The article also said the 9.7 percent combined CAGR for telecommunications cost is more than three times the CAGR for any other individual hotel department cost during the same five-year period.
"Telecom costs increased at a greater pace than total operating costs across all chain scale categories except luxury hotels.  At these high-end properties, telecom costs rose at a CAGR of 1.1 percent, compared to 1.5 percent for all operating expenses," Mandelbaum and Kane said. "Telecom costs increased the most in the upper-midscale (CAGR 21.5 percent) and upscale (CAGR 13.9 percent) chain scales.  Expanded offerings of complimentary phone and internet at the select-service properties that operate within these two segments contributed to the increased cost."
The U.S. telecom market is estimated at $1.4 billion and the country currently accounts for a 44.2 percent share in the global market, according to another report, 'Telecom Expense Management – Global Market Trajectory & Analytics' by  ResearchAndMarkets.
"The rapid rise in importance of mobile devices and cellular communications services in internal telecom networks of enterprises is necessitating companies to adopt a monitoring and management system for usage and cost of various telecom assets and resources," the ResearchAndMarkets report said. "The growing integration of personalized mobile devices such as smartphones, laptops and tablets as part of the growing enterprise mobility trend and bring your device or choose your own device strategies have been vital factors fueling growth in the global telecom expense management market."
"The presence of several major players actively embracing remote working, increases the need for visibility, integration, secure access and monitoring of telecommunication and IT services consumption."
Going forward
As U.S. hotels are on a path to recovery there is no doubt that these entities would embrace technology and innovation going forward. But managing costs is an important part of this journey.
According to the CBRE report, organizations within the industry are undergoing IT audits and consolidating telecom vendors across portfolios to manage costs more efficiently. Meanwhile they are also upgrading certain technologies.
"An IT audit and evaluation would detail an organization's current technology landscape, how it performs and what additional needs exist.  From there, focusing on vendor consolidation, as hotel portfolios are geographically dispersed, can save costs and time.  These first two methods typically identify combined savings of approximately 20 to 30 percent," the report pointed out.
"Finally, deploying the appropriate technology can create an environment of "better, faster and cheaper."  Pricing in the industry continues to compress meaning that even recent contracts maybe subject to savings.  For example, owners may be able to upgrade a Dedicated Internet Access to current market pricing (save 20 percent) while improving the speed capabilities by 200 to 300 percent."
Mandelbaum said: "Telecom doesn't limit itself to a specific type of provider or operator.  The emphasis of connectivity within the hotel industry is unquestionably going to grow in the coming years, ultimately placing headwinds on balance sheets.
"Owners and operators across all segments of the industry are tasked with better managing and creating efficiencies with their property portfolios.  Additionally, as portfolios become larger through acquisition across the globe, being able to limit disruption and deploy the best technology becomes even more important."