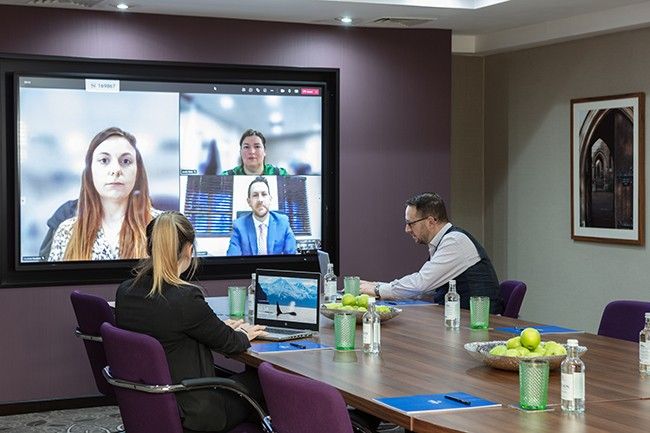 WHILE BUSINESS TRAVEL may be less frequent in the immediate future, it will make a comeback in time, according to a report from Hilton. After nearly two years of isolations, businesses will have a lot of making up to do once they hit the road.
Post-pandemic business travel is likely to be more strategic and purposeful overall as travelers have missed building in-person professional relationships during the pandemic, according to a recent survey by Hilton and Morning Brew of more than 7,000 respondents. Though some have returned to traveling for work, 87 percent of respondents have said that they miss hopping from city to city to pursue their work.
According to the survey, 66 percent of surveyed business travelers miss visiting new places, 41 percent miss discovering local culture, 37 percent would prefer discussing projects in person and 36 percent look forward to attending in-person conferences.
Sleeping in a comfortable hotel bed is a top goal for 45 percent of respondents and 62 percent said they needed some alone time.
Based on the survey, Mark Weinstein, Hilton's senior vice president and global head, marketing and loyalty, listed five key takeaways on the future of business travel.
In-person connections
More than half (54 percent) of those surveyed mentioned that the importance of building "in real life" relationships is more apparent than ever.
"Humans have an innate need to connect with each other, and the inability to do so during the pandemic highlighted the fact that there's no replacement for the value of in-person connections," said Weinstein. "We know people miss business travel, but even more they miss connecting on a real level with clients, seeing a project up close, networking with colleagues and experiencing a new city."
Innovations make trips more productive
As many as 47 percent of respondents said that amenities were of utmost importance on the road, and many think hotels will offer more contactless experiences and feature automated and efficient check-in and check-out processes in the future, if they haven't already.
Another innovation- work from hotel-which offers working spaces with inviting scenery and access to amenities, personalized service and food and beverages would also likely re-emerge. Several hotels promoted workcation packages to allow business professionals to stay, work and play for an extended period of time.
Digital meetings the new normal
The survey has revealed that many think business travel will be a mixture of in-person and digital. Travelers would expect more online meetings and trainings and increased use of hybrid modalities for business events. Event planners are now looking for spaces that allow a combination of on-site and expanded on-screen attendees, as well as seeking expert support to help them execute the events.
"Bleisure" travel to increase
"Bleisure" travel, which is an economical way to explore a new city or locale, especially when an employer has already paid for transportation, would increase once business travel picks up. Many travelers like to extend their stay into the weekend and invite a friend or partner to join them for the leisure portion of the trip, or taking advantage of alone time and explore a city solo. According to the survey, this includes things like eating at local restaurants (63 percent) and exploring the city (61 percent).
As many as 78 percent of respondents said that the points and rewards earned from business travel are a huge selling point of taking those trips. They also look forward to taking advantage of loyalty program benefits and perks including room upgrades (68 percent), free Wi-Fi (51 percent) and earning free night rewards (47 percent).
Wellness top priority
Now more than ever, wellness is top of mind, and business travelers will be more cognizant of it on the go. The survey stated that 42 percent of the respondents can't wait to partake in some much-needed alone time and 31 percent look for hotels with spas and wellness centers to maintain their wellness routines.
"The pandemic has pushed companies to constantly evolve and innovate to meet both the functional and emotional needs of people today and the future," Weinstein said.
A recent report by the American Hotel & Lodging Association and Kalibri Labs has said that U.S. hotels might incur more than $59 billion loss in business travel revenue in 2021 compared to two years ago.