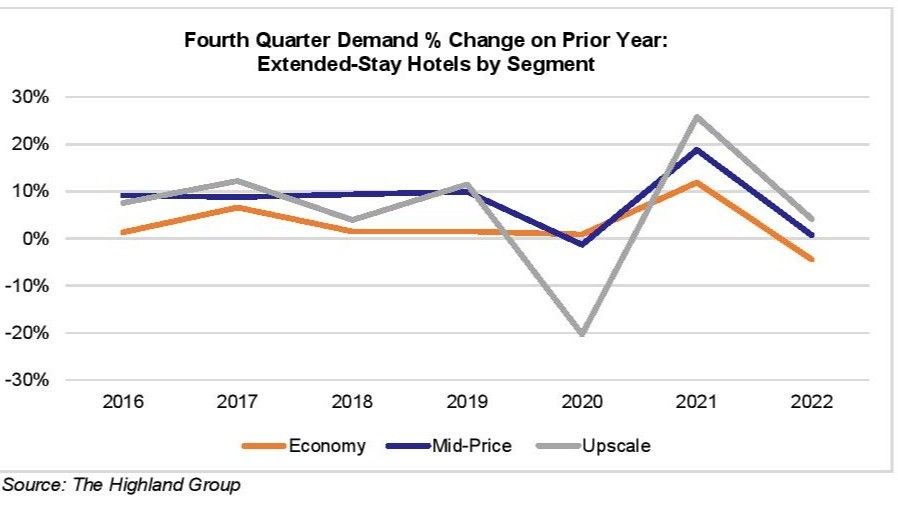 U.S. EXTENDED-STAY HOTELS set new records for demand, ADR, RevPAR and room revenues in the fourth quarter of 2022, according to a report from hotel investment advisors The Highland Group. Also, the report showed rate resistance is apparent at lower price points due to recession and the economy extended-stay segment reported nine consecutive months of declining demand and three successive quarterly falls in occupancy.
According to the Highland Group's "U.S. Extended-Stay Hotels: Fourth Quarter 2022" report, mid-price extended-stay hotels reported their second consecutive quarterly decline in occupancy in fourth quarter. Similar occupancy declines occurred for about two years starting in mid-2015 before ADR growth moderated and occupancy recovered.
Extended-stay hotel supply growth was the lowest since 2013 during the quarter, below its long-term historical average for 20 consecutive quarters. The last time extended-stay supply growth was consistently near its current level was from 2010 fourth quarter through third quarter of 2014.
"Extended-stay hotel RevPAR was more than 12 percent higher than in fourth quarter of 2019. There were 567,770  extended-stay  hotel  rooms  open  at  the  end  of  the  quarter. Excluding 2020, the 6,481 net gain in rooms open over the last year was the lowest annual increase since 2012. Room nights available increased 1.2 percent over the last year which was the smallest annual gain in supply for nine years," the report said. "Fractional net economy and upscale segment supply gains compared to 2021 are largely due to re-branding moving rooms between segments in our database, de-flagging of hotels which no longer meet brand standards, as well as the sales of some hotels to multi-family apartment companies and municipalities."
Mid-price and upscale extended-stay hotel segments reported record high demand during the quarter. Economy segment demand declined 4.4 percent compared to same period in 2021, due to price resistance following exceptionally high ADR growth over the last 18 months.
The gains were generally in line with those made from 2016 through 2019 and all extended-stay segments reported record high room revenues in the fourth quarter of 2022.
"Overall extended-stay  hotel  occupancy  declined  marginally  in  fourth quarter of 2022,  the second  dip since  first quarter of 2021. Upscale extended-stay hotels, which are still rebuilding occupancy back to the high levels achieved from 2017 through 2019, were the only segment reporting occupancy growth in the October-December period of last year compared to 2021. All extended-stay segments reported record high fourth quarter ADR last year. Rate increases have moderated since 2021 but they remain  higher during  the  four  years preceding the pandemic," the Highland Group report said.
"The 10.6 percent increase in RevPAR in fourth quarter was the smallest gain since first quarter of 2021 when RevPAR contracted almost 16 percent. Despite the slowdown and excluding the most recent six quarters, the quarterly growth in extended-stay hotel RevPAR was the highest of any quarter since 2005. Extended-stay hotel's occupancy  premium  above  the  overall  hotel  industry  ranged  from  11 percent to  13 percent from  2015 through 2019 which is typical over the last 25 years.  At 12.7 percentage points in the quarter the premium is consistent with 2015 through 2019."
The report added that extended-stay hotels increased ADR faster than the overall hotel industry from 2015 through 2019. Relative growth accelerated in 2020 with the ratio peaking at 88 percent before declining to 75 percent to 77 percent over the past year as the overall hotel industry recovered ADR more quickly due to much deeper losses during the pandemic, the report said.
"As the overall hotel industry recovered RevPAR more quickly, extended-stay hotel's RevPAR ratio declined to 93 percent in the fourth quarter of 2022 which is about the same as the period from 2017 through 2019. Economy extended-stay hotel's 123 percent RevPAR recovery ratio compared to 2019 fourth quarter is, after the mid-price extended-stay segment, the second highest in the hotel industry. Economy extended-stay hotels, which were the first to report a full annual RevPAR rebound in 2021, have led most of the recovery ever since and made considerable gains against economy hotels overall," the report said.
"Mid-price extended-stay  hotels  have  fully  recovered  RevPAR  to  its  nominal  2019  level  and  are  one  of  the  hotel industry's strongest performing segments. They have also made gains when compared to all mid-price hotels. In the last quarter of 2019, the ratio of mid-price extended-stay hotel RevPAR to all mid-price hotel RevPAR was 121 percent. Two years later it increased to 128 percent despite far higher supply growth over the period," the Highland Group said.
Upscale extended-stay hotels are lagging the overall extended-stay recovery at 104 percent. The segment also lost RevPAR relative to all upscale hotels since 2019.
Recent Highland Group report said that extended-stay hotels have performed well in November last year.