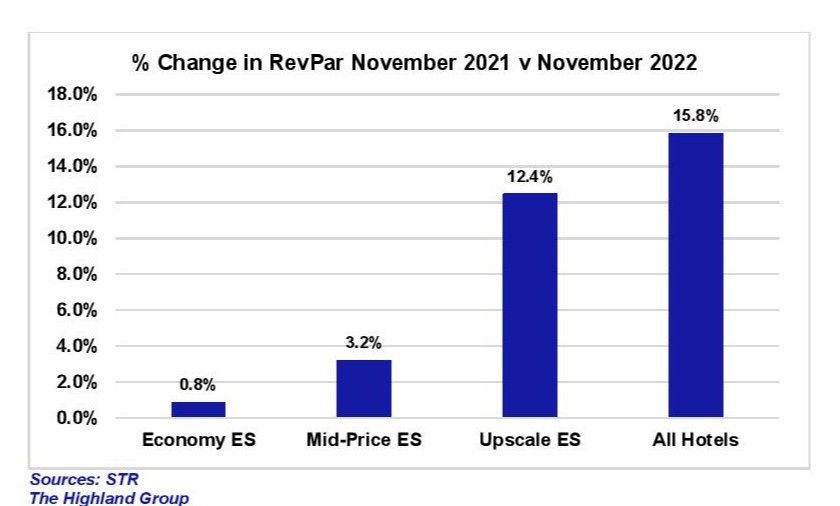 U.S. EXTENDED-STAY hotels continued to perform well in November with recovery indices up compared to October and 2019, according to a report from The Highland Group. However, the market is showing signs of slowing.
All extended-stay segments posted RevPAR gains in November compared to last year, the US Extended-Stay Hotels Bulletin: November 2022 report said.
"Monthly gains in ADR and RevPAR have decelerated for most of the year and November increases were the lowest in 2022. Both economy and mid-price segments reported RevPAR increases well below the rate of inflation for the first time in November," the report said. "ADR growth is still high compared to long-term averages but with the economy segment reporting its eighth consecutive monthly decline in demand and mid-price extended-stay hotel demand also declining in November, rate resistance is building especially at lower price points."
According to The Highland Group, the 1.2 percent increase in extended-stay room supply in November is the eighth successive month supply growth was 2 percent or lower and marks 14 months of 4 percent or lower supply growth, well below the long-term average.
"Fractional net supply gains in economy and upscale segments compared to November 2021 are largely due to re-branding moving rooms between segments in our database, de-flagging of hotels which no longer meet brand standards, as well as the sales of some hotels to multi-family apartment companies and municipalities. Monthly revenue growth rates for the overall hotel industry and extended-stay hotels have generally narrowed since mid-year 2022 as the overall industry caught up from much larger revenue declines during the previous two years," the report said.
"The decline in extended-stay hotel average occupancy in November compared to an increase for all hotels in addition to faster ADR growth resulted in 8.9 percent monthly revenue growth for extended-stay hotels compared to the 16.5 percent, STR reported for all hotels."
Following three successive months of increasing demand, overall extended-stay demand declined in November 2022 compared to 2021. Economy and mid-price segment decreases were generally consistent with the same classes of all hotels as reported by STR.
Upscale extended-stay hotels reported an increase in demand in November. However, it was far smaller than the 7 percent increase STR reported for all upscale hotels.
According to STR, total hotel occupancy gained 3.2 percent in November 2022 compared to 2021. Over the same period, extended-stay hotel  average  occupancy  fell  1.9 percent,  decreasing extended-stay  hotel's  occupancy  premium  to  12.2 percentage points compared to 15.6 points in November 2021. However, the premium remains within its long-term average range.
"Upscale was the only extended-stay segment reporting an occupancy increase in November 2022 similar to October. However, at 95.5 percent, its occupancy index is still below the corresponding month in 2019. Only in April 2022 did the upscale extended-stay segment's occupancy index exceed 100 percent this year," the Highland Group report said.
November was the third successive month in which the upscale segment reported the strongest monthly gain in extended-stay hotel ADR. Mid-price segment ADR growth has decelerated every month since April. Overall, November was the thirteenth consecutive month that total extended-stay ADR was higher than its nominal value in 2019.
"The upscale segment has posted the strongest gains in RevPAR each month since June 2022 but in November the gap was much wider than economy and mid-price segment increases compared to earlier in the year," the report said.
In an earlier report, the Highland Group said that U.S. extended-stay hotels set new performance records for demand, ADR and RevPAR in the third quarter of 2022.