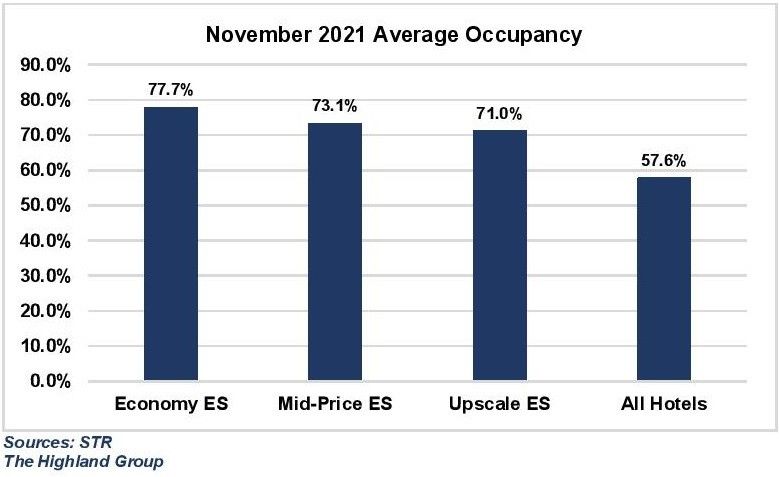 THE COLLECTIVE RECOVERY indices of U.S. extended-stay hotels exceeded 100 percent in November for the first time in 2021, according to hotel investment advisors Highland Group. The strongest gains were reported by mid-price and upscale extended-stay hotels.
Economy extended-stay hotels continue to lead the RevPAR recovery during the month with a 22 percent gain compared to two years ago, according to "U.S. Extended-stay Hotels Bulletin: November 2021" report from the Highland Group.
According to the report, the 4 percent increase in extended-stay room supply in November tied with October as the lowest monthly gain in 2021.
"The impact to supply growth from reopening hotels closed during the pandemic is effectively over. Early indications are that mid-price and upscale supply growth should be well below pre-pandemic levels during the near term," the report said. "The overall hotel industry lost far more revenue than extended-stay hotels in 2020, so it is now recovering revenue more quickly."
STR reported that all hotel room revenue was up 110 percent in November compared to a year ago.
"Upscale extended-stay hotels endured the largest fall in demand in 2020 and are leading the demand recovery. Extended-stay hotel demand reached 12.3 million room nights in November 2021, 11 percent higher than during the same month two years ago," the report said.
The 15.5 percent increase in occupancy in extended-stay hotels during the month was the highest for any other segment, and remained above its long-term average, it said.
"Mid-price extended-stay hotels continued to lead the ADR recovery in November. The upscale segment returned to lead the extended-stay RevPAR recovery in November following the largest losses in 2020. Because the overall hotel industry lost far more RevPAR than extended-stay hotels, its RevPAR growth in November 2021 relative to 2020 was more than double compared to extended-stay hotels," the Highland Group report said.
Most recovery indices of U.S. extended-stay hotels declined slightly in October.