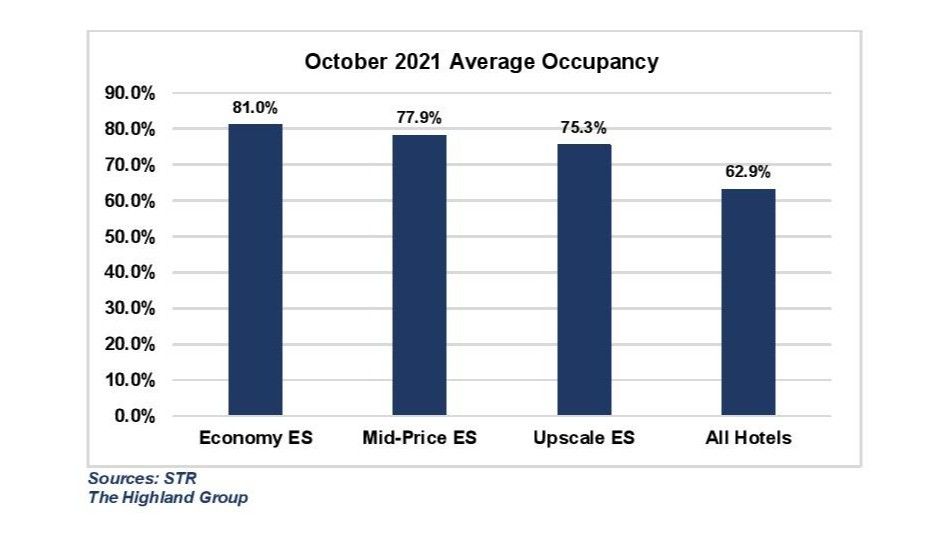 MOST RECOVERY INDICES of U.S. extended-stay hotels declined slightly in October compared to the month before, according to hotel investment advisors Highland Group. Economy extended-stay hotels continue to lead the RevPAR recovery during the month with a 20 percent gain over the same period two years ago.
The mid-price segment has more than recovered RevPAR every month since July and upscale extended-stay hotels continue to lag mainly due to the relatively high concentration of rooms in urban locations, according to "U.S. Extended-stay Hotels Bulletin: October 2021" report from to The Highland Group.
According to the report, the 4 percent increase in extended-stay room supply in October was the lowest monthly gain in 2021. Mid-price and upscale supply growth should be well below pre-pandemic levels in the near future as the impact to supply growth from reopening hotels closed during the pandemic is almost over, the report added.
The recent Highland Group report said that U.S. extended-stay hotels saw all-time highs in third quarter.
"The overall hotel industry lost far more revenue than extended-stay hotels in 2020, so it is now recovering revenue relatively quickly," the October report of Highland Group said.
STR reports all hotel room revenue was up 87 percent in October compared to a year ago.
"Upscale extended-stay hotels endured the largest fall in demand and are leading the demand recovery. Extended-stay hotel demand reached 13.41 million room nights in October, up 7 percent when compared to the same month in 2019. Overall hotel occupancy gained more than extended-stay hotels in October, reducing extended-stay hotel's occupancy premium to 14.5 percentage points. However, the premium remains above its long-term average, where it has stayed for most of the last 18 months," the report said.
"Mid-price extended-stay hotels continued to lead the ADR recovery in October, as it was unchanged from the month before. Owing to this, the segment pushed further ahead of the upscale segment in terms of RevPAR growth, despite losing considerably less RevPAR in 2020."
However, when compared to extended-stay hotels, the RevPAR growth of the overall hotel industry was more than doubled in October 2021 relative to last year. It is mainly because the industry suffered steep decline in RevPAR due to the pandemic, the report added.