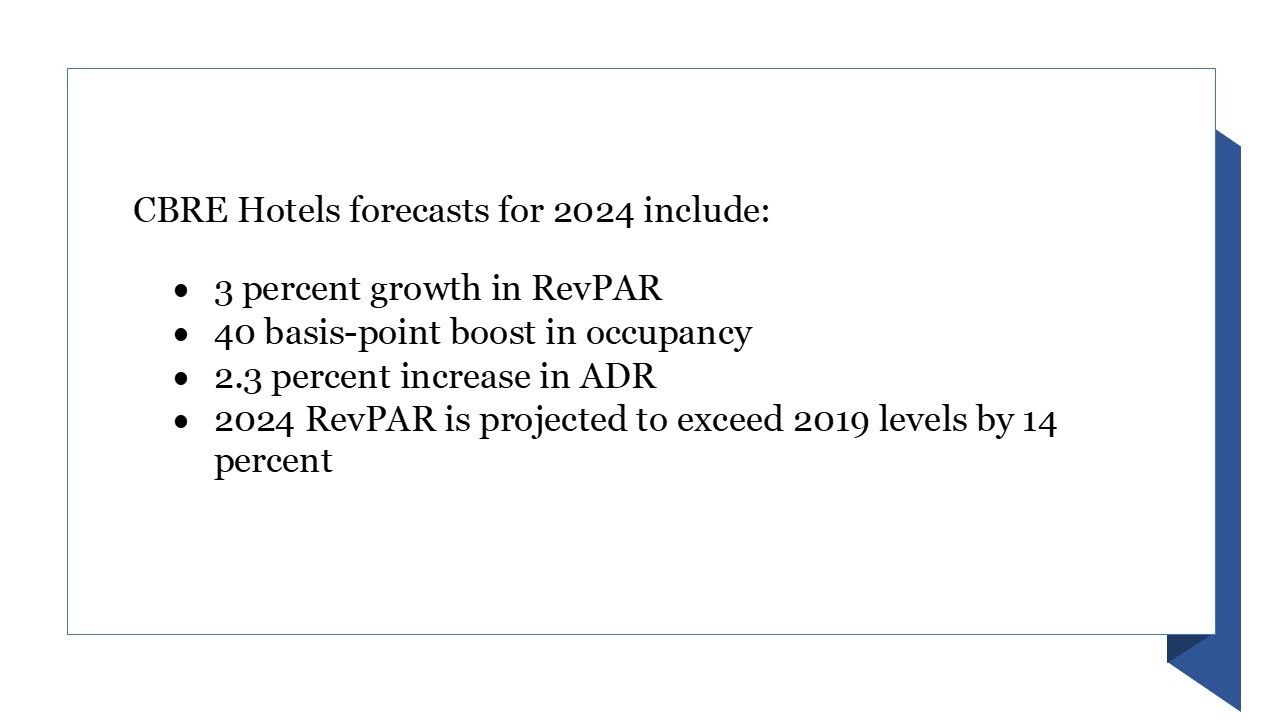 U.S. HOTELS REVPAR growth is likely to recover in 2024, as inbound international travel further improves and sector-specific headwinds moderate, according to CBRE. CBRE's forecast indicated a 3 percent growth in RevPAR, propelled by a 40 basis-point occupancy boost and a 2.3 percent increase in ADR. Furthermore, the expected RevPAR in 2024 is expected to surpass 2019 levels by 14 percent.
CBRE's baseline projection for 2024 includes 0.8 percent average GDP growth and 2.9 percent average inflation. The direct impact of economic growth on RevPAR is evident, making lodging industry performance sensitive to variations in GDP strength, CBRE said in its latest industry forecast.
"U.S. hotel operators faced stiff headwinds to demand and pricing power over the summer due to the number of Americans who elected to vacation overseas, go on cruises or stay in short-term rentals or other alternative forms of lodging," said Rachael Rothman, CBRE's head of hotel research and data analytics. "We expect RevPAR trends to improve modestly as we head into 2024, as these headwinds ease and the number of inbound international travelers further recovers."
Demand contracted for the second consecutive quarter in the third quarter of 2023, with ADR growth marking its slowest pace since the initial stages of the post-pandemic recovery in the first half of 2021, CBRE said. Weaker-than-anticipated demand and subdued pricing influence led to a national RevPAR decline of 0.3 percent, marking the first quarterly downturn in the post-pandemic recovery cycle.
"It is uncommon for U.S. hotel performance to weaken amidst robust economic growth and record consumer spending," said Michael Nhu, senior economist and head of global hotels forecasting at CBRE. "However, we remain optimistic that the eventual return of over 4.7 million inbound international travelers will propel occupancy and pricing power back to their historical trend lines."
Urban lodging outperformed with a 110 bps improvement in occupancy to 70.3 percent in the third quarter of 2023, the report added. Airport occupancy remained steady at 71.9 percent, while suburban, town, resort, and interstate properties experienced declines. Occupancies across all location types in the third quarter remained below 2019 levels. Meanwhile, CBRE's baseline forecasts exclude considerations of an international war or a widespread recession.
In a recent report, CBRE highlighted a 0.5 percent year-over-year decline in U.S. hotel demand during the third quarter. Concurrently, there was a 0.5 percent increase in supply, leading to a 1 percent decrease in occupancy. ADR experienced a modest 0.6 percent rise, marking the slowest improvement in 10 quarters.