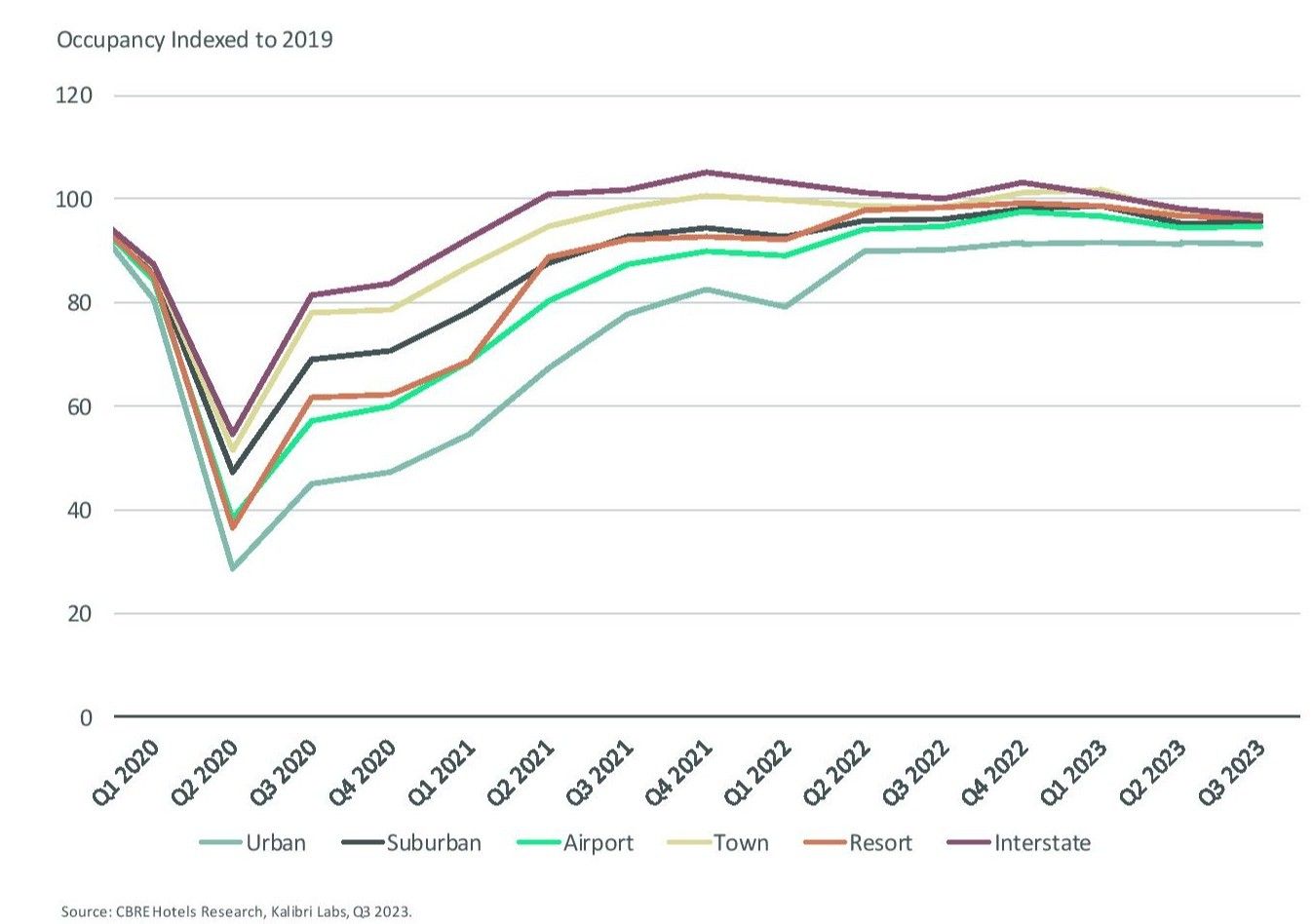 U.S. HOTEL DEMAND declined by 0.5 percent year over year in the third quarter of 2023, according to CBRE. Simultaneously, there was a matching 0.5 percent increase in supply. The combined effect of these factors led to a 1 percent decrease in occupancy.
ADR increased by 0.6 percent during the quarter, marking the slowest improvement since the pandemic recovery began 10 quarters ago, the CBRE data revealed. RevPAR decreased by 0.3 percent, as a modest decline in occupancy was partially offset by the rise in ADR.
Despite sustained consumer spending, hotel demand and pricing power in Q3 were hampered by competition from alternative lodging sources like short-term rentals and cruise lines, along with an uptick in outbound international travel.
According to the report, hotel wage growth in September outpaced the national average of 4.3 percent, registering at 4.7 percent, but declined from 7 percent at year-end 2022. Average hourly hotel wages fell nearly $10 below the national average, suggesting ongoing pressure for wage increases.
Certain smaller secondary markets in the South and Midwest exhibited strong relative RevPAR performance compared to 2019, the CBRE added. In the third quarter, Newark, Tampa, Houston, and New York City saw the most significant year-over-year growth in RevPAR.
Occupancy rates for all location types in the quarter were below 2019 levels. Town locations reached 97 percent, with urban locations slightly lower at 92 percent.
Meanwhile, total room nights sold decreased by 0.5 percent year over year, driven by a 1.4 percent decline in online travel agency demand. Global distribution system demand showed the most growth at 6.3 percent.
According to a recent report by Lodging Econometrics, the U.S. hotel construction pipeline expanded in the third quarter, rising 7 percent year-over-year in both projects and rooms. Despite this growth, the current project count is 3 percent below and rooms are 14 percent below the all-time high of 5,883 projects and 785,547 rooms reached in the second quarter of 2008.