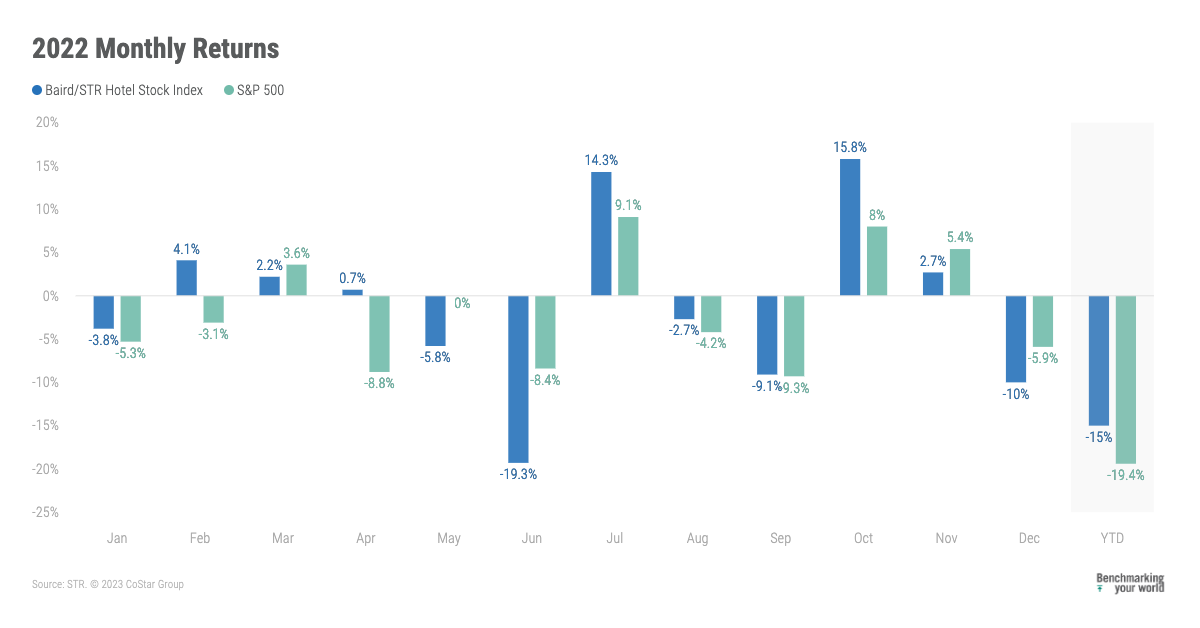 THE BAIRD/STR Hotel Stock Index dropped 10 percent in December and decreased 15 percent for 2022 mainly due to recessionary fears and concerns over slowing growth, according to STR.
In December, the Baird/STR Hotel Stock Index fell behind both the S&P 500, down 5.9 percent and the MSCI US REIT Index, dropped 5.8 percent. The index rose 2.7 percent in November. The hotel brand sub-index decreased 9.2 percent from November to 8,904, while the hotel REIT sub-index fell 12.8 percent to 1,038.
"Hotel stocks ended a relatively strong year on a weak note as recessionary fears and slowing growth concerns were front and center for investors in December, which caused hotel stocks to underperform during the month," said Michael Bellisario, senior hotel research analyst and director at Baird. "Pebblebrook's negative fourth-quarter preliminary earnings announcement caused the hotel REITs to tag in December and reinforced investors' negative sentiment towards the sub-sector. In 2022, the global hotel brands outperformed the S&P 500 by more than 500 bps; the hotel REITs outperformed the RMZ by more than 1,000 bps, which was the first year of relative outperformance since 2017. For the year, the global hotel brands topped the hotel REITs by approximately 280 bps."
Despite investors' concerns for the future, U.S. hotels were in a solid position by the end of 2022, said Amanda Hite, STR president.
"Room demand in the final month of 2022 was the highest for any December before it – even 2019, the previous record holder," she said. "When looking at the full year, demand came in slightly below 2019 levels, and most of that deficit was seen during the first quarter when omicron was at its peak. Nominal RevPAR finished the year above the pre-pandemic comparable, and we remain confident that the metric will continue to grow despite the looming recession. Inflation-adjusted RevPAR, however, remained 6 percent behind the 2019 benchmark, which is considerably better than what was seen three years after the Great Recession."