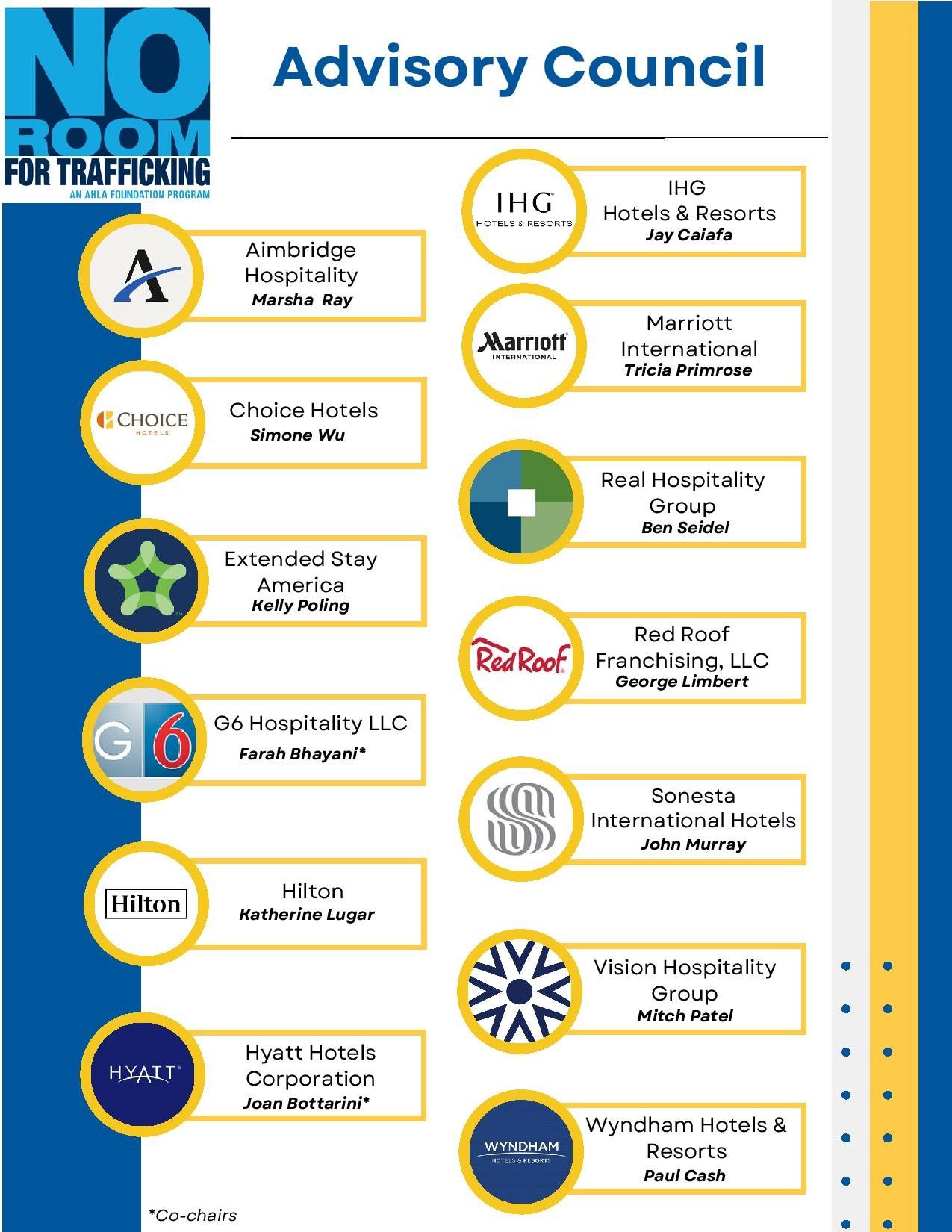 THE AMERICAN HOTEL & Lodging Association Foundation has announced the launch of its inaugural 'No Room for Trafficking' Advisory Council, comprising leaders in the hotel and lodging industry. The program aims to unite the industry to combat trafficking and to meet the needs of hospitality employers, employees and the communities they serve, AHLA Foundation said in a statement.
NRFT Advisory Council members support the hotel industry's unified efforts to empower trafficking survivors, providing critical resources for their self-sufficiency, while inspiring and uniting the industry in the fight against trafficking, according to the statement. The council oversees the development and oversight of the NRFT Survivor Fund, providing essential resources to community-based organizations for engaging and supporting survivors of human trafficking, the statement added.
NRFT Advisory Council members include:
Co-chair: Farah Bhayani, general counsel and chief compliance officer, G6 Hospitality
Co-chair: Joan Bottarini, chief financial officer, Hyatt Hotels Corporation
Jay Caiafa, chief operating officer, The Americas, IHG Hotels & Resorts
Paul Cash, general counsel and chief compliance officer, Wyndham Hotels & Resorts
George Limbert, president, Red Roof Franchising
Katherine Lugar, executive vice president of corporate affairs, Hilton
John Murray, president and CEO, Sonesta International Hotels
Mitch Patel, president and CEO, Vision Hospitality Group
Kelly Poling, executive vice president and chief commercial officer, Extended Stay America
Tricia Primrose, executive vice president and chief global communications and public affairs officer, Marriott International
Marsha Ray, senior vice president of operations, Aimbridge Hospitality
Ben Seidel, president and CEO, Real Hospitality Group
Simone Wu, senior vice president and general counsel, Choice Hotels International
"The esteemed leaders comprising our inaugural NRFT Advisory Council underscore the hotel industry's strong commitment to combat human trafficking," said AHLA Foundation President Anna Blue. "With their leadership, alongside AHLA and the unwavering commitment of the AHLA Foundation, we will persist in collaborating across the industry to drive vital human trafficking prevention efforts."
Ongoing efforts
The AHLA Foundation announcement is part of the hotel industry's ongoing effort to preventing human trafficking and promoting the economic stability of survivors, AHLA said.
Since 2020, the AHLA Foundation's NRFT program, in partnership with ECPAT-USA, has supported free anti-trafficking training for hundreds of thousands of hotel employees, while building industry-wide awareness of this issue and its stakeholders.
In 2022, the AHLA Foundation announced expanded support for trafficking survivors through the industry's first-ever Survivor Fund, which has raised $3.4 million since its inception. As part of its unwavering commitment to addressing this issue, the AHLA Foundation will match NRFT Survivor Fund contributions up to $5 million.
In January, AHLA and AAHOA staff wore blue to raise awareness for National Human Trafficking Prevention Month, urging hotel owners to utilize educational programs for trafficking prevention. Wyndham Hotels & Resorts also made a significant commitment, donating $500,000 to the foundation's Survivor Fund, the largest contribution to date.
IHG Hotels & Resorts also contributed $500,000 to the AHLA Foundation's No Room for Trafficking Survivor Fund in February, joining other major hotel companies in combating human trafficking.
In April, Red Roof extended their partnership and presented a $10,000 check to ECPAT-USA at the AAHOA 2022 Annual Conference & Trade Show.
At the upcoming second annual NRFT Summit later this summer, the NRFT Advisory Council will unveil the inaugural grantees of the NRFT Survivor Fund.