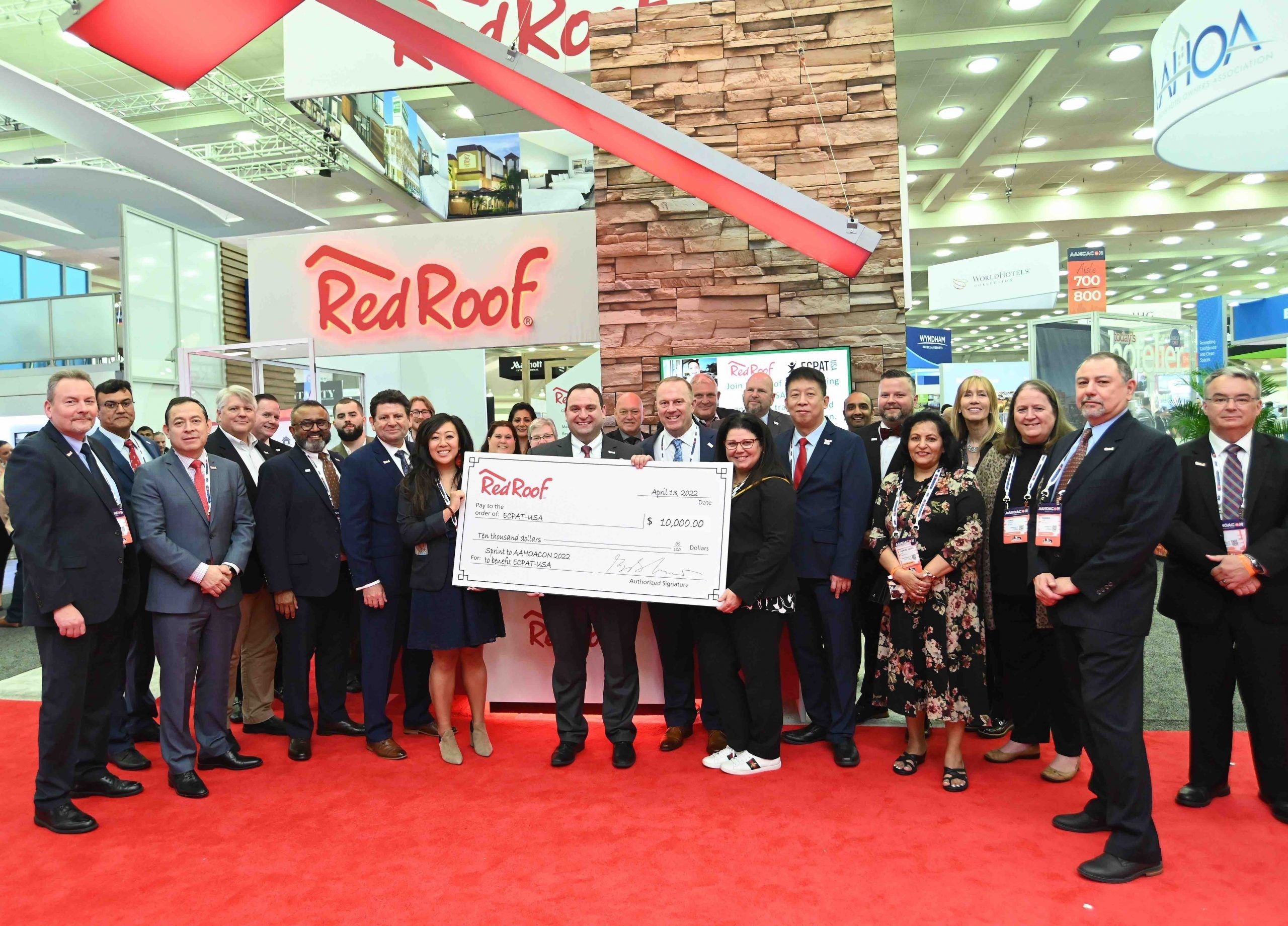 RED ROOF IS putting its money to good use, fighting human trafficking in cooperation with anti-child trafficking and exploitation organization ECPAT-USA. The hotel company and the not-for-profit kicked off their new partnership with a $10,000 check presentation at the AAHOA 2022 Annual Conference & Trade Show last week.
Red Roof is a member of ECPAT-USA's Tourism Child-Protection Code of Conduct, known as "The Code," a voluntary set of business principles travel and tour companies can implement to prevent sexual exploitation and trafficking of children. Through the summer months, Red Roof also will promote The Code and encourage more donations from its franchise partners and vendors and the entire hospitality industry.
"Red Roof stands shoulder-to-shoulder with ECPAT-USA," said George Limbert, president of Red Roof. "We encourage all of our partners and peers in travel and hospitality to join us and stand by ECPAT-USA in the fight against human trafficking."
Red Roof franchisees and others who wish to show their support for ECPAT-USA as part of the fundraising campaign can donate directly to the organization through a special website.
"We are incredibly grateful for Red Roof for their ongoing partnership in our work to end child sex trafficking in the U.S.," said Yvonne Chen, Director of Private Sector Engagement at ECPAT-USA. "The support of Red Roof and others in the hotel industry is crucial to ensuring all children are able to grow up free from exploitation."
January was National Slavery and Human Trafficking Prevention Month. Also known as Human Trafficking Awareness Month, it is a time for companies, organizations and individuals to come together to address the problem, according to Hope for Justice. The month culminated in National Freedom Day on Feb. 1.
Last August, AAHOA updated its Businesses Ending Slavery and Trafficking (BEST) Inhospitable to Human Trafficking training program to better prepare its members. Also, last year Marriott International announced similar updates to its training program with the goal of training all of its on-property employees to recognize and respond to potential indicators of human trafficking at hotels by 2025.