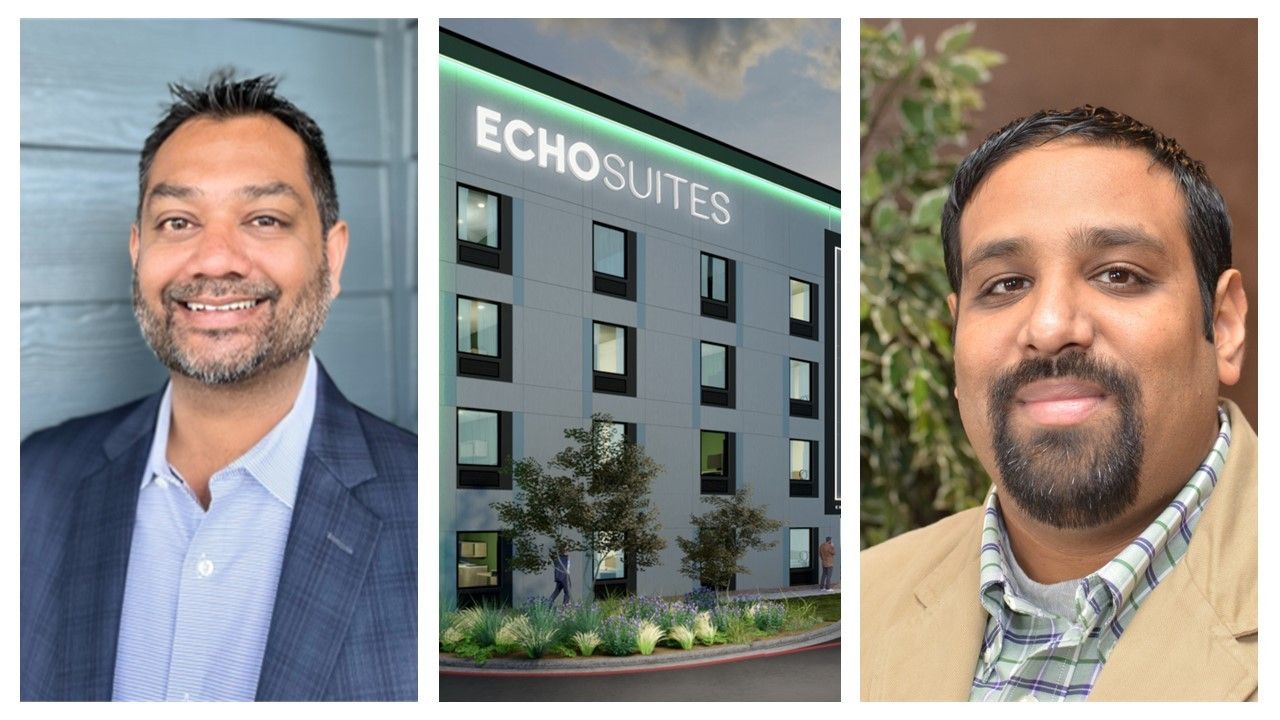 WYNDHAM HOTELS & RESORTS recently signed 60 new franchise agreements for its ECHO Suites Extended Stay by Wyndham. Among the new developers were the first Asian American to take on the brand, Kalpesh Patel of VKB Management in Des Moines, Iowa, and Amish Patel of Precision Hospitality in Chattanooga, Tennessee.
Kalpesh and Amish have formed NXT Development to build at least 10 ECHOs over the next few years. The markets they are considering include Chattanooga; Mobile, Alabama; and Columbus or Athens, Georgia.
"At the end of the day, we've got a number of sites that we have access to," Kalpesh said. "There are markets that are obviously taken. There are 250 or 260 signed deals out there. We have the ability to go just about anywhere as long as the market is open so we're looking at a lot of different options."
The right background
Both men grew up in the hotel business. They've developed multiple brands, including several transient brands, but it was their involvement with the extended-stay segment, and particularly WoodSpring Suites, formerly Value Place, owned by Choice Hotels International.
"We were in a little bit everything but extended-stay wise we bought our first WoodSprings in 2015," Kalpesh said. "We bought two of them and then since it opened a third and are under development on a fourth."
Amish said the extended-stay segment has intrigued him since he bought his first Value Place in 2014.
"It was just a whole different operation, a different model," Amish said. "I love the concept, love the management style of the team."
Kalpesh said he met Amish through the Woodspring channels, such as owner advisory councils. They started talking about opportunities and came up with ECHO.
"ECHO is intriguing in the fact that we both are familiar with WoodSpring and extended-stay, economy extended-stay specifically, and the fact that it's been very good for us as a business," Kalpesh said. "It is a product type and a solution that lends itself to being very developer friendly, very investor friendly. There's a high profitability in there that is starting to lack in a number of different other hospitality areas right now. And ECHO was just this new thing on the block."
They also can develop ECHOs in markets in which they cannot build a WoodSpring. They also like the team leading the brand.
The right design
The main attraction of ECHO, however, is the design work that goes into it, both men said.
"We looked at the concept, we looked at who was at the forefront leading the brand with information and we knew a lot of the same people so we trust that leadership," Amish said. "I feel that they are truly looking at the extended-stay as an extended-stay."
A successful extended-stay hotel brand has to be efficient and clean, he said. ECHO is that.
"I like how you have singles on one side and your doubles on one side. You have a nice, easy flow of public area," Amish said. "The back of the house is efficient. I like the set up of the laundry room to run efficiently with our staff, and the public area is just enough. It's not too much, it's not too little, and it looks great. The design aspect is very appealing."
He also likes ECHO's 1.9-acre footprint. Kalpesh said their experience with the WoodSpring brand has prepared them well for developing ECHO
"It's taken the WoodSpring model and even upped it a little bit from a construction standpoint," Kalpesh said. "There's been a lot of thought in that prototype, and on the development and construction side to create more efficiency and cost effectiveness. And at the end of the day, that's what this product line is all about, how do you control your inputs so that your outputs are maximized? That's what it does."
Part of the brand's widening reach
The 60 new ECHO franchise agreements bring the brand's global pipeline to 265 hotels and approximately 33,000 rooms. Multiple projects have broken ground and are in various stages of construction across Virginia, Texas and South Carolina, with more than a dozen more slated to break ground in the months ahead.
Wyndham expects to have 100 hotels open over five years, with the brand's first locations beginning to make a meaningful contribution to Wyndham's overall portfolio in 2024.
"Since announcing ECHO Suites last year, we've seen unprecedented interest from among the industry's most-successful extended stay developers, helping make ECHO the fastest-growing brand launch of 2022," said Chip Ohlsson, Wyndham's chief development officer.
The all new-construction, 124-room ECHO Suites prototype requires under two acres of land and approximately 50,000 square-feet, individual rooms average 300 square-feet. The rooms consist of single- and two-queen studio suites with kitchens as well as a lobby, fitness center and guest laundry.
In July, Wyndham held its second Black Owners and Lodging Developers Symposium in anticipation of the upcoming 2023 National Association of Black Hotel Owners, Operators & Developers Hotel Ownership & Investment Summit.