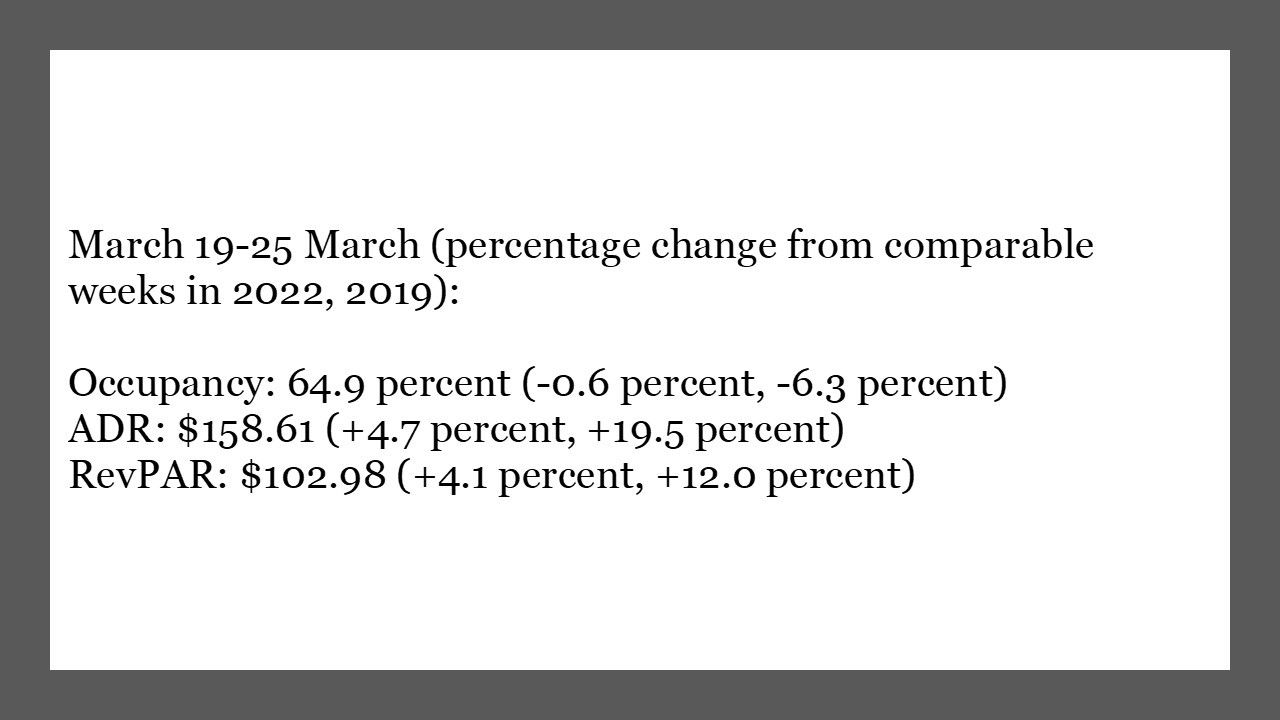 REFLECTING THE NORMAL ebb and flow of spring break season, U.S. hotel performance has decreased in the fourth week of March from the week before, according to STR. Chicago and Phoenix saw rises in occupancy.
Occupancy was 64.9 percent for the week ending March 25, down from 67.6 percent the week before and 0.6 percent down than the comparable week in 2002 and 6.3 percent down the comparable week in 2019. ADR was $158.61, down from $167.04 the week before, up 4.7 percent from last year and up 19.5 percent from 2019. RevPAR stood at $102.98 in the last week, down from $112.89 the week before and increased 4.1 percent and 12 percent against the same month in 2022 and 2019.
Among the top 25 markets, Chicago saw the highest year-over-year increase in occupancy in the fourth week of the month, up 12.2 percent to 63.4 percent, while Phoenix witnessed the only occupancy lift over 2019, up 3.1 percent to 81.5 percent.
Washington, D.C., reported the most substantial ADR, up 20.9 percent to $194.18, while RevPAR increased 33.4 percent to $139.83 year-over-year. Las Vegas reported the highest growths in the measuring of ADR, up 42.7 percent to $187.21, and RevPAR, which increased 31.5 percent to $148.86 percent, against 2019.
The steepest RevPAR declines were seen in Seattle, down 11.8 percent to $101.31 and New Orleans, decreased 11.4 percent to $124.47, over 2019.  New Orleans also reported the largest year-over-year RevPAR decrease, down 12.4 percent to $124.47.