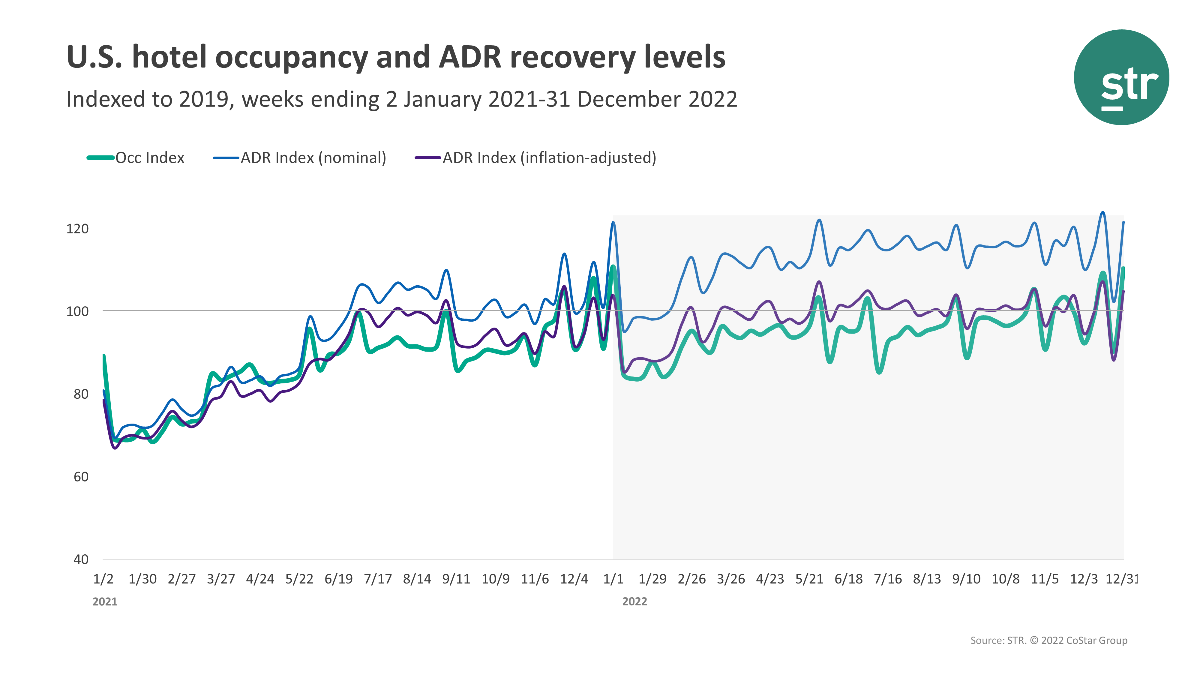 U.S. HOTEL PERFORMANCE improved in the final week of 2022 compared to the week before due to favorable side of a holiday calendar shift, according to STR. When compared to the same period in 2019 performance also increased in the last week of December.
According to STR, the comparable week in 2019 covered Dec. 29 to Jan. 4.
Occupancy was 54.2 percent for the week ending Dec. 31, up from 43.9 percent the week before and increased 10.4 percent from 2019. ADR was $167.21 during the week, a steep increase from $132.29 the week before and up 21.7 percent from three years ago. RevPAR reached $90.63 in the final week of December, rose from $58.04 the week before and up 34.3 percent from 2019.
Among STR's top 25 markets, Norfolk/Virginia Beach reported the highest occupancy increase, up 22.9 percent to 48.5 percent, over 2019. Phoenix posted the highest ADR increase in the closing of 2022, up 53.5 percent to $174.33, over 2019.
San Francisco, down 9.3 percent $92.78, and Los Angeles, decreased 4.2 percent to $127.74, were the only markets which saw RevPAR declines from 2019. None of the top 25 markets reported an ADR decline.