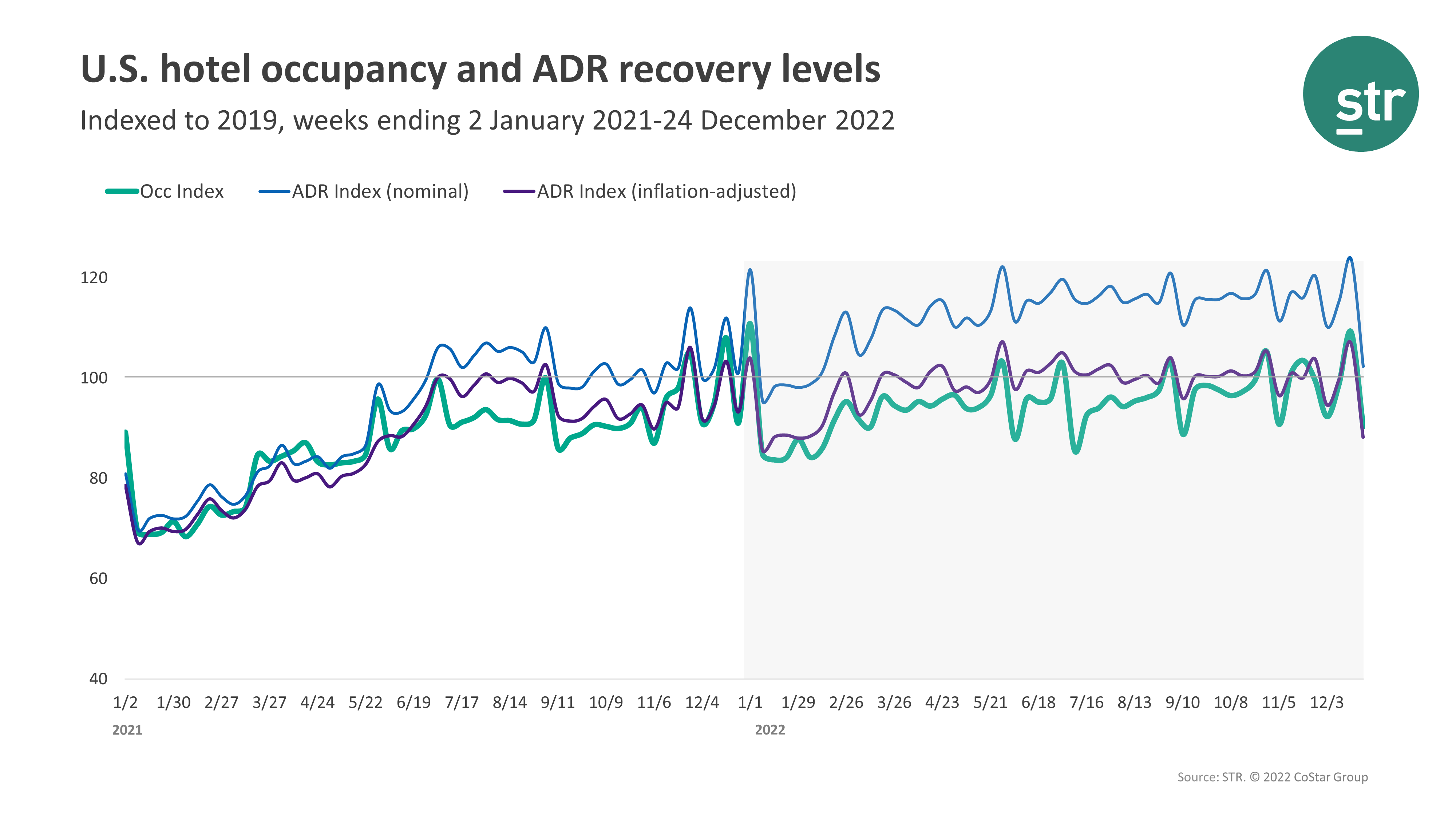 U.S. HOTELS PERFORMANCE was down in the fourth week of December compared to the week before, according to STR. The market also saw lower performance in November compared to October, and performance during the month was also decreased when compared to 2019.
Holiday shift affects week
Occupancy was 43.9 percent for the week ending Dec. 24, down from 54.5 percent the week before and decreased 9.7 percent from 2019. ADR was $132.29 during the week, dropped from $135.08 the week before and up 2.3 percent from three years ago. RevPAR reached $58.04 during the week, decreased from $73.65 the week before and dropped 7.6 percent from 2019.
Among STR's top 25 markets for the week, Houston reported the highest occupancy increase, up 3.4 percent to 43.1 percent, over 2019.
Seattle posted the highest ADR lift, up 19.7 percent to $130.07, over 2019. Miami saw the steepest ADR, down 26.2 percent to $225.08 and RevPAR, dropped 42.4 percent to $138.19, declines from 2019.
The unfavorable side of a holiday calendar shift also dragged the performance during the week ending Dec. 24 when compared to 2019. Meanwhile, Christmas Eve occupancy came in at 43.6 percent, which topped the previous high established in 2021. The corresponding week in 2019 ended on Dec. 28, which contributed to the improved performance for that overall period.
A month to remember
Occupancy was 59.4 percent for November decreased from 67.2 percent from the month before and dropped 3.2 percent from 2019. ADR was $144.46 for the month, down from $155.63 in October and up 15.2 percent from three years ago. RevPAR was $85.74 for November, a steep drop from $104.59 the month before and up 11.4 percent over 2019.
Among STR's top 25 markets, New York City experienced the highest occupancy at 79 percent for November'22 which was down 8.8 percent from the same period in 2019.
Minneapolis, down 51.2 percent and St. Louis, dropped 52.2 percent, reported the lowest occupancy for the month. San Francisco reported the steepest decline in occupancy at 21.8 percent when compared to 2019.
Meanwhile, top 25 markets showed higher occupancy and ADR than all other markets in November mainly due to improvement in business and group travel.