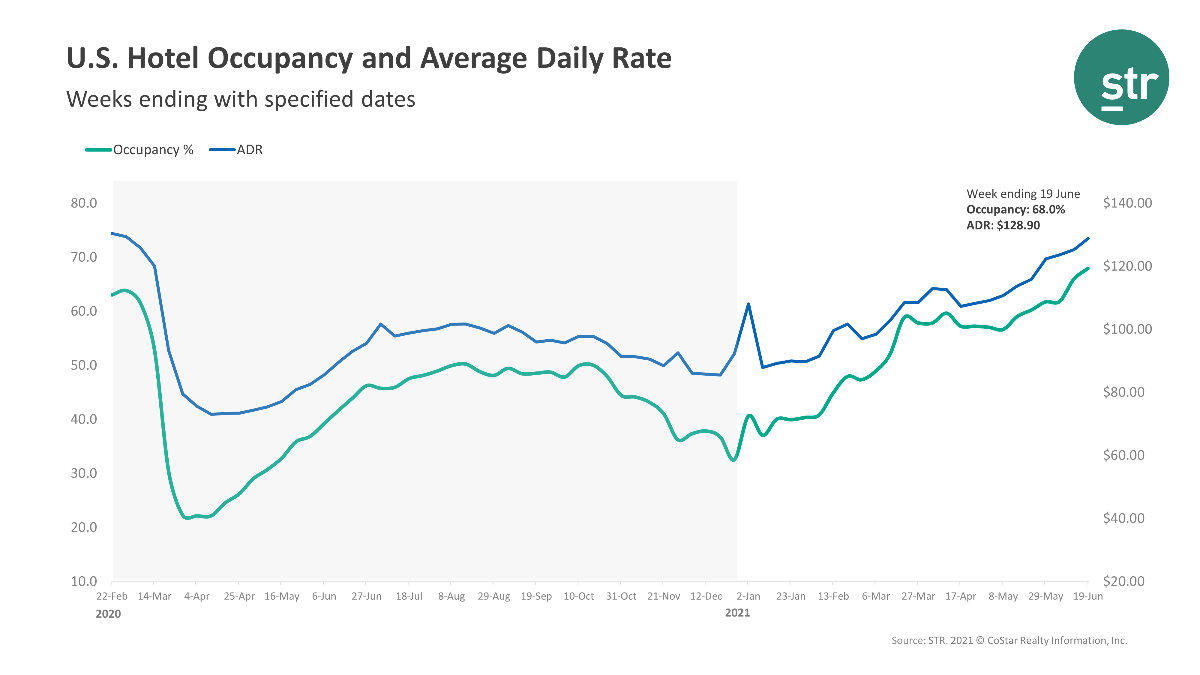 THE RECOVERY CONTINUED for U.S. hotels in the second and third week of June, according to STR. Occupancy hit its highest level in 85 weeks in the third week.
Occupancy reached 68 percent in the week ending June 19, a rise from 66 percent the week before and down only 9.9 percent from the same time in 2019. ADR for the week was $128.90, up from $125.16 and down 4.4 percent from 2019. RevPAR came in at $87.62, up from $82.65 weekly and down 13.8 percent from 2019.
"In addition to occupancy reaching its highest point since the week ending Nov. 9, 2019, ADR and RevPAR were pandemic-era highs," STR said about the week ending June 19.
"While weekday occupancy was still down double digits from the corresponding days in 2019, weekend occupancy was 0.2 percent on Friday and 3.2 percent on Saturday, higher than the 2019 comparables," STR said about the previous week. "On a total-room-inventory basis, which includes those hotels temporarily closed due to the pandemic, total week occupancy was higher than 60 percent for the first time since the beginning of the pandemic. ADR and RevPAR were also the highest of the pandemic era on an absolute basis."
Tampa, Florida, was the only top 25 market to see occupancy increase over 2019, up 1.2 percent to 77.5 percent. San Francisco/San Mateo, California, experienced the steepest decline in occupancy from 2019, dropping 38.7 percent to 53.2 percent.
Miami had the largest increases over 2019 in both ADR, up 44.9 percent to $221.42, and RevPAR, which increased 40.2 percent to $159.29. Boston and San Francisco/San Mateo saw the largest RevPAR drops during the week, down 61.4 percent to $74.55 and 60.9 percent to $82.76 respectively.
May also saw improving performance with occupancy, RevPAR and ADR all reaching new highs in monthly performances since the beginning of the pandemic.