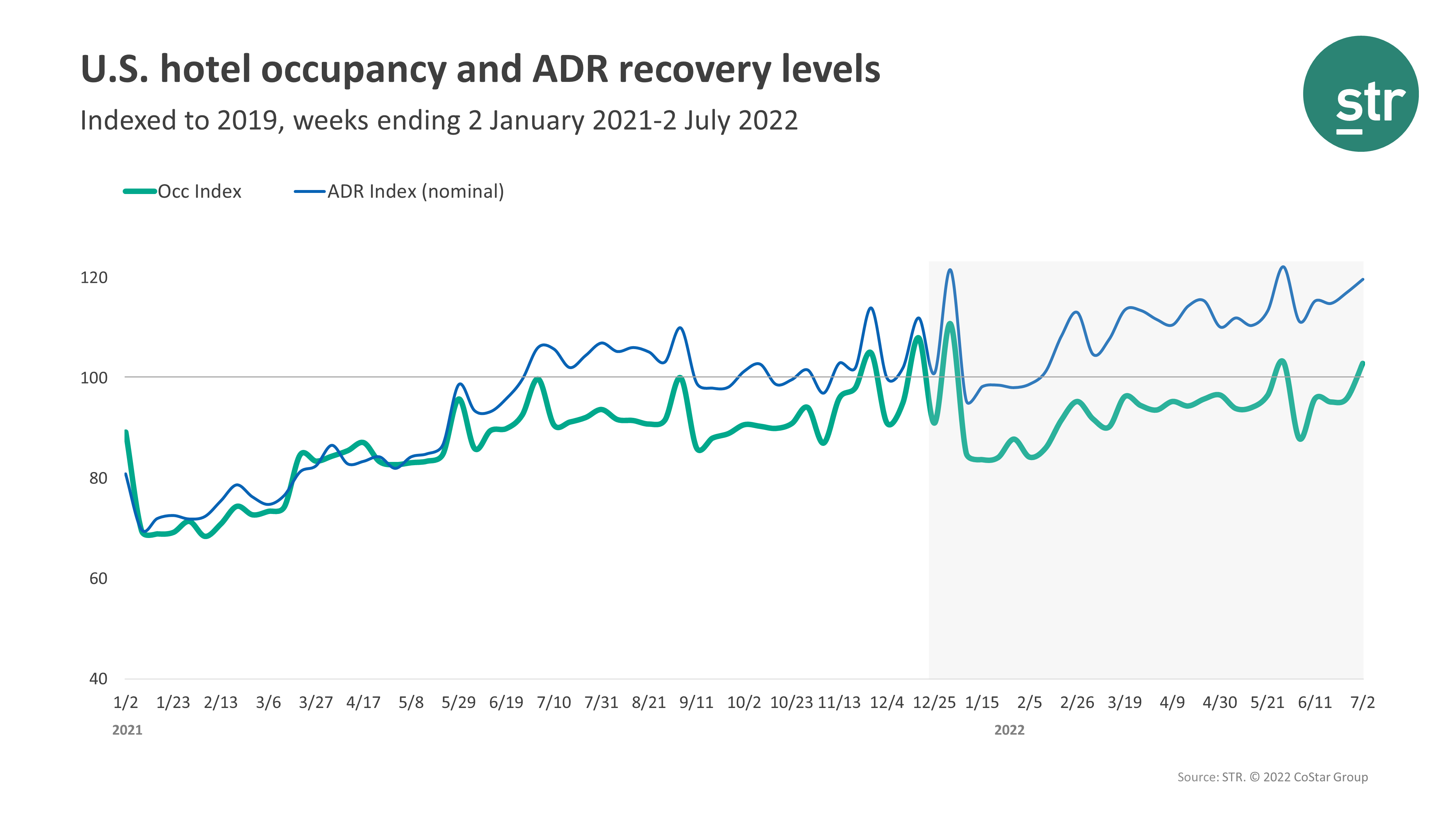 U.S. HOTEL PERFORMANCE dipped in the first week of July when compared to the week before mainly due to decline in demand on account of the Independence Day holiday, according to STR. STR predicted that occupancy and demand are likely to fall again for a week before strengthening in the remaining weeks of July.
Occupancy in the week before the holiday fell by more than four percentage points with most of the losses beginning on Wednesday and continuing into the weekend. Since 2000, the fourth of July holiday has fallen on a Monday seven times, including in 2021 and in 2016.
Occupancy was 67.3 percent for the week ending July 2, down from 72.3 percent the week before and dropped 2.9 percent from 2019. ADR was $153.32 for the week, declined from $157.05 the week before and increased 19.7 percent from three years ago.  RevPAR reached $103.24 during the week down from $113.55 the week before and up 23.1 percent from 2019.
New Orleans saw the largest occupancy increase, up 16.5 percent to 73.7 percent, among STR's top 25 markets, followed by Chicago, increased 15.1 percent to 73.5 percent, over 2019.
Denver, with 85.7 percent, Oahu Island with 83.4 percent and San Diego with 81.9 percent led the major markets in absolute occupancy during the week. Miami reported the largest occupancy decrease, down 9.8 percent to 65.7 percent, from 2019. Chicago posted the largest ADR gain, 49 percent to $170, over 2019.
According to STR, each of STR's top 25 markets saw higher RevPAR during the week when compared to 2019 mainly due to increase in ADR.