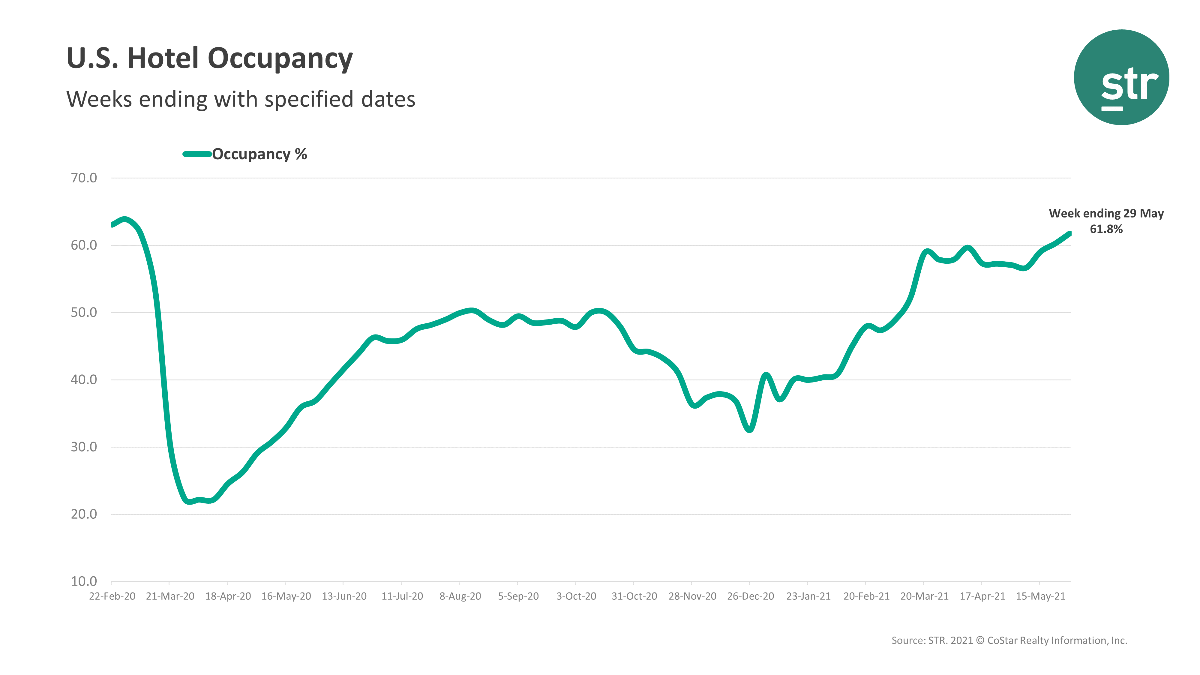 MEMORIAL DAY WEEKEND was exactly the boost expected for U.S. hotels, according to STR. Occupancy for the last week of May exceeded late February of last year.
Occupancy 61.8 percent for the week ending May 29, compared to 60.3 percent the week before but down 4.2 percent from the comparable time period in 2019. STR now compares performance to comparable weeks in 2019 because all comparable months from last year were impacted by the beginning of the pandemic and do not represent a return to normal.
ADR was $122.06, up from $115.57 the previous week and down 1.6 percent from 2019 levels. RevPAR came in at $75.42, up from $69.69 weekly and down 5.7 percent from 2019.
"Percentage changes were skewed more to the positive because the 2019 comparable was the week after Memorial Day. Regardless, this past Saturday's 83 percent occupancy level was the country's highest since October 2019," STR said. "Weekly ADR and RevPAR were boosted to pandemic-era highs as well. STR analysts note that while the positives around leisure demand are obvious headed into the summer, the path to recovery remains a rollercoaster with a lack of business travel, both domestic and international, preventing hotels in many markets from making up more of the ground lost in 2020."
Among STR's top 25 markets, Phoenix was the only one to report a double-digit occupancy increase over 2019, rising 10. percent to 64.3 percent. San Francisco/San Mateo saw the steepest decline in occupancy compared with 2019, dropping 41.1 percent to 47.3 percent.
Miami saw the highest rise in ADR from 2019, up 52.1 percent to $250.19, followed by Phoenix with a 27.4 percent rise to $125.71. Miami and Phoenix also saw the largest increase in RevPAR, with Miami up 58.4 percent to $185.24 and Phoenix up 40.2 percent to $80.83.
San Francisco/San Mateo saw the largest decline in RevPAR, down 60.4 percent to $67.07, followed by Boston with a 55.4 percent decline to $69.79.