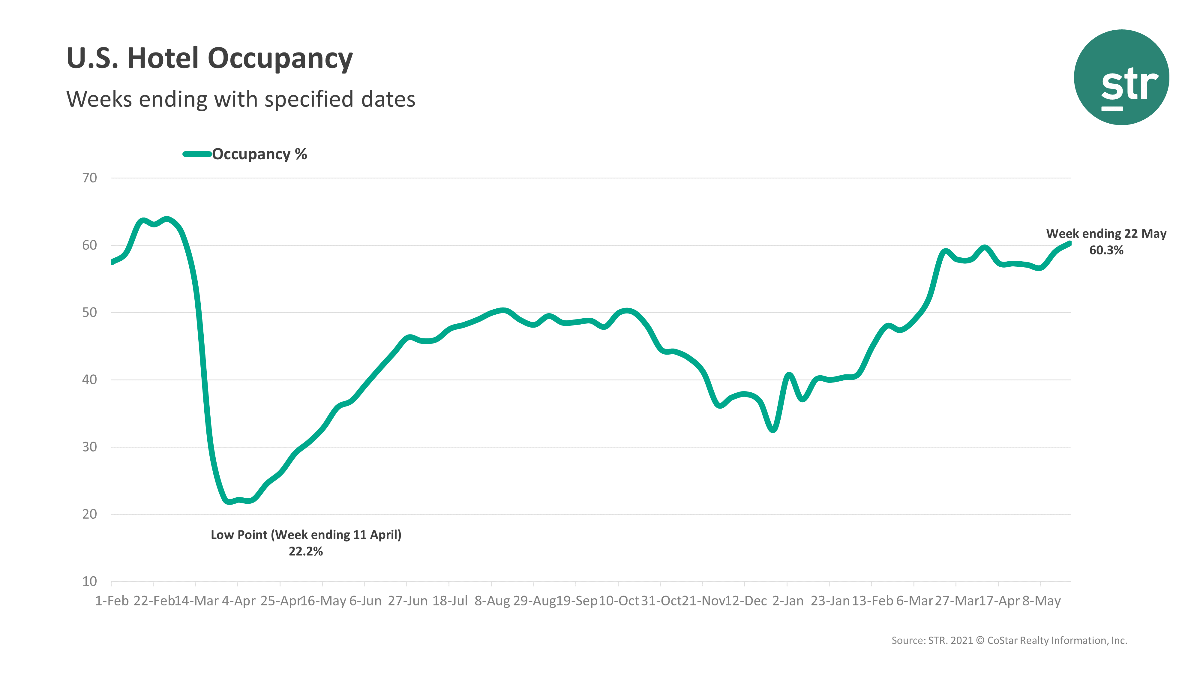 IN ANOTHER SIGN of recovery, U.S. hotels reached 60 percent occupancy in the third week of May for the first time since the beginning of the COVID-19 pandemic, according to STR. This follows the strongest monthly performance since the beginning of the pandemic that was seen in April.
Occupancy was 60.3 percent for the week ending May 22, up from 59.1 percent the week before but down 15.1 percent from the same time period in 2019. STR now compares performance to comparable weeks in 2019 because all comparable months from last year were impacted by the beginning of the pandemic and do not represent a return to normal.
ADR was $115.57, up from $113.54 the week before and the highest its been since the beginning of the pandemic, albeit still 13.6 percent less than 2019. RevPAR was $69.69, also a highpoint and up from $67.05 the previous week, but still down 26.6 percent from the same week two years ago.
In April, occupancy reached 57.5 percent, down 15.2 percent from April 2019. ADR was $110.34, a 16 percent decline, and RevPAR was $63.46, a 28.8 percent drop.
"Occupancy and RevPAR were the highest for any month since February 2020, while ADR was the highest since March 2020," STR said. "While year-over-year percentage changes show significant increases because of comparison with a pandemic-affected period in 2020, the country's performance levels remained well below the pre-pandemic comparable of April 2019."
Among the top 25 markets during the week of May 22, Miami was the only to report an occupancy increase over 2019, up 2.8 percent to 76 percent. San Francisco/San Mateo, California, saw the steepest decline in occupancy from 2019, down 45.5 percent to 47.9 percent, and RevPAR, down 70 percent to $66.53. Boston had the second largest drop in RevPAR, down 66.9 percent to $64.22.
Phoenix's ADR exceeded 2019 levels, up 6.7 percent to $122.97, as did Tampa with a 0.3 percent rise to $140.09. None of the top 25 markets had RevPAR levels higher than the 2019 comparable.
Among the top 25 in April, Tampa, Florida, saw the highest occupancy, 77 percent, which was 0.5 percent below 2019 levels for the market. The next highest occupancy level was in Miami with 72 percent, and that city also recorded the highest ADR, $233.80, and RevPAR, $168.31. Miami's ADR was 6.9 percent higher than the pre-pandemic comparable.
Boston and Minneapolis saw the lowest occupancy for the month, down 40.4 percent and 42.5 percent respectively.