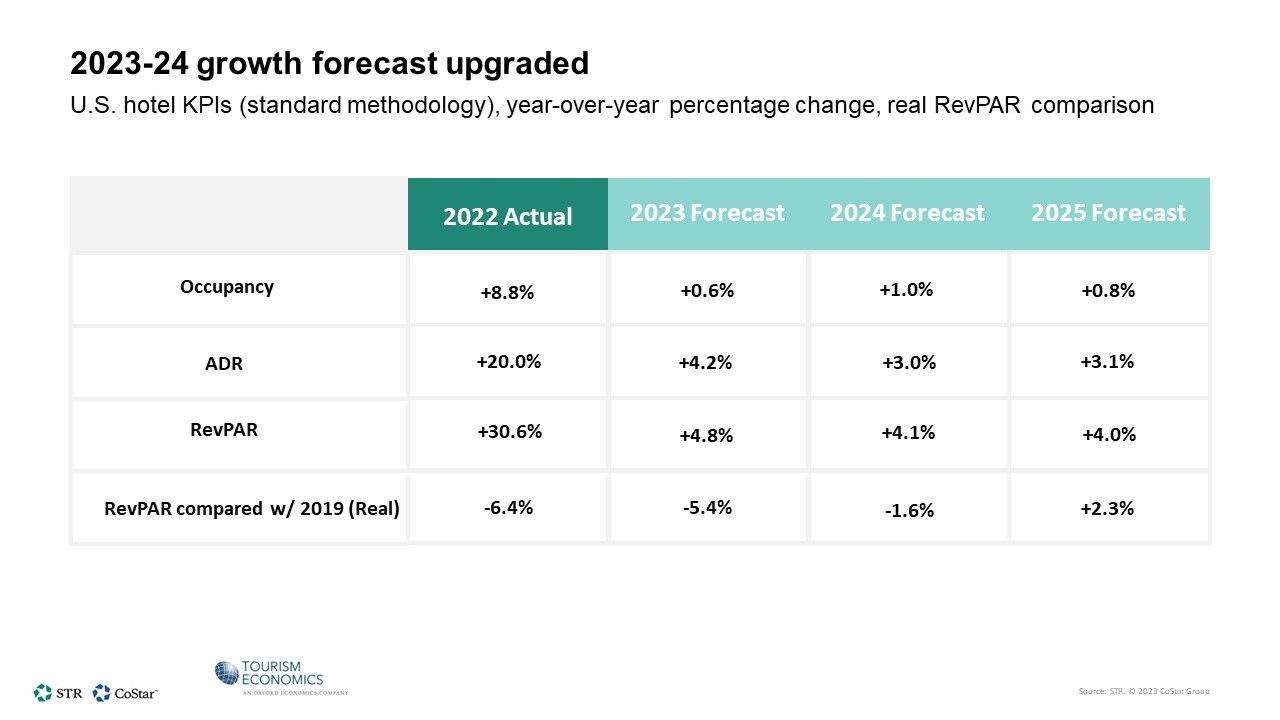 STR AND TOURISM ECONOMICS have increased year-over-year growth projections for ADR and RevPAR in the final revision of the U.S. hotel forecast for 2023. While some factors, such as higher interest rates and more restrictive lending, may impact the economy, their effect on the travel industry is not expected to be strong.
In 2023, RevPAR saw a 0.3 percentage point increase, propelled by a 0.6ppt rise in ADR growth, according to STR and TE. Meanwhile, recent RevPAR trends affirm rate as the predominant performance driver.
Occupancy was downgraded by 0.2ppts, STR and TE said in a statement. Growth projections for key performance metrics in 2024 remained flat from the previous forecast, reflecting the stabilization of long-term average trends.
"Our latest projections reflect sustained traveler demand, surpassing our earlier forecast that factored in a mild recession," said Amanda Hite, STR President. "As a result, we've increased RevPAR for the remainder of 2023, with potential risks on the upside. Looking ahead to the new year, we anticipate continued growth in RevPAR."
Hite said the current economic outlook projects a stalling economy, with growth levels expected to be below those observed toward the end of the pandemic.
"Despite potential challenges, we note strong traveler fundamentals such as low unemployment among college-educated individuals, an increased volume of households above $100k in income, a rise in real personal disposable income, and a somewhat stable corporate environment," Hite added. "The projected ADR increase will lead to higher TRevPAR, and combined with reduced labor spending, it raises our GOP expectations. The gap in hospitality employment levels, along with increased operational efficiencies, has brought down our labor cost forecast."
"Factors like higher interest rates, more restrictive lending, tighter fiscal policy, and weakened household finances are expected to prompt consumers to reduce spending, and firms to cut back on hiring and investment," said Aran Ryan, director of industry studies at Tourism Economics. "This may lead the economy to approach recession. Improvements in the travel sector, including increased group activity and the return of international visitors, are anticipated to offset these economic factors, supporting consistent RevPAR gains."
In August, STR and TE lowered 2023 REVPAR projections for U.S. hotels by 0.5 percentage points due to a 0.6 percentage point drop in occupancy growth. Despite this, RevPAR was expected to surpass the long-term average, with a significant portion of the growth concentrated in the initial months of 2023, according to STR and TE. The revised 2023-24 U.S. hotel forecast, unveiled at the 15th Annual Hotel Data Conference at the Grand Hyatt in Nashville, indicates reduced year-over-year growth projections.