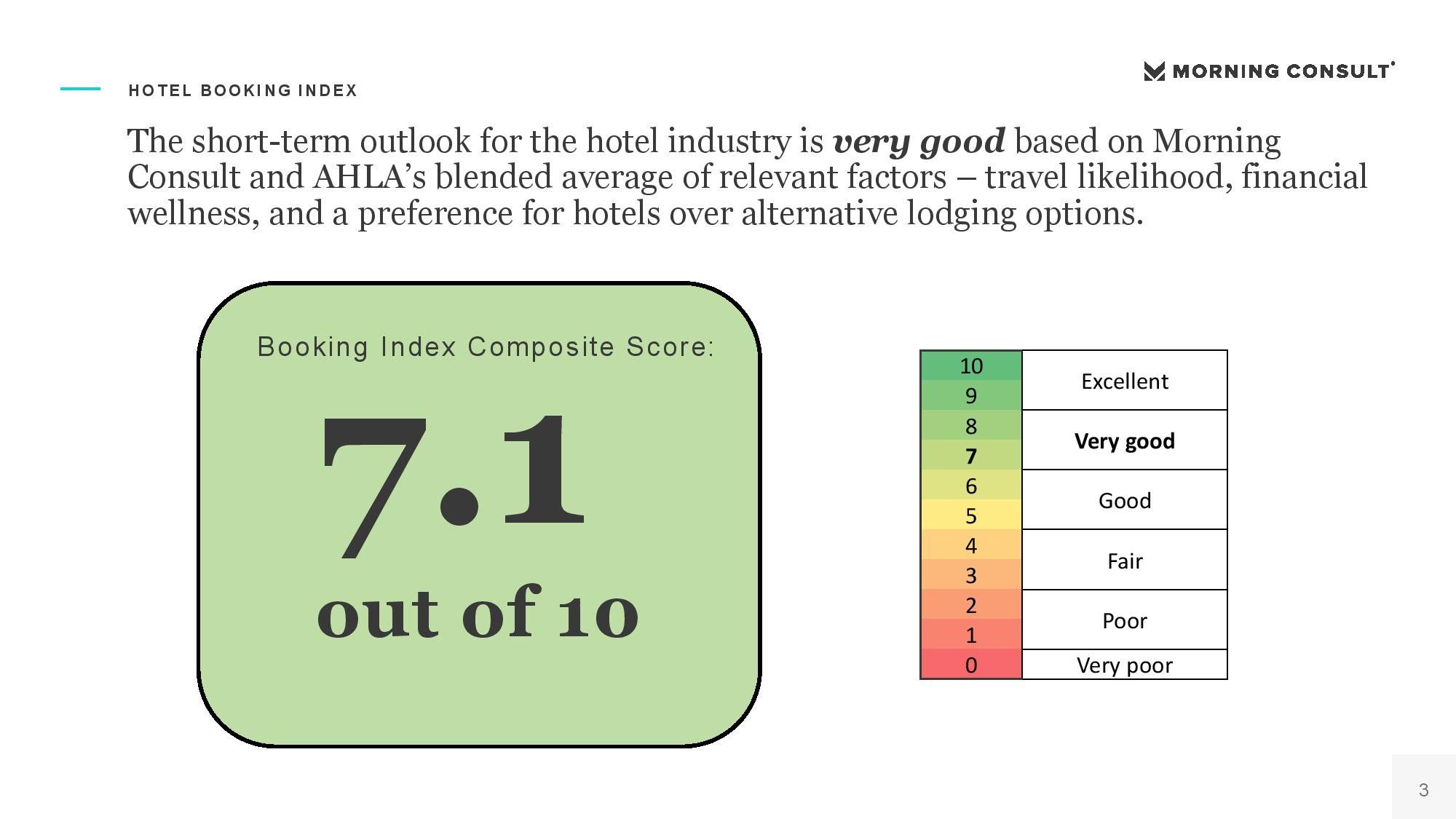 THE OUTLOOK FOR the remainder of 2023 appears positive, driven by increased business travel and a strong preference among business and leisure travelers for hotel stays, according to a study by the American Hotel & Lodging Association. The study also predicts a strong holiday travel season to finish the year.
Around 68 percent of American professionals who travel for work plan to have overnight business trips in the final quarter of 2023, up from 59 percent in 2022. Furthermore, 81 percent of surveyed business travelers prefer hotels as their top lodging choice.
Approximately 32 percent of Americans plan to travel overnight for Thanksgiving, up from 28 percent the previous year, said the AHLA survey, conducted by Morning Consult. Similarly, 34 percent are likely to embark on overnight Christmas trips, compared to 31 percent in the preceding year. Meanwhile, 37 percent of Americans express intent to travel overnight for leisure in the last quarter of 2023, a slight decrease from 39 percent in 2022.
The survey also revealed a return to pre-pandemic travel attitudes, with 71 percent of respondents indicating that their likelihood of staying in hotels is now the same as before the pandemic. Moreover, nearly 70 percent of business travelers report that their employers have either reverted to pre-pandemic norms or increased business travel. This positive shift is particularly advantageous for hoteliers, given that business travel is a primary revenue source for hotels, the survey said.
The survey, comprising 4,006 adults, was conducted from Sept. 18 to 23.
Key findings include:
55 percent of respondents intending to travel for leisure in the last quarter of 2023 plan to opt for hotel stays.
45 percent of respondents express a greater likelihood of choosing hotels this holiday season compared to the previous year.
44 percent of respondents anticipate taking more leisure or vacation trips this holiday season than they did last year.
For overnight Thanksgiving trips, 59 percent plan to stay with family or friends, while 30% intend to stay at a hotel.
Regarding Christmas travel plans, 62 percent plan to stay with family or friends, with 26 percent opting for hotel accommodations.
"Hotels are going above and beyond to take excellent care of guests as travel approaches pre-COVID levels, and this survey underscores that fact," said Chip Rogers, AHLA president and CEO. "America's nearly 62,500 hotels are a bright spot for the nation's economy. To continue growing, they need to hire more people, but a nationwide shortage of workers is preventing hotels from regaining all the jobs we lost to the pandemic."
"There are a number of steps Congress can take to help address our industry's workforce challenges," Rogers said. "Those include establishing an H-2B returning worker exemption, passing the Asylum Seeker Work Authorization Act, and passing the H-2 Improvements to Relieve Employers Act."
Meanwhile, job portal Indeed reported nearly 85,000 open hotel positions nationwide, according to AHLA. As of September, the U.S. had 9.6 million job openings, while only 6.4 million individuals were unemployed, according to the Bureau of Labor Statistics.
The national average hotel wage as of September was $23.36 per hour, AHLA said. Since the pandemic, average hotel wages have surged by 24.6 percent, growing over 30 percent faster than general economy wages, which increased by 18.8 percent.
According to a recent AAA report, approximately 55.4 million U.S. travelers are expected to journey 50 miles or more from home this Thanksgiving, a 2.3 percent increase from last year. The estimates indicate that 49.1 million will drive, a 1.7 percent rise from 2022, while 4.7 million are expected to fly, marking a 6.6 percent increase—the highest since 2005.