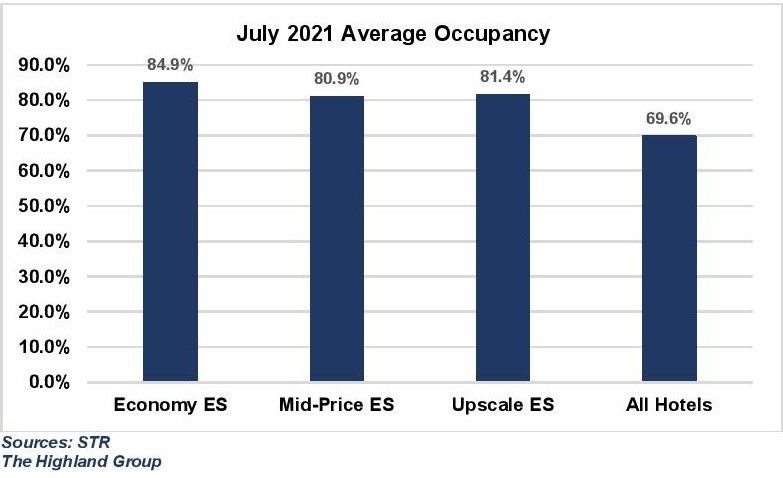 THE AVERAGE OCCUPANCY in U.S. extended-stay hotels hit the high point for 2021 in July at 81.8 percent, according to a report from hotel investment advisors The Highland Group. That's just over 101 percent of comparable time period levels in 2019.
Occupancy has been increasing steadily for the segment since recovery started in December 2020. The report added that all three extended-stay rate scales, upscale, mid-price and economy, reported higher monthly revenues this year compared to 2019. The upscale segment fared best but its recovery indices, except room revenues, remained below the levels seen two years ago.
There also was an 8.1 percent increase in extended-stay room supply in July for all the three scales.
"Upscale extended-stay hotels endured the largest fall in demand and are now leading the demand recovery. Extended-stay hotel demand reached 14.12 million room nights in July 2021, up 13 percent compared to same period two years ago," the Highland Group report said. "The overall hotel industry lost far more revenues than extended-stay hotels in 2020, so it is now recovering them relatively quickly."
According to STR, all hotel room revenue was up 121 percent in July 2021 compared to last year.
"The surge in summer travel and the rebound from 2020 lifted overall hotel occupancy more than extended-stay occupancy," said the report. "STR reported overall hotel industry occupancy gained 48 percent in July 2021. This compares to 25 percent for extended-stay hotels, shrinking extended-stay hotels' occupancy premium to 12 percentage points. The premium is consistent with its long-term average."
According to the report, the 14.3 percent increase in ADR in July for economy extended-stay hotels was the strongest since December last year.
The upscale segment reported a high in growth in ADR at 26.7 percent in July, the largest since the start of the recovery boosted by surge in summer travel, the report added.
"The overall hotel industry lost far more RevPAR than extended-stay hotels during the pandemic. Hence, the industry's RevPAR growth in July 2021 compared to same period a year ago was more than 70 percent greater than extended-stay hotels," the report said.