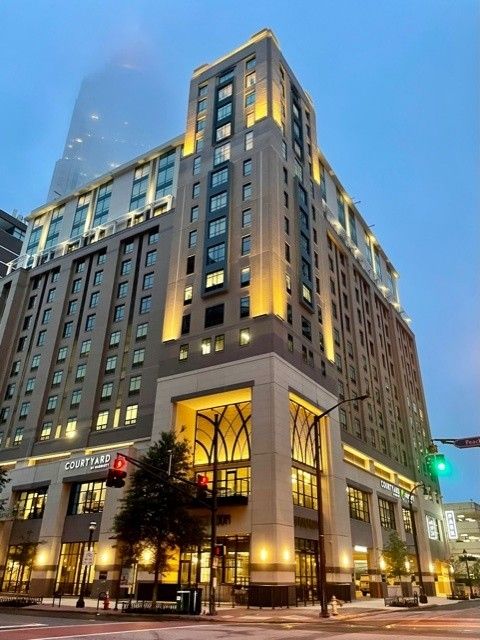 The Courtyard by Marriott Atlanta Midtown and Element by Westin Atlanta Midtown is now open in Atlanta. It is the first dual-brand hotel to combine those two brands and is owned by Noble Investment Group, led by Mit Shah as CEO.
The new hotel has 282 rooms and suites combined, 158 on the Courtyard side and 124 for the Element. It is in the city's Midtown area that includes more than 23 million square feet of office space and more than 80,000 employees. Nearby attractions include the Atlantic Station mixed use district with the Ikea furniture store, Atlanta's Centennial Park, the Georgia Aquarium, the World of Coke, the Fabulous Fox Theatre and Skyline Park.
"Noble is excited to continue expanding our more than 25-year partnership with Marriott with the development of the first of its kind, dual-branded Courtyard by Marriott and Element by Westin hotels," Shah said. "These hotels are the perfect fit for Midtown Atlanta, one of the best live, work, stay, and play communities in America. Over nearly thirty years, we are proud to have invested more than a billion dollars in our hometown, bringing nearly two dozen first-class hotels to the Atlanta area and creating thousands of jobs throughout our community."
The 14-story art-deco building also houses a four-story parking garage as well as The Ponce Room Bar & Kitchen on-site eatery. It also features a combined 3,000 square feet of flexible meeting and event space. The Element also allows dogs weighing up to 40 pounds, providing a dog bed, food, water, water bowls, clean-up supplies, and more as part of its Love that Dog program.
"The Courtyard by Marriott and Element by Westin brands offer highly distinct spaces, guest experiences, and amenities, so pairing them together ensures there truly is something for everyone," said General Manager Tim Dahlen. "We look forward to establishing these properties as the most desirable destinations for leisure and business travelers to Midtown Atlanta."
In July, Noble acquired a dual-brand Hampton Inn and Home2Suites by Hilton hotel in Tampa, Florida. The hotel also has a Starbucks coffee shop in the building on the first floor.