MARRIOTT INTERNATIONAL IS withdrawing its support for AAHOA in opposition to the association's 12 Points of Fair Franchising, according to an alert to AAHOA members. Indications of the split began in July, when a letter to this effect was circulated but not confirmed, and AAHOA said its efforts to make the situation right in the meantime have failed.
The AAHOA member alert also said Marriott had expressed opposition to AAHOA's support for legislation proposed last year in the New Jersey legislature that would strengthen protections for franchise businesses in the state, including hotels. In its alert, attributed to Neal Patel, chairman of  AAHOA, said most hotel franchisers did not take issue with the association's support for the New Jersey legislation nor the 12 Points.
"Many of our other hotel brand partners have taken an open-minded and collaborative approach to fair franchising. We appreciate their willingness to work together to ensure better outcomes for AAHOA members, the industry, and hotel customers," Patel said. "However, we wanted to inform you that Marriott International – one of our longtime brand partners – has decided to take a different position."
Marriott expressed its concerns in a phone call with AAHOA officials in early December, Patel said.
"We emphasized that AAHOA and Marriott have more in common than in conflict, and both support many issues at the federal, state, and local level to propel the hotel industry forward," Patel said in the alert. "Marriott nevertheless stated that it would no longer support AAHOA or attend AAHOACON23 in Los Angeles, April 11 to 14, if AAHOA continued to support the New Jersey fair franchising legislation."
A Marriott spokesperson released the following statement.
"We remain committed to owners and franchisees in the Asian American community and believe our relationship with our owners and franchisees is best managed directly, rather than through a third-party organization with whom our objectives no longer align."
The letter circulated in July gave more detail, though it was not confirmed as coming from Marriott.
"Ultimately, Marriott cannot support, either by endorsement and/or financially, any organization that is in direct opposition to our business model and interests," said the letter. "We believe quite strongly that the longstanding relationship between Marriott and AAHOA has proven to be mutually beneficial, and we are deeply saddened that AAHOA has chosen to pivot its stance on these key issues in a way that is decidedly anti-franchising and anti-Marriott (especially since, as the AAHOA leadership shared with us in a recent meeting, neither AAHOA's leaders nor its members have any material issues with Marriott's approach to franchising or to our franchisees)."
Support for New Jersey legislation
In its negotiations with Marriott, AAHOA's statement said it emphasized that it was not the author of New Jersey Assembly Bill A1958, which would make changes to the New Jersey Franchise Practices Act. However, it supports four points of the bill that provide: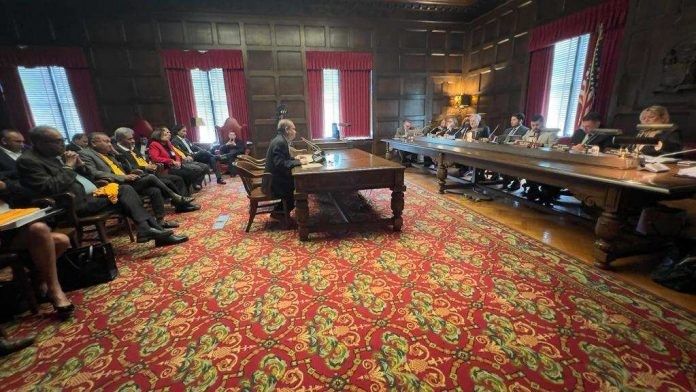 If a franchiser or brand partner receives commissions or rebates from a vendor based on purchases by franchisees, that must be fully disclosed and turned over to the franchisees and the franchise system.
AAHOA will not object to vendor exclusivity so long as the vendor provides these mandated products and services to Franchisees for competitive pricing.
AAHOA will not support the selling of loyalty points by a brand partner or franchiser for a profit.
AAHOA will not support franchise fees being added that were not previously disclosed in the franchise disclosure document without prior approval.
AAHOA supports the preference of certified women-owned, minority-owned and veteran-owned businesses to serve as the mandated and preferred vendors for the franchise business model.
The legislation embodies the basic reasons why AAHOA has supported fair franchising since 1998, said Laura Lee Blake, AAHOA president and CEO.
"By creating and promoting fair standards, hotel owners can compete in a landscape that has largely been reshaped in recent years by the pandemic and the short-term app-based home rental options. Fair franchising also supports the sustainability of the entire franchise system model long into the future," Blake said.
"[Marriott's] stance appears to remain the same even after numerous discussions and offers to work together to draft possible amendments to the New Jersey legislation, and to address the unfair policies and practices that are driving the bill," Blake said.
Prakash Shah, president of the Fair Franchising Initiative, a hotelier advocacy group founded in 2020 with its roots in New Jersey, said Marriott's decision to withdraw from AAHOA is indicative of a larger problem.
"As we have known, the hotel franchising model is badly in need of repair. With online travel agencies generating so much of business and taking such a big chunk of revenue away, precious little is left for the franchisees to make ends meet," Shah said. "Franchisers really need to work with AAHOA and others to evolve a fairer more workable relationship looking towards our mutual benefit and future. It is regrettable that the industry lacks the foresight and forward-looking Leadership at this critical juncture!'
The India connection
Blake also questioned why Marriott was "pushing back" against AAHOA's efforts in the U.S. while seeking to expand its presence in India, the country of origin for most AAHOA members.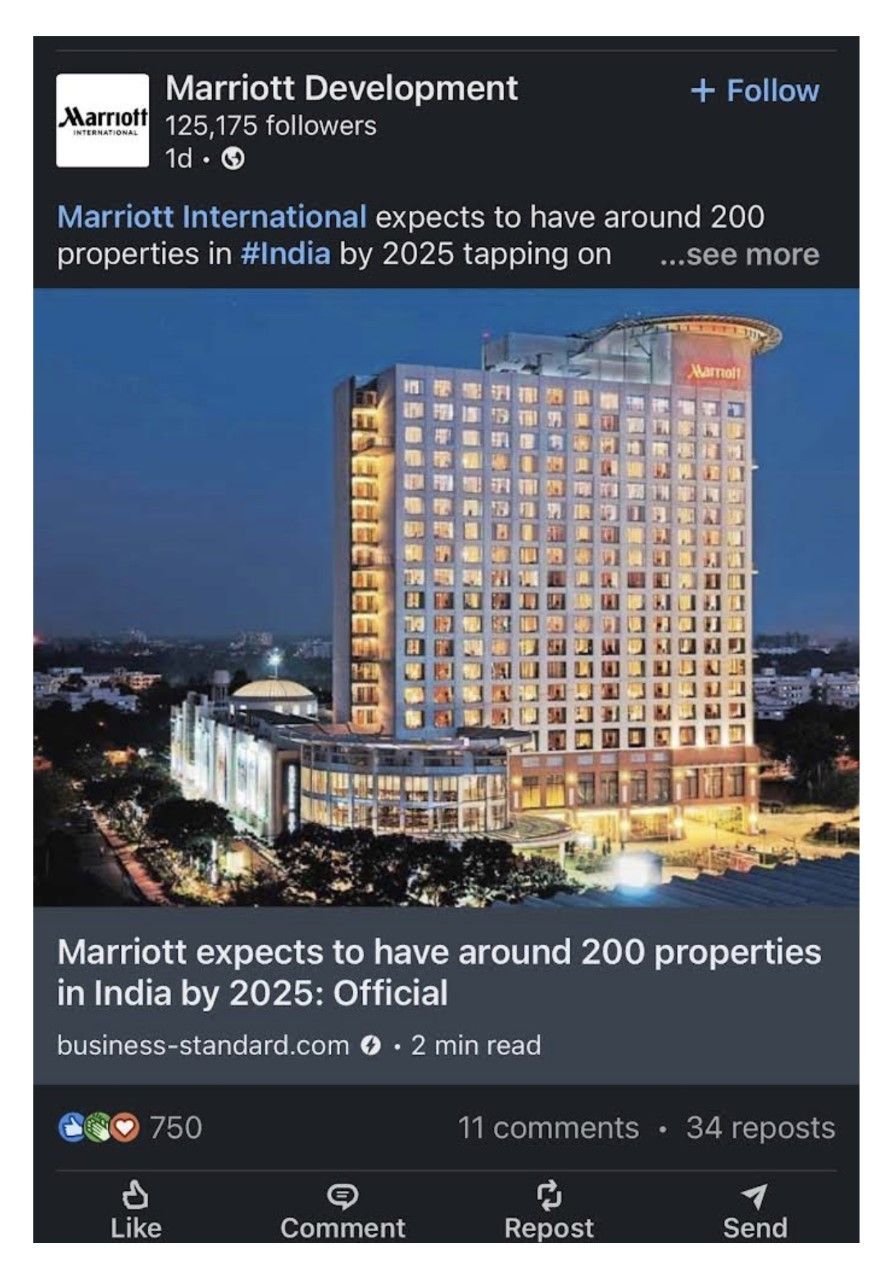 "Specifically, Marriott has now announced that it is planning to develop an additional 200 hotels by 2025. Marriott's travel program, Marriott Bonvoy, is also spending a noteworthy sum on marketing by sponsoring the cricket team Mumbai Indians," Blake said. "This all raises questions as to why Marriott is showcasing such strong financial and marketing support in India, but yet significantly pulling back here in the U.S. where our AAHOA members own more than 50 percent of all Marriott hotels and constitute a large majority of the developers in the pipeline that are ready to build Marriotts in the States. We are surprised that Marriott's investors have not started asking questions. Only Marriott has the answers. But the incongruency raises concerns as to whether AAHOA hoteliers should continue their own strong support of brands that do not do likewise."
Support from other brands
Over the past two months, several other companies have met with AAHOA regarding the 12 Points of Fair Franchising and agreed to implement them. They include Red Roof, Best Western Hotels & Resorts and G6 Hospitality. Other companies have not yet done so, and some have faced lawsuits from AAHOA members over their franchising practices.
In 2020, several hotel owners, many of whom were AAHOA members, sued Choice Hotels International. The lawsuit claimed, among other things, that the company engaged in racketeering by colluding with product vendors from which the company receives kickbacks and charged unreasonable fees.
In a statement, Choice said it remained supportive of AAHOA.
"Our franchisees are at the center of everything we do," the company said. "Choice Hotels is a founding member of AAHOA. We look forward to continuing our dialogue with AAHOA."
In 2021, several AAHOA members joined a lawsuit against IHG Hotels & Resorts making similar accusations. An IHG spokes person said the company was aware of situation between Marriott and AAHOA but had no further comment at this time.
Patel said AAHOA would continue its operations despite Marriott's withdrawal, and it still held out hope for a resolution to the impasse.
"We are disappointed that Marriott has decided to take this position. But, AAHOA leadership will continue to maintain and offer open lines of communication to find a resolution that is in the best interests of our members and the hotel industry," Patel said. "Even without Marriott in attendance at AAHOACON23, we look forward to convening in April to celebrate the great advances we have made, network with each other and our loyal industry partners, and discuss the many pressing issues facing our industry."