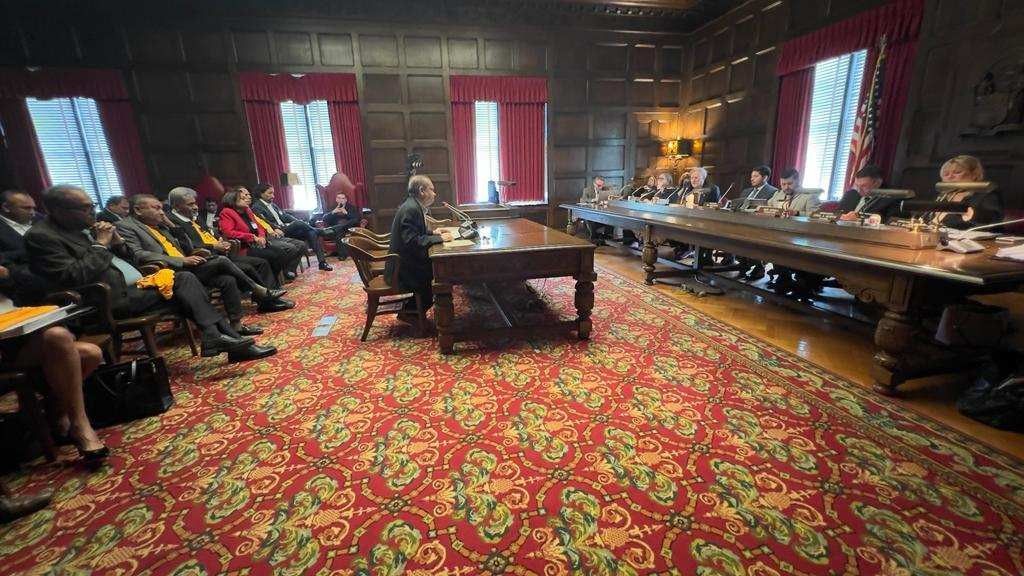 THE NEW JERSEY legislature is considering legislation that would strengthen protections for franchise businesses in the state, including hotels. AAHOA recently visited the state's capital to express its support for the bill.
Assembly Bill 1958 would make changes to the New Jersey Franchise Practices Act that could benefit the hospitality industry, AAHOA said in a statement. Specifically, the changes include restricting non-competes for longer than six months; prohibiting requiring a relocation or capital investment greater than $25,000 more than once every five years unless hotel franchisers can establish a return on the investment; requiring a franchiser that receives "any rebate, commission, kickback, services, other consideration or anything of value" to fully disclose them to the franchisee and turn them over to the franchisee; putting restrictions on mandatory sourcing of goods or resources; and prohibiting suspending, restricting or preventing access to franchise services.
Several AAHOA representatives attended a hearing at the New Jersey State Assembly on May 12 to support the bill. They included AAHOA's Mid Atlantic Regional Director Mahendra "MZ" Patel, Past Chair Bhavesh Patel and Laura Lee Blake, the association's recently appointed president and CEO.
"Our participation demonstrates to our members and the industry at large that AAHOA is concerned about what owners are facing, and we are here to voice concerns and advocate for change because the current systems in place are not working," Blake said during the assembly. "New Jersey hotel owners carried the day, and the passage of this bill out of committee was a truly great start to the new day we are building for AAHOA."
AAHOA recently released its 12 Points of Fair Franchising, outlining the association's recommendations for maintaining a strong relationship between franchisee members and franchisers. Several AAHOA leaders said they would emphasize the 12 Points in coming months during the association's 2022 Convention & Trade Show in Baltimore, Maryland, including new AAHOA Chairman Neal Patel.
"It truly is a new day for AAHOA, a new start for our organization, and I am proud of our team's efforts in New Jersey and for standing up for America's hotel owners," Patel said regarding Bill 1958. "As they say, action speaks louder than words – by participating, speaking out, and sharing our personal stories, AAHOA demonstrated that we are the one and only voice for America's hotel owners."
Assemblymen Raj Mukherji, Robert Karabinchak and Ronald Dancer sponsored the bill with Assemblyman William Spearman as a co-sponsor.
In January, AAHOA objected to another New Jersey bill, Assembly Bill 6246, when it passed the assembly. It will, among other things, require new owners of a hotel to keep all employees on staff for at least 90 days after the purchase without reducing their wages or benefits.