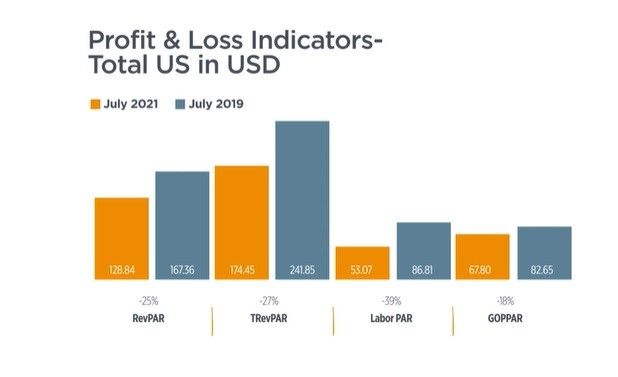 THE PERFORMANCE OF U.S. hotels is improving month by month despite the disruption created by the Delta variant of COVID-19, according to HotStats.
RevPAR in July 2021 was more than $20 higher than the previous month and is now more than 1,000 percent higher than in April 2020, the nadir of hotel performance, according to a blog post by HotStats.
"Occupancy escalated to 60 percent in July this year, helping fuel gains in total hotel revenue. Meanwhile, labor continues to trail, but as hotels, especially in resort markets, ramp back up, payroll is creeping up in step," said HotStats."Total payroll hit $92 per available room in July 2021 in Miami Beach, only $18 off its July 2019 level and 143 percent higher than at the same time last year."
Higher revenue is helping fuel better gross operating profit, with the U.S. hitting $67 in the month, 18 percent off at the same time in 2019, it added.
According to the blog post, though global hotel performance is improving month by month even with the Delta variant, the more pressing concern is if it will remain that way.
The other concerns listed in the post are U.S. remains off limits to most European travelers, and the European Union recommended that Americans be banned from nonessential travel to its member states after a surge in COVID cases here.
The latest STR report for U.S. hotels exceeded 2019 levels in July. But the recovery is not yet complete, STR's expert said. Other markets around the world saw varied results during July.
Global trends
Despite a higher vaccination rate, hotels in Europe continued to underperform, according to HotStats. That may be connected to the Delta variant concerns.
"That could, however, change due to the successful rollout of vaccines, which has boosted sentiment throughout the continent from travelers and investors, alike," HotStats said.
In the Middle East, GOPPAR trended up in July, hitting $29, only 11 percent off its July 2019 level and more than 1,900 percent higher than in July 2020, when GOPPAR turned negative. Profits have dipped in February and June in the region.
"Revenue trends have closely mirrored profit trends, a product of controlled expense management, which has seen payroll numbers moderate after a spike in February that helped fuel the profit slowdown," the blog post said.
According to HotStats, China's performance has been consistent so far.
"GOPPAR shot upward after its darkest depth in February. Now, as of July 2021, GOPPAR is $2 higher than it was in July 2019, an astonishing feat and one likely fueled by the apparent fact that COVID cases in the country have dropped to near zero after a spike," the report said.