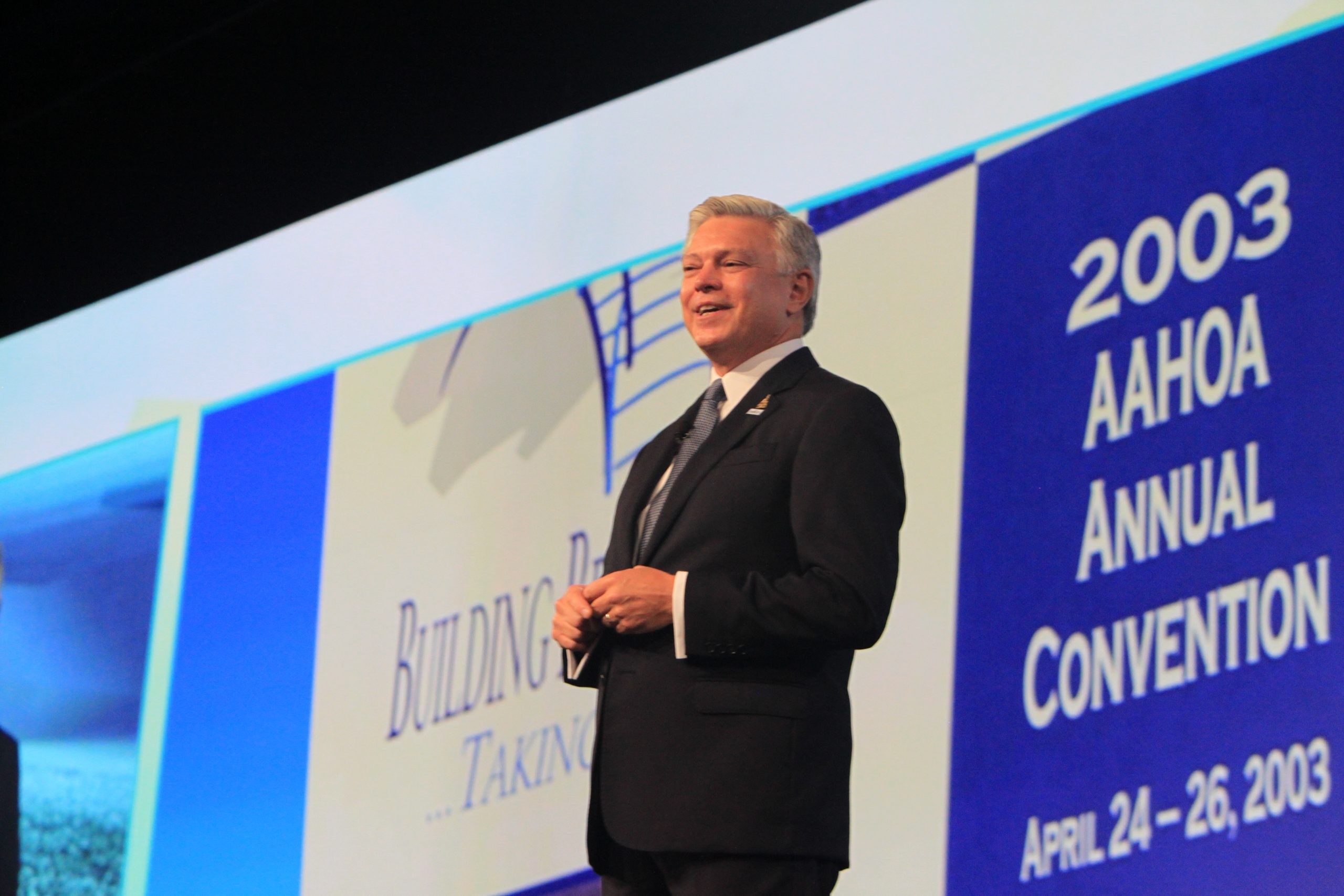 KEN GREENE IS leaving his position as president and CEO of AAHOA to begin a new job with Dallas-based IBF Hospitality. AAHOA already has begun searching for his replacement.
Greene will leave on Feb. 11, according to a statement. He was brought on last year in June to replace Cecil Staton, AAHOA's former president and CEO when he left the association unexpectedly.
"Ken has been instrumental in carrying AAHOA through the past several months, which brought on a lot of change both at AAHOA and in our industry," said AAHOA Chair Vinay Patel. "We're grateful for the time he's spent at AAHOA and wish him nothing but continued success as he transitions to another opportunity."
While at AAHOA, Greene oversaw the association's return to in-person events, including the 2021 AAHOA Convention & Trade Show at the Kay Bailey Hutchison Convention Center in Dallas in August. He also helped in write AAHOA's strategic plan and helped restaff the organization after the departure of Staton, the association's executive vice president and COO Rachel Humphrey and others.
"When I made the decision to come on board at AAHOA, I came with every intention of helping carry the great tradition of the association. If it weren't for this career-changing opportunity with IBF Hospitality, I would not be leaving this great organization. At IBF, I will be focused on potential acquisitions and building out a hospitality REIT," Greene said. "I've found my time spent at AAHOA invaluable, and I'm grateful to our incredible team, Officers, Board, members, and vendor partners for their support."
Patel said he was grateful for Greene's efforts to rebuild the association.
"We now have an incredibly strong and capable leadership team in place at AAHOA, and I know they'll all continue to lead the organization through this transitional time," Patel said. "Because of his efforts in building out our new executive leadership team, AAHOA will not miss a beat as we continue to prepare for another record-breaking year, including our 2022 AAHOA Convention & Trade Show in Baltimore."
Greene previously started a consulting firm after serving as Radisson Hotel Group president for the Americas. He served as president and CEO for Delta Hotels and Resorts and in various roles at Cendant Corp. and Wyndham Worldwide. Greene also founded Greenehouse Consulting, which focuses on acquisitions, management and advisory services to the hospitality industry, after he left Radisson in December 2019.
IBF Hospitality is led by Ray Ghai as CEO and co-founder.