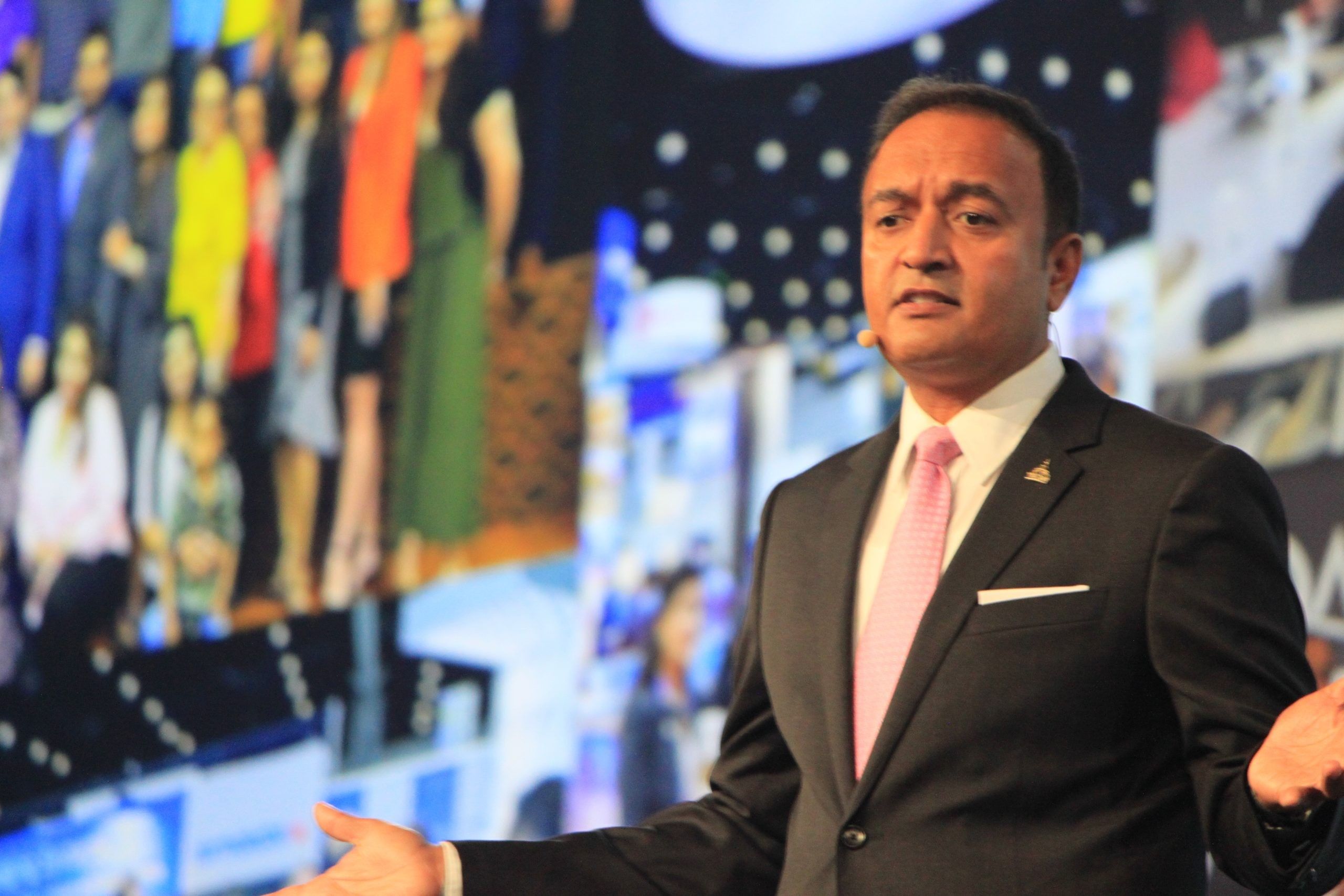 AAHOA'S ANNUAL CONFERENCE has come and gone for this year, but it left in its wake permanent changes for the association. They include a new chairman, new secretary, new award winners and new memories of a return to in-person conferences following the COVID-19 pandemic.
New leadership
In the concluding ceremony for the 2021 AAHOA Convention & Trade Show at the Kay Bailey Hutchison Convention Center in Dallas, Virginia hotelier Vinay Patel became the new chair of AAHOA's board of directors. He said his administration would focus initially on helping members recover from the pandemic and economic downturn.
"Industry estimates continue to project a full recovery some time in late 2023 or 2024," Patel said. "Coming together as an industry is paramount to economic recovery, especially as new variants threaten to inhibit the reopening of America. I am confident that AAHOA's enhanced advocacy and education efforts as well as the implementation of our new strategic plan will help our industry get back on track."
Advocacy on a state and local level also will be a focus of his time as chairman, Patel said. AAHOA recently partnered with the American Hotel & Lodging Association to form the American Hospitality Alliance for that purpose. During the conference, AAHOA also announced the results of a study conducted by Oxford Economics on the association's economic impact also is meant as a tool for use in advocacy efforts.
"We must be united in our advocacy efforts, especially as we engage with local governments," Patel said. "I am also committed to broadening our outreach to lawmakers who have not necessarily engaged on the issues we champion. Building a broad coalition that supports small businesses and their employees will help draw more attention to why issues such as 1031 like-kind exchanges and the Save Hotel Jobs Act are so important to rebuilding our economy with new, good-paying jobs."
In his inaugural address, Patel stressed the need to work together through the pandemic and remain optimistic.
"We are in uncharted territory as a country as we emerge from this crisis. In a way, we are all letting our eyes adjust to the sunlight after spending more than a year in the darkness," he said. "It will be challenging. It will be frustrating. But, AAHOA is here to help guide us as we rebuild, reinvest, and recover."
Patel joined AAHOA in 1993 and has served on its board since 2014 and elected secretary in 2018. He also is the president of Fairbrook Hotels which owns and operates eleven properties. Patel also serves on the Virginia Hospitality and Tourism Association board of directors and is the president of the Herndon Hospitality Association.
Born in Malawi, Africa, Patel's family moved to the U.S. when he was 8 years old. He assisted at the 15-room family motel in Richmond, Virginia, from housekeeping to the front desk, and he continued that business after graduating from Virginia Commonwealth University with bachelor's degrees in marketing and business.
"I've had the pleasure of working with Vinay prior to joining AAHOA, and he truly embodies the characteristics, qualities, and values that make a great chairman," said Ken Greene, AAHOA interim president and CEO. "I have seen him in action as a property owner and as vice chair of AAHOA, and I couldn't be more excited to work with him now as the chairman."
Vinay said in an interview during the conference that he has been good friends with Immediate Past Chairman Biran Patel. He learned a strong lesson from his predecessor, he said.
"One of the biggest things and he's told me all the time, is do the right thing, do the right thing for the membership," Vinay said. "And that's the biggest thing that I've learned from him. There's been times where he's taken a hit for it. Sometimes, when you do the right thing, you take a hit negatively because it's not a politically right thing to do. But from his perspective, I could tell you that what I've learned is the fact that he did the right thing."
More on AAHOA's transition to the new chairmanship can be found in the cover story of the August issue of Asian Hospitality magazine.
The next generation
On the final day of the conference, members flocked to the polls to vote for candidates for several positions within the association. The most important of those positions up for election was that of secretary, because the winner cycles through each position on AAHOA's board year after year until they become chairman.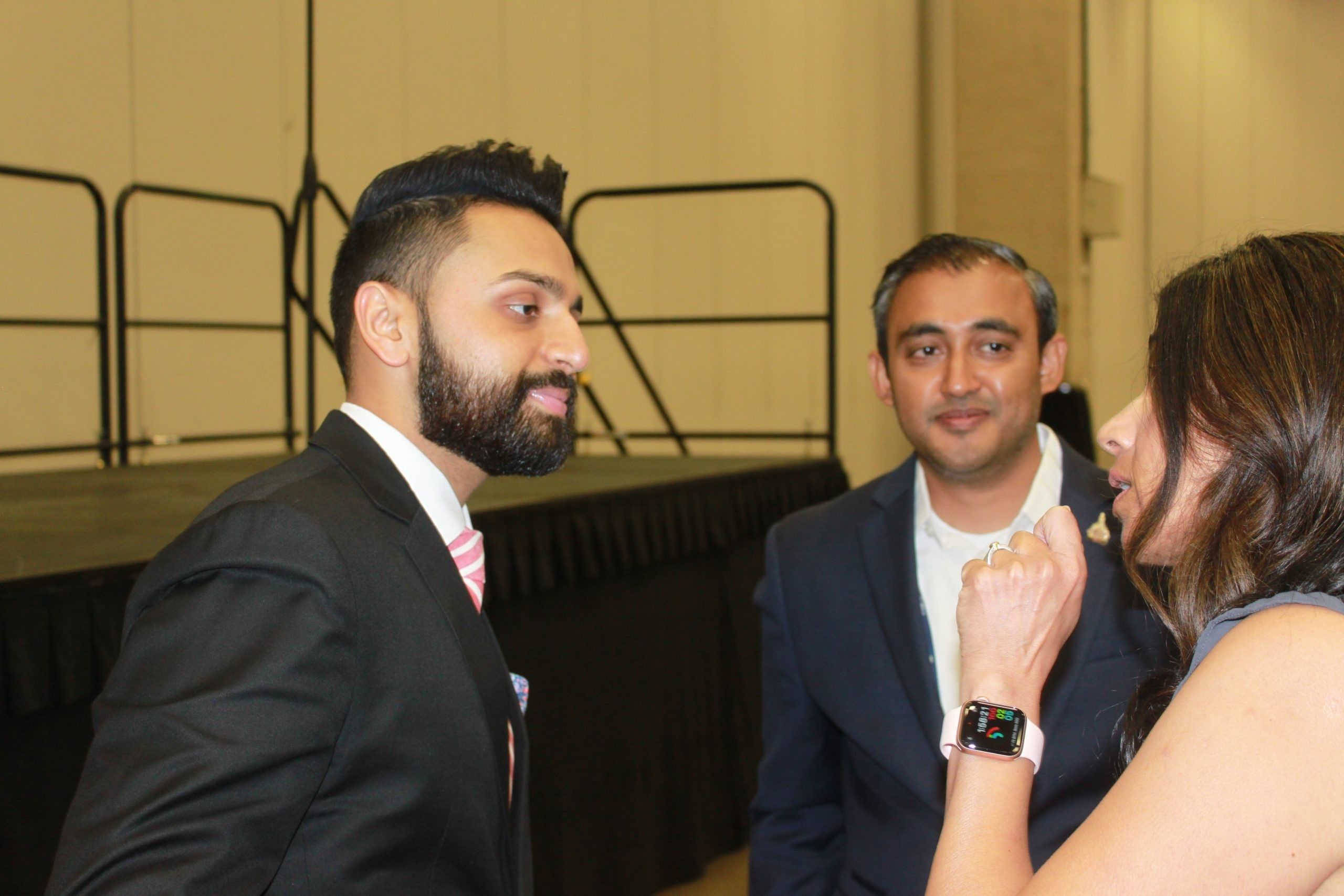 This year, Miraj Patel, president of Wayside Investment Group in Houston, won the race. He said it was an honor to be chosen to help lead the association.
"The election process was very rewarding, because I got the opportunity to hear the membership and I look forward to bringing results for this association," Miraj said.
Miraj said the first thing he will do is change policies and bylaws that are restricting the board from doing certain things that need doing.
"My goal in the next year is to ensure that we continue our momentum and ensure that we start engaging with our franchise partners or vendor partners and our policymakers," he said.
In the debate, Miraj said he would focus on saving AAHOA members money by eliminating double charging by brands and OTAs through hidden fees. Previously, hoteliers would receive 25 to 30 percent return on their investments, Miraj said in the debate, but today the ROI is around 11 percent.
"We are messing up this industry, and now it's time to have that dialogue and use our membership. It's time to start changing the consumers' mindset with a mental shift," Miraj said during the debate. "Charging for breakfast, charging for shuttles, credit card fees, minimizing service, or even having all reservations prepaid. Those are the type of dialogues we need to have. It's time to change this industry."
AAHOA members also elected the following 12 members to the board:
Female Director Western Division: Tejal Patel
Gulf Regional Director: Vimal Patel
Mid Atlantic Regional Director: Mahendra "MZ" Patel
Mid South Regional Director: Harikrishna "HK" Patel
North Pacific Regional Director: KP Patel
Northeast Regional Director: Sunil "Sunny" Patel
South Carolina Regional Director: Fenil Desai
South Central Texas Regional Director: Kiran "Kevin" Patel
Southeast Texas Regional Director: Ailesh Mulji
Southwest Regional Director: Dharmesh Ahir
South Pacific Regional Director: Mike Riverside
Upper Midwest Regional Director: Mehul "Mike" Patel
"Congratulations to our new AAHOA Secretary and all of our newly elected board members. It is encouraging to see so many members volunteering to serve America's hotel owners," Greene said. "AAHOA's value and resources have never been more apparent as we work tirelessly to reopen our economy and ensure that our communities are prepared to welcome back guests as the nation starts to travel again."
The winner's circle
During the conference, AAHOA also announced the winners of its annual awards. They are:
Nanda Patel – AAHOA Award of Excellence
Mitesh Jivan – Cecil B. Day Community Service Award
Hotel Lexen – IAHA Independent Hotel of the Year
Masudur Khan – Outreach Award for Philanthropy
Priti Patel – Outstanding Women Hotelier of the Year
Saajan Patel – Outstanding Young Professional of the Year
Bijal Patel – Political Forum Award for Advocacy
­"During such a challenging year, these individuals made significant contributions to the industry and to AAHOA," said Biran Patel. "We are all honored to highlight their service and commitment to excellence."
"Following an extremely difficult year for AAHOA members and the entire industry, these award recipients demonstrate their commitment to excellence in the hospitality industry, regardless of the landscape," Greene said. "Their hard work and dedication does not go unnoticed, and it is through their leadership, grit, and determinations that the industry continues to thrive."