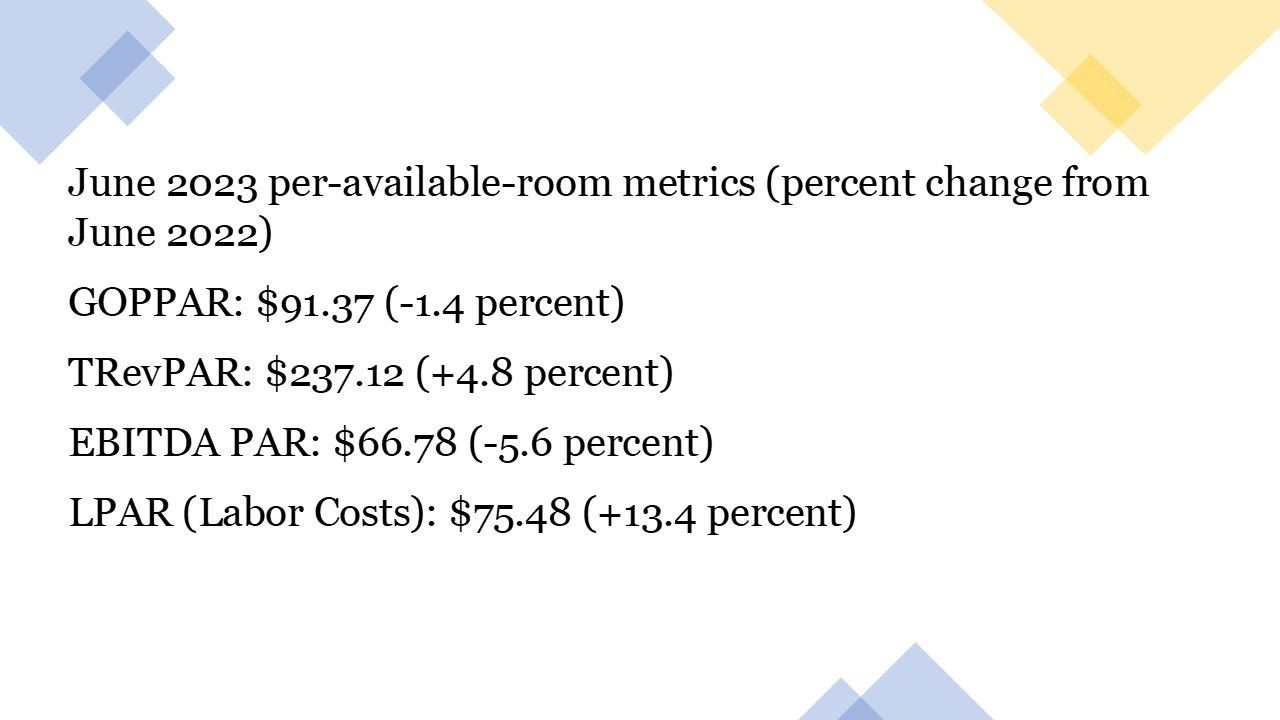 GOPPAR FOR U.S. hotels fell year-over-year for a second consecutive month in June, primarily due to the escalating labor costs, according to CoStar's June 2023 Profit & Loss data. Despite the year-over-year decline, the GOPPAR level showed signs of improvement compared to May.
In June 2023, GOPPAR reached $91.37, showing a 1.4 percent decline from June 2022. TRevPAR stood at $237.12, indicating a 4.8 percent increase, while EBITDA PAR amounted to $66.78, experiencing a 5.6 percent decrease from June 2022. Labor costs surged to $75.48, reflecting a significant 13.4 percent increase compared to the same period last year.
"Labor costs continued to rise year-over-year, growing nearly three times the rate of total revenue," said Raquel Ortiz, STR's director of financial performance. "That increase, tied with higher growth in other expense types, caused a profit decline from last June. Despite the year-over-year decline, the GOPPAR level was improved from May, and with cooling inflation, real GOPPAR and TRevPAR were up month over month for the first time since March."
Thirteen out of the top 25 markets experienced GOPPAR levels below those of June 2022, with San Francisco having the lowest index standing at 52 percent of the 2022 levels.
Las Vegas was the only other market to report a GOPPAR index below 80 percent, holding at 68 percent of the 2022 levels.
"Year to date through June, the top 25 markets were still $2 behind 2022 in GOPPAR and three percentage points behind the previous year's GOP margin," Ortiz said. "These major markets still have some ground to cover as the year progresses."
In May, GOPPAR levels declined primarily due to weak revenue growth and substantial labor costs. Summer is expected to bring increased revenue to offset springtime expenses.