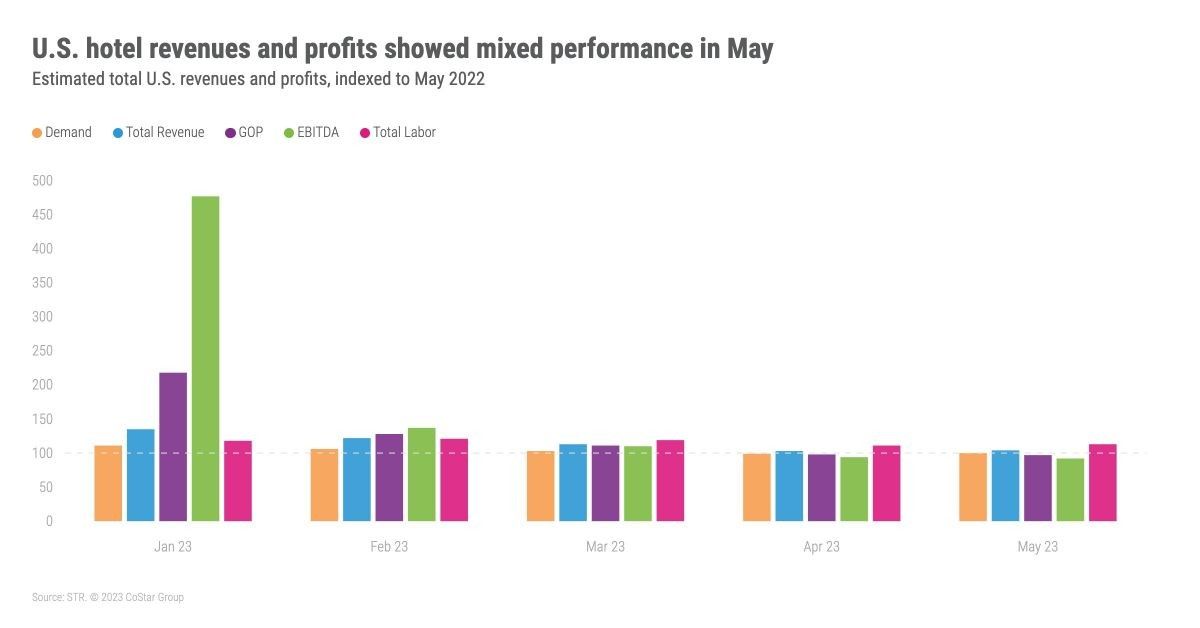 GOPPAR FOR U.S. hotels declined compared to the previous month, primarily due to weak revenue growth coupled with substantial labor costs, according to STR's May 2023 Profit & Loss data. Summer is expected to bring even more revenue to offset springtime expenses.
In May 2023, GOPPAR reached $83.86, representing a 2.6 percent decline compared to the same month in 2022. TRevPAR stood at $222.78, indicating a 4.1 percent increase, while EBITDA PAR amounted to $61.16, down 7.1 percent from May 2022. Labor costs experienced a significant rise, reaching $72.82, reflecting a 13.6 percent increase.
"Weak revenue growth tied with strong labor costs caused GOPPAR to decline year-over-year for the first time in 16 months," said Raquel Ortiz, STR's director of financial performance. "The increase in labor costs was nearly three times that of revenue, but despite this, profit margins continue to rise due to higher total revenues and managing expenses through reduced services, lower employment levels and changes in operation. With summer upon us, we can expect stronger demand and revenue growth that will likely counter some of the expenses seen in late spring."
Among the top 25 markets, 10 experienced GOPPAR levels below those of May 2022, with Las Vegas having the lowest index, standing at 63 percent of the levels seen in 2022.
"Leisure destination Oahu Island demonstrated exceptional performance, surpassing other major markets in terms of the GOPPAR index," Ortiz added. "Additionally, business-centric markets like Chicago showcased strength in this metric. Furthermore, group-dependent markets have continued to perform well year-to-date, with New York City reporting a remarkable GOPPAR index of 231 percent against May 2022."
In February, GOPPAR exceeded the levels of the pre-pandemic comparable time period and was the highest since October 2022, STR said.