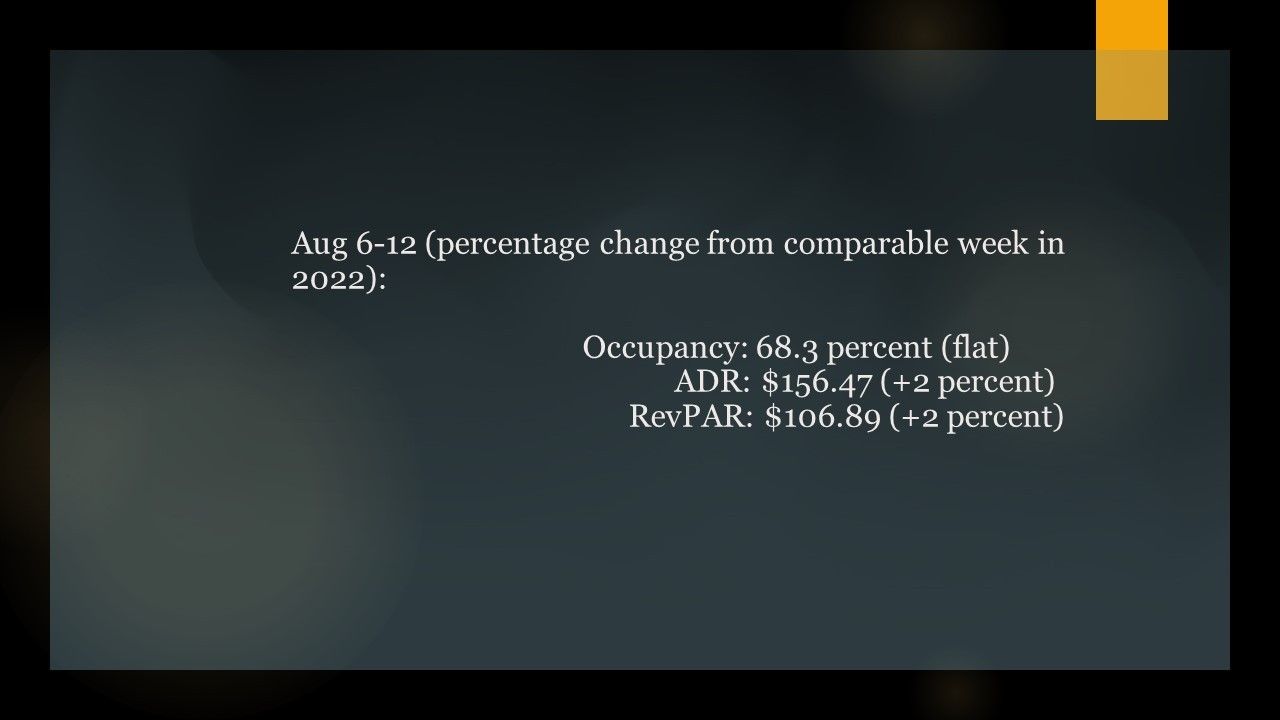 U.S. HOTEL PERFORMANCE declined during the second week of August compared to the previous week, according to CoStar. However, the results primarily displayed positive year-over-year comparisons, though wildfires on the Hawaiian island of Maui led to steep declines there.
Occupancy stood at 68.3 percent for the week ending on Aug. 12, slightly lower than the previous week's 68.9 percent, and it remained unchanged compared to 2022, according to CoStar. The ADR was $156.47, down from the prior week's $158.10, but demonstrated a 2 percent growth from the same period last year. RevPAR came in at $106.89, below the prior week's $108.97, while still reflecting a 2 percent increase from 2022.
Among the top 25 markets, Los Angeles recorded the largest year-over-year growth in each of the key performance metrics during August's second week: occupancy surged by 13.5 percent to reach 82.6 percent, ADR increased by 8.4 percent to $222.98, and RevPAR rose by 23 percent to $184.16, benefiting from the Taylor Swift Eras Tour.
New York City reported the second-highest performance gains: occupancy rose by 7.3 percent to 83.6 percent, ADR climbed by 8.3 percent to $258.39, and RevPAR increased by 16.3 percent to $216.06.
St. Louis saw the steepest RevPAR decline, dropping by 22.1 percent to $63.80.
Of note, outside the top 25 markets, Maui Island reported significant year-over-year declines in both occupancy, which decreased by 22.6 percent to 57.1 percent, and RevPAR, down by 21.7 percent to $389.92. The island was recently devastated by wildfires that killed at least 114 people with approximately 1,000 missing, according to news reports.