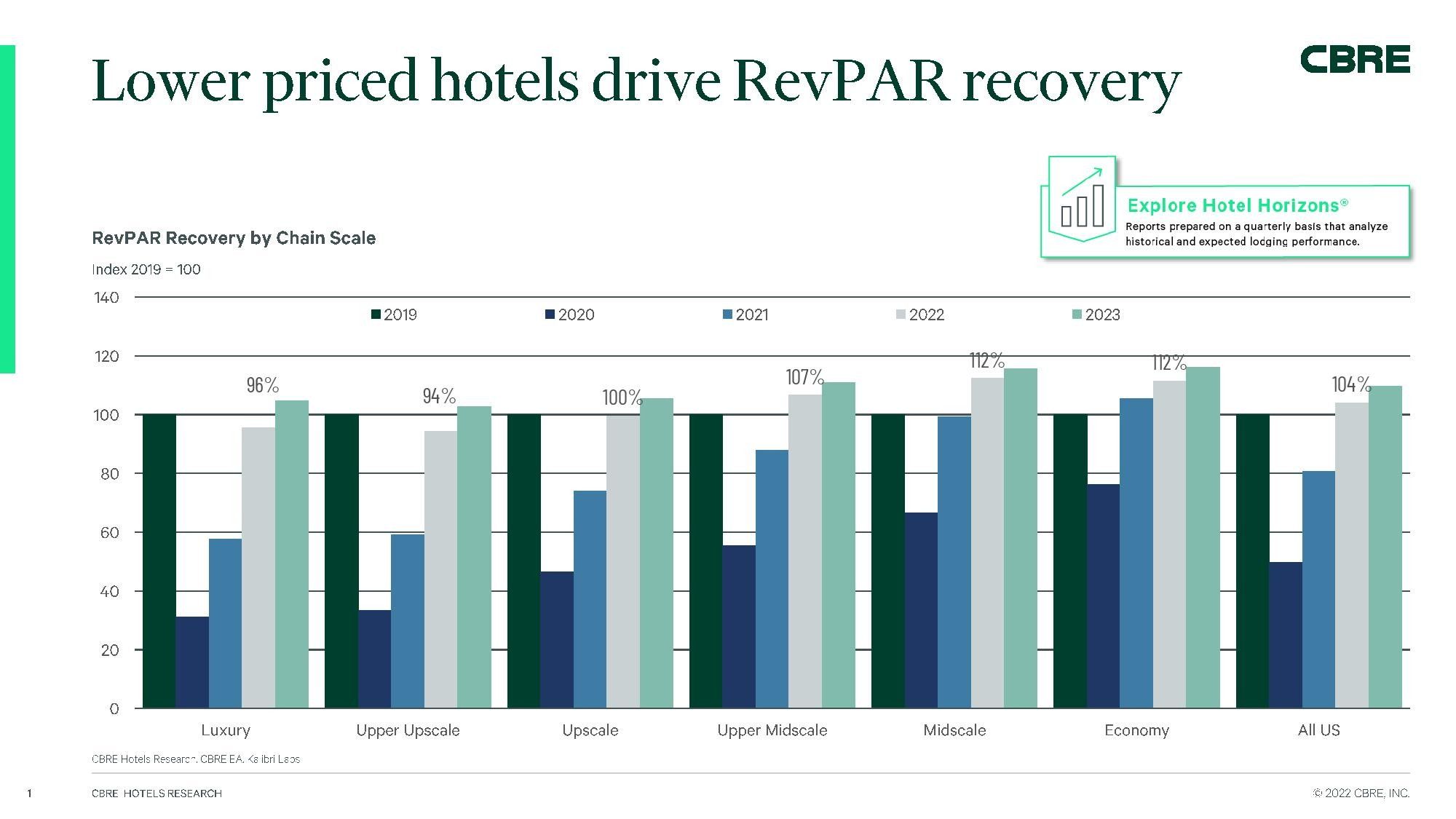 CBRE HOTELS RESEARCH has once again revised its forecast for the second half of 2022. The revision is mainly due to strong gains in the second quarter and expectations of positive growth next year.
RevPAR for the second half of the year will rise to 14.7 percent year-over-year, up from the previous projection of 13.1 percent in May, according to CBRE. The reasons for the spike are a 3.5 percentage point increase in ADR and a 2.2 percentage point reduction in CBRE's demand forecast.
Second quarter RevPAR reached $98.84, up 38 percent year over-year, and an all-time quarterly high at 106 percent of 2019's level. RevPAR growth was driven mainly by ADR, up 25.5 percent, followed by occupancy, up 9.9 percent.
According to CBRE, U.S. hotel industry performance was stronger than expected in the second quarter despite a decline in GDP and the highest inflation in more than 40 years. There were continued improvements in group business, inbound international travel, which contributed to a peak in leisure travel this cycle.
"As we progress through the third quarter, it is worth noting that the brisk pace of demand recovery has begun to slow. We are seeing a pullback in ADRs in select record-setting markets," said Rachael Rothman, CBRE's head of hotel research and data analytics. "Despite the slowing pace of growth, we expect the continued recovery in travel demand to be driven by incremental group and inbound international travel, followed by a modest uptick in transient business."
The CBRE said that inflation provides a headwind to margin expansion given rising wages, utilities, food and beverage costs, insurance and capital expenditure increases. Luxury hotels have the ability to increase room rates to offset inflation, it said.
"Muted supply growth will bolster top-line growth. High construction material prices, including lumber, steel and labor, make the development of new projects too expensive in some cases. CBRE forecasts that hotel supply will increase at a 1.1 percent compound annual growth rate over the next five years, below the industry's 1.8 percent long-term historical average," CBRE said in a statement.