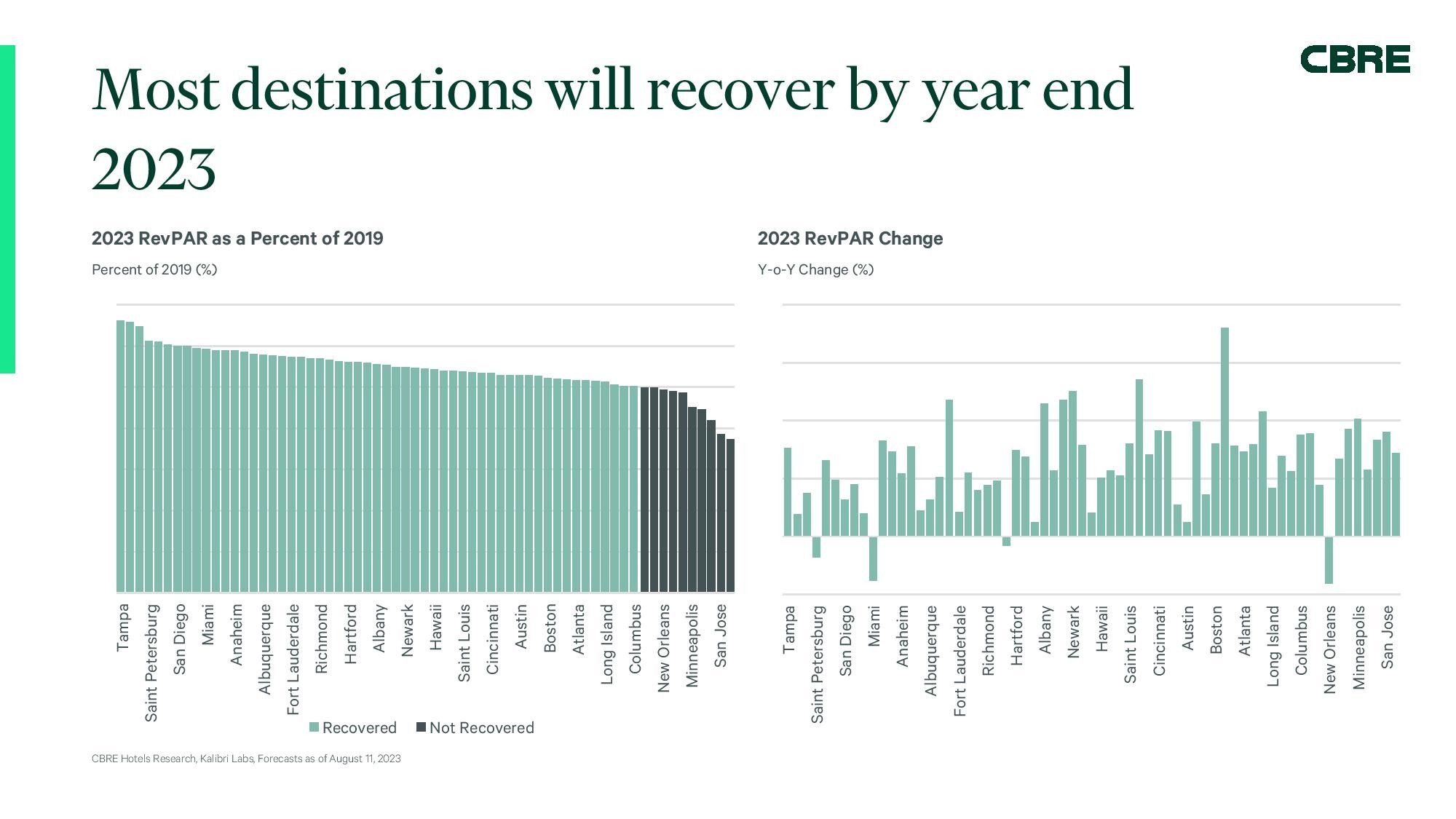 LOWER-THAN-EXPECTED summer demand will affect U.S. hotel performance, resulting in a second quarter RevPAR shortfall, according to CBRE. It has revised its 2023 RevPAR outlook to $96.64, reflecting a 4.6 percent year-over-year increase but a $1.25 reduction from the May 2023 projection. This revision is based on a 70-basis-point decline in projected occupancy, in contrast to the previous forecast.
ADR is projected to experience a 3.6 percent rise in 2023, marking a 10 bps reduction from the prior forecast, CBRE said in a statement.
CBRE's baseline-scenario outlook expects a 1.6 percent average GDP growth and an average inflation rate of 4.3 percent in 2023. The correlation between GDP and RevPAR growth implies that changes in the economic forecast will directly influence the performance of the lodging industry, the research firm said.
"An analysis of travel trends suggests that record numbers of Americans are traveling abroad this summer, with a particular focus on Europe and the Caribbean," said Rachael Rothman, CBRE's Head of hotel research and data analytics. "Inbound international travelers to the U.S. are still 27 percent below their pre-pandemic levels, causing a temporary imbalance in demand. As long-haul flights from Asia are added back and visa delays ease, we expect to see an uptick in inbound international travel to the US, supporting further demand growth."
Demand dropped by 1.2 percent YoY in second quarter
Demand dropped by 1.2 percent year-over-year in the second quarter, marking the first decline since the post-pandemic recovery initiated in the second quarter 2021, CBRE said.
According to CBRE, the ADR growth of 2.6 percent aligned with CBRE's earlier projection.
"The combination of restrained demand and concurrent ADR growth resulted in a modest 1.1 percent RevPAR growth in the second quarter, below CBRE's projected 4.4 percent," CBRE said.
"Historically, there has been a strong correlation between hotel demand and GDP growth," said Michael Nhu, senior economist and CBRE's head of global hotels forecasting. "This makes the decline in demand in second quarter somewhat surprising given the stronger-than-expected GDP growth in the quarter. This disconnect in trends suggests consumer preferences have temporarily shifted, as more Americans are traveling overseas, particularly to Europe and the Caribbean, rather than traveling domestically."
The urban segment exhibited the strongest performance of location types in the quarter, experiencing a 4.7 percent rise in RevPAR growth, CBRE said in its outlook. On the other hand, the resort category saw the weakest performance with a 3.7 percent decline in RevPAR, but remained 15 percent above its pre-pandemic levels.
CBRE forecasts that hotel supply will grow at a compound annual growth rate of 1 percent over the next five years, which is below the industry's historical average of 1.6 percent.
Similarly, in STR and Tourism Economics' latest forecast, RevPAR projections for U.S. hotels in 2023 were lowered by 0.5 percentage points due to a 0.6 percentage point decline in occupancy growth,
However, RevPAR is expected to continue to outperform the long-term average, with a significant portion of the growth concentrated in the initial months of 2023.