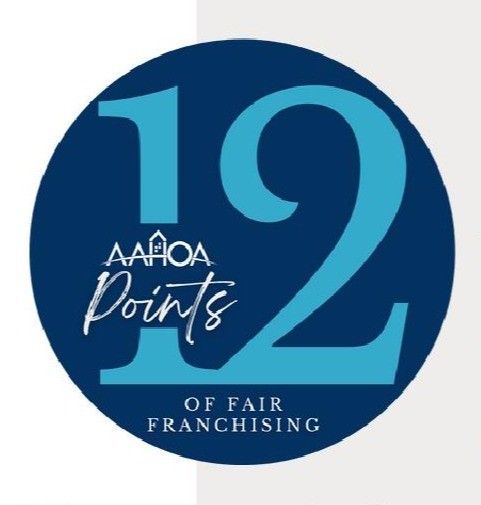 AAHOA RELEASED ITS updated resource guide for member franchisees. The updates reflect the current business landscape and the long-term, mutually beneficial relationship between industry franchisors and franchisees.
AAHOA's 12 Points of Fair Franchising is officially  titled "An Educational Primer: A Best-Practice Approach to Designing, Developing, and Implementing Best-in-class, Mutually Beneficial Franchise Systems." The importance of franchise relations was highlighted last year when several hotel owners filed lawsuits against InterContinental Hotels Group regarding what they call the company's retaliatory actions against franchisees who complain.
"Because of the changing business environment post-COVID-19 and the ever-evolving need to educate our members, it was time for AAHOA to revisit the 12 Points and review them carefully to ensure that they're relevant and reflective of industry changes and evolution," said Vinay Patel, AAHOA chairman. "AAHOA created the 12 Points of Fair Franchising Ad Hoc Committee, which was tasked with recommending revisions to the 12 Points of Fair Franchising. With the help, support, and input of the 12 Points of Fair Franchising Ad Hoc Committee and the AAHOA Board of Directors, we're releasing the updated 12 Points of Fair Franchising," he added.
According to AAHOA, the updated guide will serve as an educational primer to discuss and use to continue designing, developing, and implementing best-in-class, mutually beneficial franchise systems.
The 12 Points of Fair Franchising are:
Termination rights and liquidated damages: A best-practice approach to voluntary buyout or involuntary termination, liquidated damages, windows provisions, early termination, and franchisee termination rights.
Impact, encroachment, and cross-brand protection: How to establish a fair and reasonable formula to protect a franchisee's assets.
Minimum performance and quality guarantees: Minimum brand performance and quality guarantees from franchisors related to public image and reputation.
Quality assurance inspections and guest surveys: Ensuring consistent, unbiased, and reasonable standards for quality assurance inspections and accuracy of QA reports.
Vendor exclusivity rebates, and affiliated companies as vendors: This can ensure competitive pricing.
Full transparency of franchisee-funded programs and fees: The disclosure and accountability for the expenditure of marketing, loyalty, and reservation fees.
Maintaining and building relationships: Establishing fruitful, long-term business relationships through recognition of value and effective communication.
Dispute resolution: Creating a commitment to establish an independent and fair process for the resolution of disputes related to agreements or relationships.
Venue and choice-of-law clauses: Any party pursuing claims in a court of law should do so in the county and state in which the subject facility is located.
Franchise sales ethics and practices, proper disclosures: The mandate of fair and honest selling practices among Franchisor salespersons and agents.
Transferability: When it comes to transferability, parties should not delay or act unreasonably.
Sale of the Franchise system hotels brand(s): Giving notice of a sale to existing franchisees and pledging to a smooth transition between existing and new Franchisor owners.
"I recommend every AAHOA Member-Franchisee review the 12 Points in their entirety to familiarize themselves with the content and best practices for fruitful Franchisee-Franchisor relationships and to better understand the provisions in franchise agreements," Patel said.
In 1998, AAHOA identified certain best practices for the hospitality franchise system and has been updating it since then.