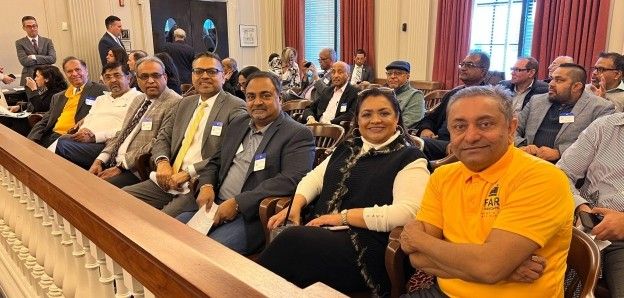 AAHOA MEMBERS RECENTLY testified in support of New Jersey Assembly Bill 1958, which would make changes to the New Jersey Franchise Practices Act that could benefit the hospitality industry. The association's support for specific parts of the bill is at the center of a division between AAHOA and two major hotel companies over franchise reform.
On March 22, 30 AAHOA members attended a hearing of the New Jersey Assembly Commerce and Economic Development Committee during which the bill was passed out of the committee. Several of the members also testified, according to AAHOA.
AAHOA members own 45.4 percent of New Jersey hotels, representing 46,124 rooms, the association said.
"As the largest hotel owners association, representing the exclusive interests of America's hotel owners, AAHOA showed up in New Jersey to testify in support of amendments to the legislation to improve the franchise model," said Nishant "Neal" Patel, AAHOA chairman.
Last May, a contingent of AAHOA members testified in favor of the bill in front of the New Jersey Assembly Judiciary Committee, particularly the aspects of the bill that match AAHOA's 12 Points of Fair Franchising.
Specifically, the franchise reform changes supported by AAHOA include restricting non-competes for longer than six months; prohibiting requiring a relocation or capital investment greater than $25,000 more than once every five years unless hotel franchisers can establish a return on the investment; requiring a franchiser that receives "any rebate, commission, kickback, services, other consideration or anything of value" to fully disclose them to the franchisee and turn them over to the franchisee; putting restrictions on mandatory sourcing of goods or resources; and prohibiting suspending, restricting or preventing access to franchise services.
Marriott International recently withdrew its support of AAHOA and Choice Hotels International put its relationship with the association "on pause" citing its support for Bill 1958 and its 12 Points. Other companies, including the G6 Hospitality, BWH Hotel Group and Red Roof, have publicly endorsed the 12 Points.
"Multiple major hotel franchises are helping to pave the way for fair franchising that is both fair and free – free from arbitrary and undisclosed fees, free from one-sided terms and conditions, and free from anti-competitive procurement rules," said Laura Lee Blake, AAHOA's president and CEO. "As a state that is home to thousands of hard-working entrepreneurs, including immigrants from around the world, New Jersey can be an example to the rest of the country in supporting franchising practices that allow hotel owners to achieve the American dream."
"Yesterday, there was a strong showing of testimony and support from our local members concerning the most important principles of this bill, which we have been underscoring from the beginning," said Bharat Patel, AAHOA vice chairman. "The committee heard us and voted to pass this bill with the changes we had identified. We thank the New Jersey Assembly Members for understanding our concerns, and we look forward to continuing to work together to address these important issues."
AHLA head calls for unity, dismisses bill
Chip Rogers, president and CEO for the American Hotel & Lodging Association, said he hopes a solution can be found soon to the impasse between hoteliers who support the 12 Points and Bill 1958 and franchisers who oppose them.
"Our industry is always at its best when we're fully united. And so anytime there's division, it's bad for everybody," Rogers said. "We would hope that everyone can work together because it only makes us stronger. So, we welcome working with everyone. Every brand, every other association that touches hospitality, we want to partner with."
Rogers said he does not support the New Jersey bill as it is written.
"The problem with the New Jersey legislation is fundamental in many ways. It's not properly written here to start with," Rogers said. "I can make the argument in many cases unconstitutional."
There's a section in the legislation that would prevent a franchiser from enforcing any brand standard, Rogers said.
"If you can't enforce any brand standard, you effectively don't have a brand," he said.