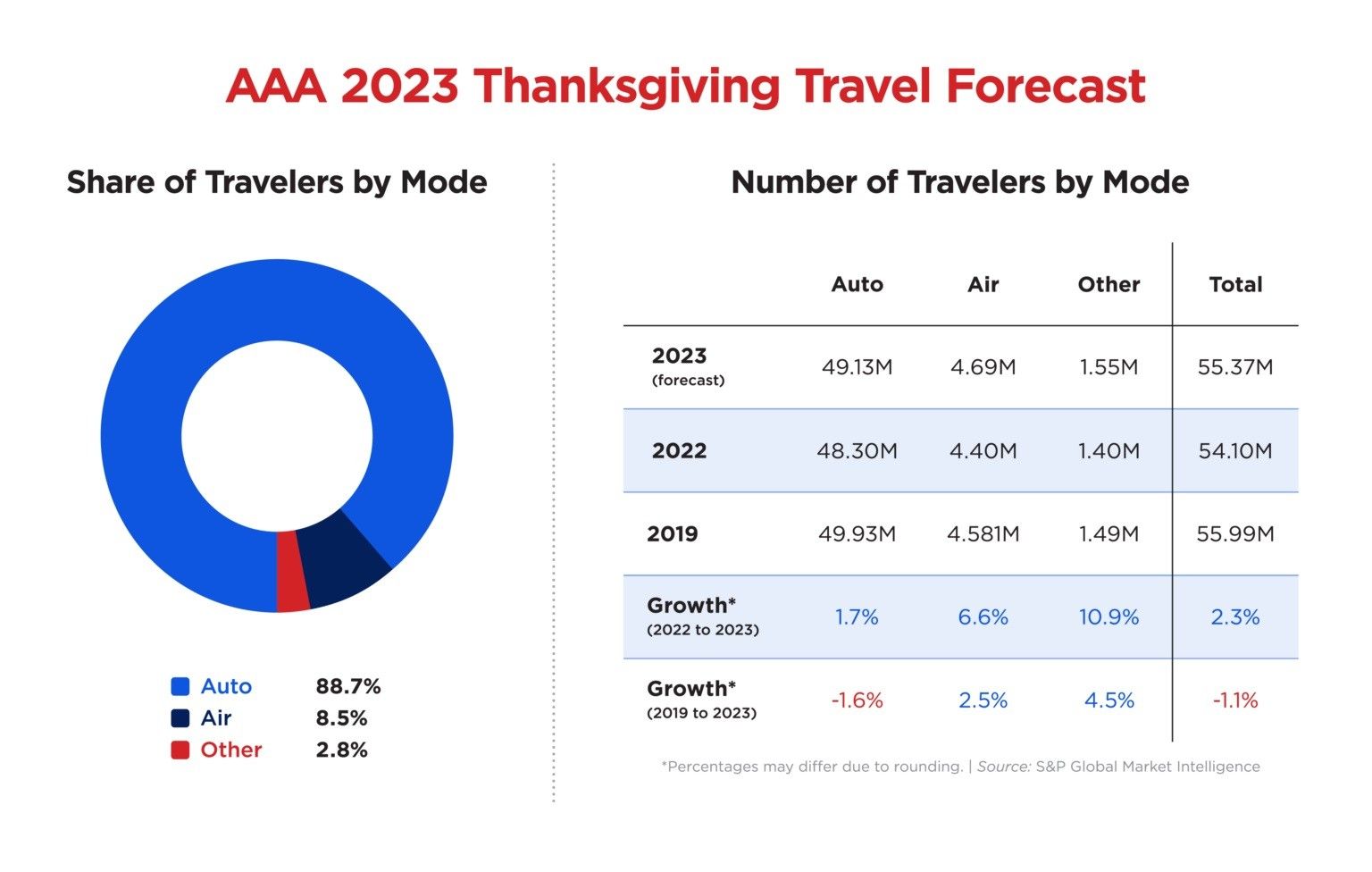 APPROXIMATELY 55.4 MILLION U.S. travelers are expected to travel 50 miles or more from home during the Thanksgiving holiday, marking a 2.3 percent increase from last year, according to AAA. This forecast represents AAA's third-highest Thanksgiving estimate since 2000, with 2005 and 2019 ranking as the top two years.
"For many Americans, Thanksgiving and travel go hand in hand, and this holiday, we expect more people on the roads, skies, and seas compared to 2022," said Paula Twidale, Senior Vice President of AAA Travel. "Travel demand has been strong all year, and AAA's Thanksgiving forecast reflects that continued desire to get away and spend time with loved ones."
According to AAA, the majority of Thanksgiving travelers will drive to their destinations. About 49.1 million Americans are expected to be on the road, a 1.7 percent increase from 2022. Gas prices this Thanksgiving could be lower than last year's national average of $3.58. The national average peaked at $3.87 in mid-August this year and has been decreasing despite global tensions affecting the oil market."
AAA expects 4.7 million people to fly over Thanksgiving, a 6.6 percent increase from 2022 and the highest number of Thanksgiving air travelers since 2005. Tuesday and Wednesday before Thanksgiving are the busiest air travel days and the most expensive. While Sunday is typically the busiest day to return home, AAA data shows Monday is also a popular day to fly back after Thanksgiving.
The number of people traveling by cruise, bus, and train for Thanksgiving has risen by nearly 11 percent compared to last year. AAA expects 1.55 million travelers to depart using these alternative modes, which faced challenges during the pandemic but have rebounded.
Meanwhile, INRIX, a transportation data provider, predicts that Wednesday, November 22, will be the busiest day on the roads during the Thanksgiving holiday travel period, with average travel times soaring up to 80 percent over normal in certain metro areas.
This holiday season, domestic trips are generally less expensive compared to last year, while international vacations are slightly pricier, AAA said. The exception is airfare, which is slightly higher for domestic flights and a bit lower for international flights.
The average price for a domestic flight is $681, up 5 percent from 2022, and for an international flight, the price is $1,231, down 5.7 percent from last year. Domestic hotel stays average $598, down 12 percent from 2022, while international hotel stays average $772, up 5 percent from last year. Popular holiday destinations include warm weather spots, theme parks, tourist attractions, historic sites, and cruise port cities, both domestically and internationally.
According to a recent survey by G6 Hospitality's Motel 6, approximately 85 percent of U.S. travelers emphasize the importance of prioritizing time with friends and family over navigating the challenges of travel this season. Of the 84 percent planning to attend at least one gathering, 52 percent are gearing up for more trips compared to last year.