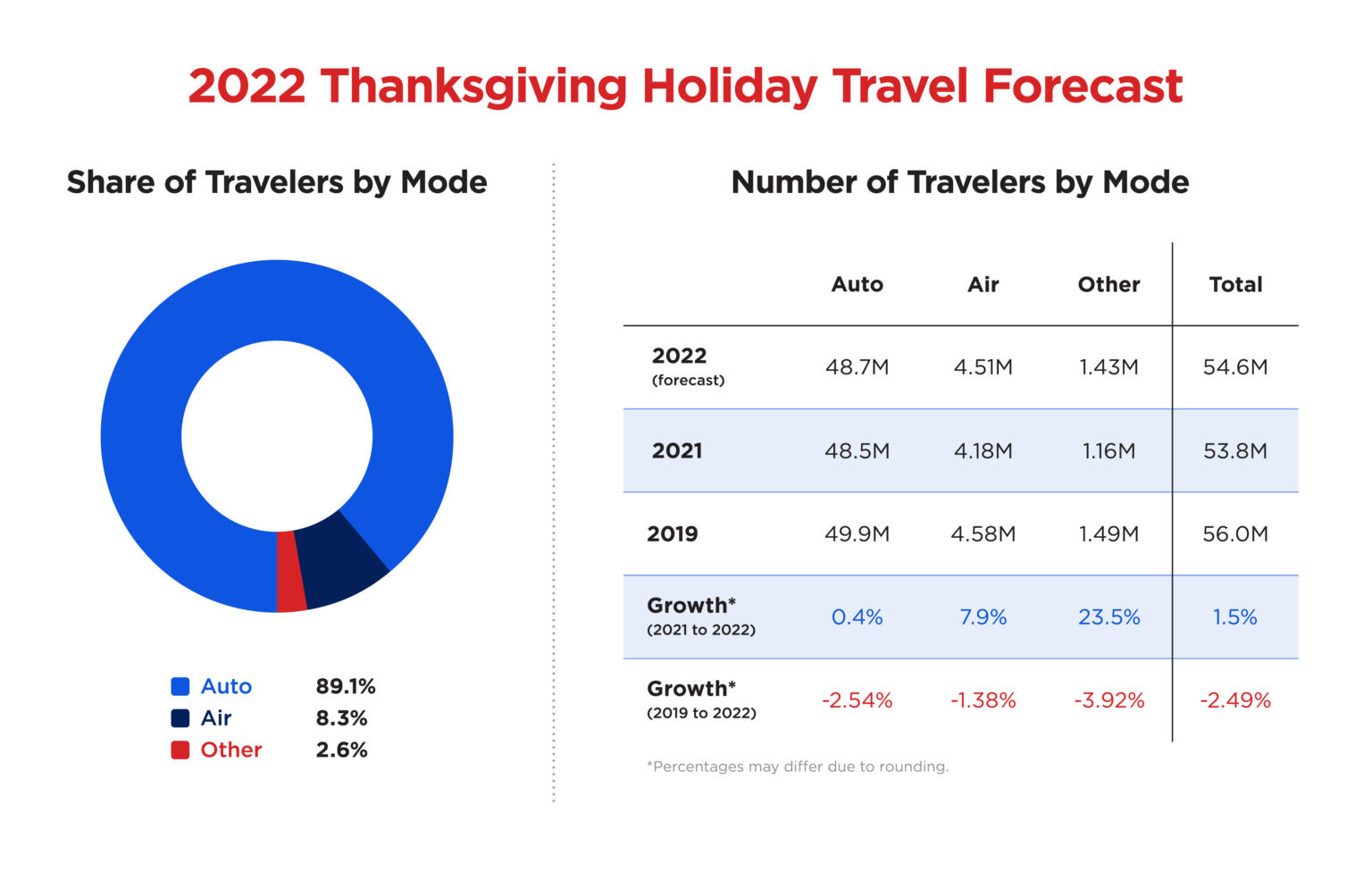 AN ESTIMATED 54.6 million people will travel 50 miles or more from home this Thanksgiving, according to AAA Travel, 1.5 percent more than last year and 98 percent of pre-pandemic volumes. AAA is projecting this year will be the third busiest for Thanksgiving travel since AAA started tracking in 2000.
Continuing a years-long trend, most travelers, nearly 49 million, will drive to their holiday destinations between Nov. 23 to 27, according to AAA. That number is up 0.4 percent from 2021 but still 2.5 percent below 2019 levels.
"Families and friends are eager to spend time together this Thanksgiving, one of the busiest for travel in the past two decades," says Paula Twidale, AAA's Senior Vice President of Travel. "Plan ahead and pack your patience, whether you're driving or flying."
Air travel is projected to rise nearly 8 percent over 2021 with 4.5 million Americans flying to their Thanksgiving destinations this year, more than 330,000 more than last year and nearly 99 percent of the 2019 volume. More than 1.4 million travelers will travel by bus, train, or cruise ship, an increase of 23 percent from 2021 and 96 percent of the 2019 volume.
"With travel restrictions lifted and more people comfortable taking public transportation again, it's no surprise buses, trains, and cruises are coming back in a big way," Twidale said. "Regardless of the mode of transportation you have chosen, expect crowds during your trip and at your destination. If your schedule is flexible, consider off-peak travel times during the holiday rush."
The popularity of driving will also mean severe congestion in several U.S. metro areas, according to AAA, leading to more than double normal delays in some cases. Highways in and around Atlanta, Chicago, New York City, and Los Angeles will be the busiest.
"Thanksgiving is one of the busiest holidays for road trips, and this year will be no different," says Bob Pishue, transportation analyst for driving data and analytics firm INRIX. "Although travel times will peak on Wednesday afternoon nationally, travelers should expect much heavier than normal congestion throughout the holiday weekend. Knowing when and where congestion will build can help drivers avoid the stress of sitting in traffic."
U.S. hotels set records in performance during last year's Thanksgiving week, STR reported at that time. Occupancy was 53 percent for the week, which was an increase of 4.6 percent from the same Thanksgiving period two years before.