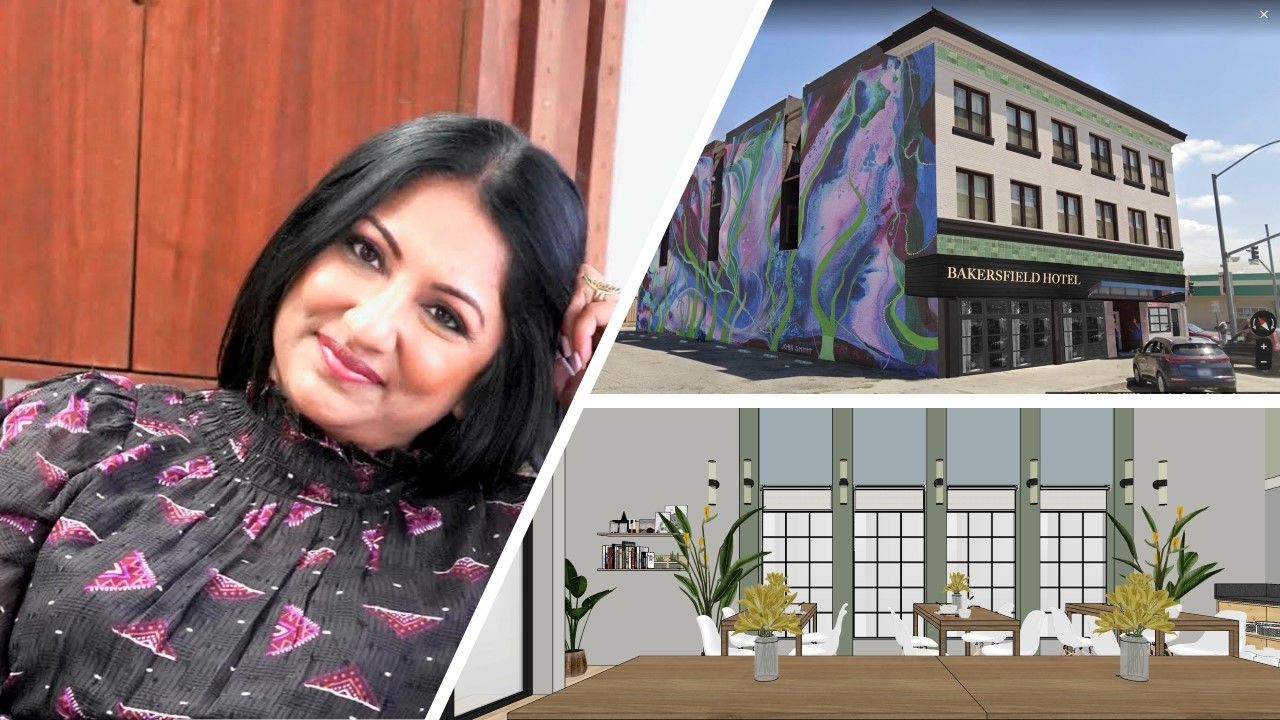 OWNERS OF ECONOMY brand hotels may not always think about improving the appeal of their properties, and up until now their options for interior design have been limited. Alpa Patel discovered those limitations and four years ago it inspired her to do something about it.
She has created a company, Spaceez, that offers affordable design work to those owners to give them the option of upgrading their hotels into boutiques, allowing them to charge higher rates accordingly. Her inspiration comes from her efforts to help improve her parents' Super 8 hotel where she grew up in Arlington, Texas.
"My dad was going to refresh the property because he hadn't touched it in a decade. I said Dad, do something nice with the lobby. He was just going to do the rooms," Patel said. "The lobbies, it's a public space and people come if it looks nice photographs, nice. You could charge higher rates."
She tried to find a designer for the job, but could not.
"I couldn't find an affordable designer that would want to take on a small lobby project for a Super Eight," she said. "Then I realized that half the hotels in America are economy and they don't have access to design. I found out that close to 450,000 hotels in America and around the world don't have access to design. I saw that as a big opportunity to use technology to do it in a scalable fashion and help these owners in my community."
She raised $150,000 from Lawrence Armstrong, the then CEO of design firm, Ware Malcomb and began Spaceez in 2018. Now, her mission is to help other economy hotel owners realize their properties' potential.
Realizing their potential
"[Some owners] have no idea how valuable their properties could be if they reposition them as boutique hotels, because people are dropping three to $500 on some locations," Patel said.
As an example, Patel points to two women she interviewed for a free lance article she wrote who owned a small hotel in a wine region near Toronto, Canada.
"They took a 16-room motel, open six months out of the year and they turned it, with a small budget, into this hip, cool little boutique hotel. And guess how much they charge, $350 a night," she said. "These girls have shown us that an old, dingy motel can be turned around and be selling for $400 a night with a two-night minimum in a nice leisure market."
It's particularly important to Patel that she bring her knowledge of design to the rest of the Asian American hotelier community.
"This community of Patel owners, they're all over the country, in good markets, not so good markets, great markets," she said. "The Gujarati community, they drag their feet when it comes to renovation, but [in one hotel] I put up $400 and refreshed the artwork, the amenities and the bed. And I was able to raise the rate 20 percent and spent $400 in the rooms."
Keeping it affordable
One key to Spaceez's success in that mission is to keep its work affordable. One way she does that is to keep her labor costs down.
"We have a team in India. We have a junior designer here who gets all the requirements, but all the actual design work happens in India," she said. "We train them to the U.S. standards, the U.S. requirements. We can make it affordable because with [design] firms here, you can't afford design for an economy motel. They won't even talk to you."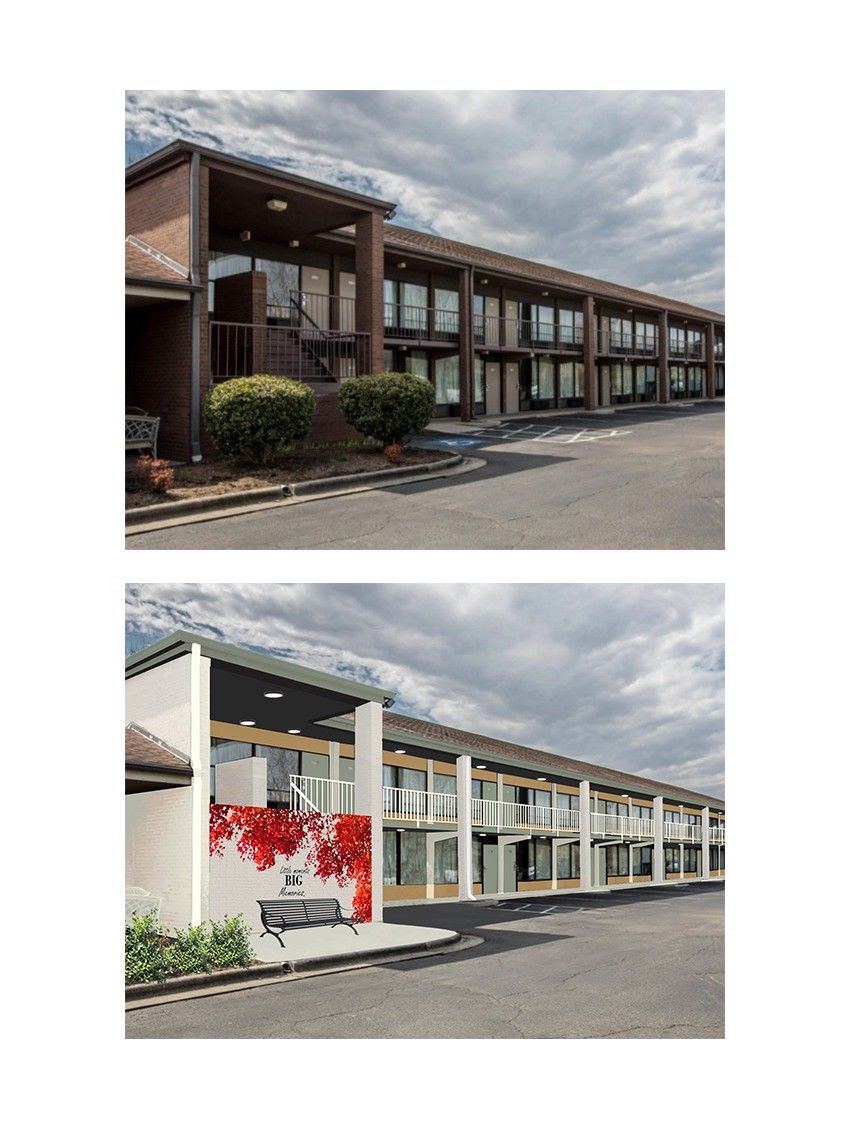 Patel said she has served more than 30 clients since founding Spaceez. Lately she has been providing complementary design renderings to attract new business. She's completed about 80 in the last two months, with 50 to 60 percent of the recipients engaging the company for more work. The complementary renderings can be requested on the Spaceez website.
"I'll give them the rendering and then the design for $1,200. It's a small bite of the apple. Improve the exterior and it makes a big impact, and you get excited, now you're going to do more," she said. "And you're going to grow the rates easily because when you have a nice looking property from the outside, and you take a picture and you put it online, people will go 'Oh, that's a cool mural. That's a hip cool place, we should go check it out."
Spaceez offers a set of standard designs or bespoke ideas, but Patel said her customers are happy with either.
"They love our prototype design because it's boutique. It's not cookie cutter. You change the colors, the finishes, the fabric, it's like a different room," she said. "See we don't make you buy the same artwork for every single hotel. If you're in the wine country, put wine inspired artwork. If you're in the national parks, put the mountain that inspired. If you're in coastal make it coastal inspired, but still within the brand guidelines. Everybody's trying to go more boutique now. Everybody's trying to push their soft brands now because that's what the market wants."
Her designs work with brand standards, Patel said, because the brands are more concerned with rooms and Spaceez designs are for common spaces. Also, large companies such as Sonesta, which now owns Red Lion Hotels, Wyndham Hotels & Resorts and Best Western are focusing on boutique soft brands.
"Brands love us," Patel said.
Bringing out the hidden boutique
Patel said the design she provides to each hotel depends on the property's surroundings, but there are some commonalities as well. For example, she focuses on making use of F&B options and elements such as outdoor firepits to create a space guests will enjoy.
"When we do the independents, we try to put in a lobby bar. Turn the registration counter into a little bar. And if it's a small lobby, just serve canned beer, and wine, or just sell beer and wine is a source of revenue," Patel said. "If you have a patio outside, you can put music out there and people will go hang out there and drink, maybe they can order Uber Eats."
Instead of coffee makers and microwaves in the rooms, Patel recommends just serving very good coffee in the lobby so guests can mingle. It's new ideas she offers, and they find more acceptance among the younger hotel owners.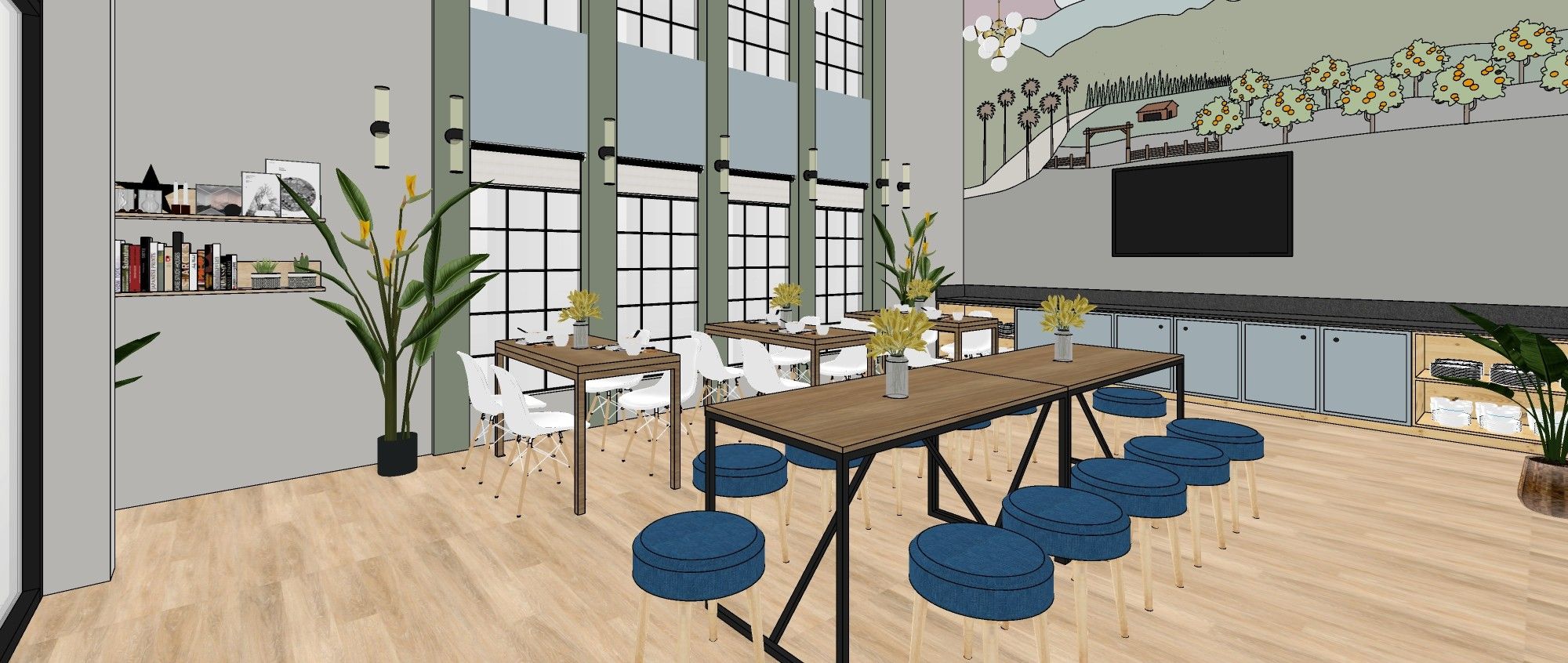 "My community needs some educating on how to do all of this stuff," she said. "The second-generation hoteliers are the ones that are coming to me."
For example, recently she received a call from an owner who was taking over his parents' hotel, a Days Inn, in Texas.
"The guy's like yeah, my parents are running it and I'm taking over but I don't want to run this Days Inn like this. I want it to be cool and nice and hip," she said. "I went there to help him get good ideas on the exterior. He has a massive, massive outdoor pool, patio area. So, I said put your money here and keep the Days Inn prototype, I'll still increase your rates. I'll give it a boutique look even with the Days Inn prototype room package."
Finding the beach element
Another one of Spaceez's customers, Hiren Patel in Belmont Shore, California, brought an extensive project to the company two years ago. He needed to breathe new life into his independent property, the Belmont Shore Inn.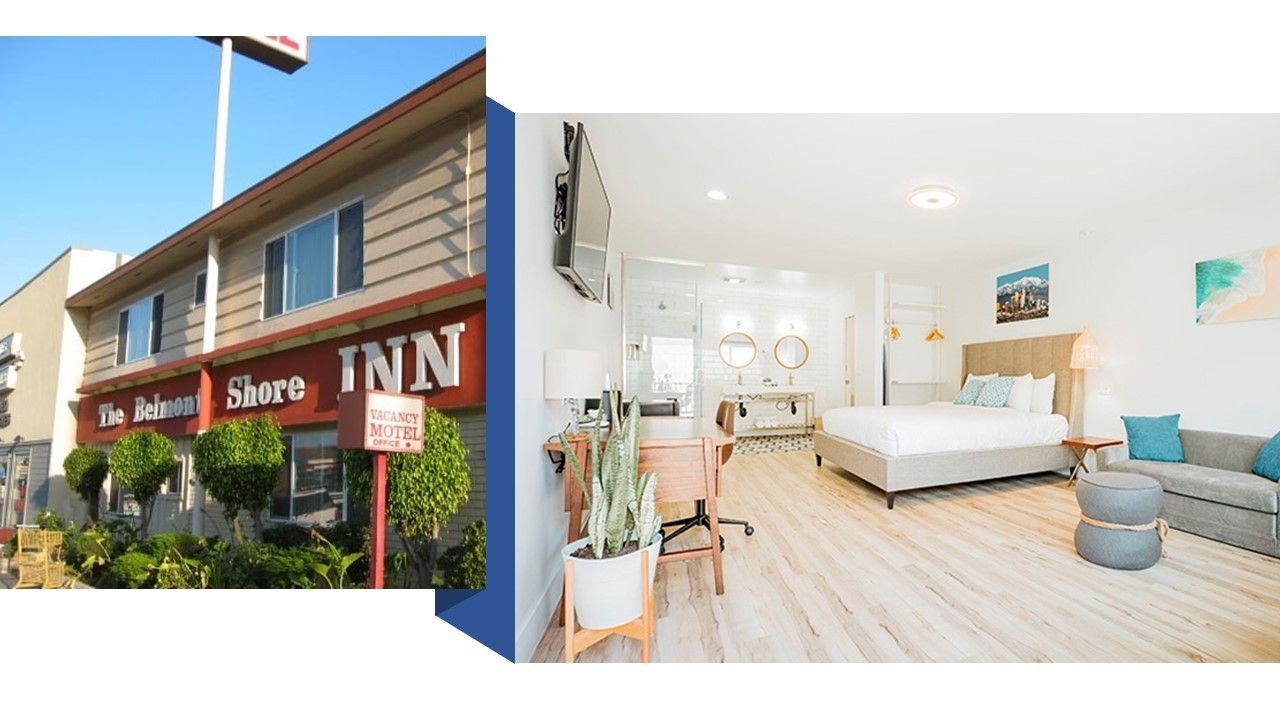 "When we took over the hotel, it was really rundown. We tried to run the place as is, in the condition that we got it, but it was too bad for us to run the way we wanted," Hiren said. "We had a vision to remodel it, but we didn't have a direction on how to proceed and how to incorporate the beach elements in the hotel. Then I got in contact with Alpa and then she found a designer to match the location."
Now the work is mostly done at the 14-room hotel near Long Beach using a designer from Malibu. Some outdoor elements remain, Hiren said, such as a gate for security reasons.
"I think we came out with flying colors. The numbers that we saw were very good. And we almost tripled our business," Hiren said. "Even during the pandemic we still did 50 percent occupancy."
Operating from a place of abundance
March is Women's History Month, and Alpa said women in the hospitality industry, such as her, offer a unique perspective to the male dominated business. As an example, she pointed to her participation in a business accelerator program sponsored by a larger design firm, AvroKO, that was organized by one of the company's founding partners, Kristina O'Neal.
"Can you imagine, a design firm taking another design firm in," Alpa said. "This woman didn't see me as a competitor because we operate from a place of abundance. There's plenty to go around. We don't have to operate from scarcity. And women can more easily tap into that, I think."
Women are definitely making major strides and making the industry better, she said.
"But maybe 10 percent or less ownership of hotels is by women," she said. "We need a big push for women to go into ownership."