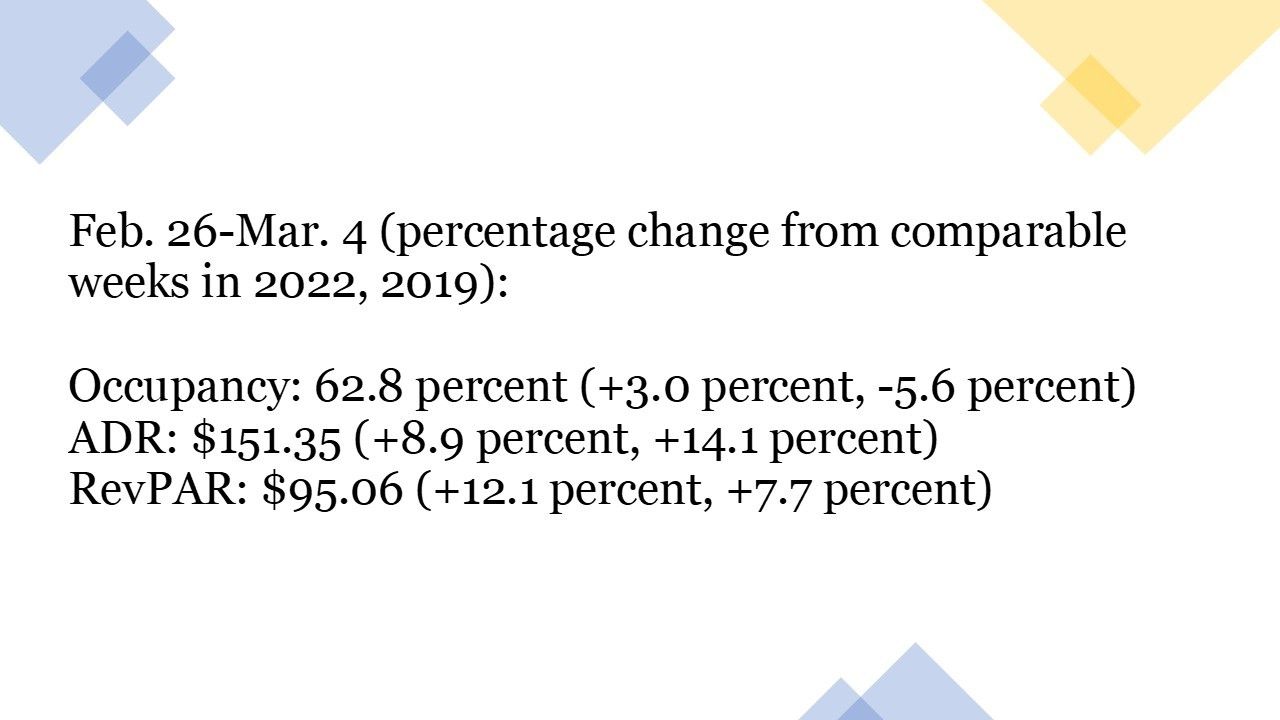 U.S. HOTEL OCCUPANCY was down in first week of March week-over-week, according to STR. All metrics were higher than comparable time periods in the last two years.
Occupancy stood at 62.8 percent for the week ending March 4, down from 64.2 percent the week before, 3 percent more than the comparable week in 2022 and 5.6 percent below the comparable week in 2019. ADR stood at $151.35 for, up from $156.51 the previous week and also up 8.9 percent and 14.1 percent over the same month in 2022 and 2019, respectively. RevPAR was reported at $95.06, down from $100.43 the previous week, and up 12.1 percent and 7.7 percent increase over the same month in 2022 and 2019.
Among the Top 25 Markets, Detroit saw the highest occupancy increase over 2019, up 5 percent to 63.2 percent, while Washington, D.C., was up the most from last year, an increase of 23.6 percent to 64.1 percent. D.C. also reported the most substantial year-over-year RevPAR growth, up 52.2 percent to $113.56.
Las Vegas reported the highest ADR increase at $196.65 when measuring against 2019, up 56.8 percent and an increase of 33.7 percent in 2022. Las Vegas also saw the largest jump in RevPAR over 2019, up 54.3 percent to $153.55.
The steepest RevPAR declines from 2019 were seen in San Francisco, which dropped 51.4 percent to $117.39 and New Orleans, down 9.4 percent to $122.95. Year-over-year, Miami, which was down 4.2 percent to $225.72, was the only Top 25 Market to report a RevPAR decrease.