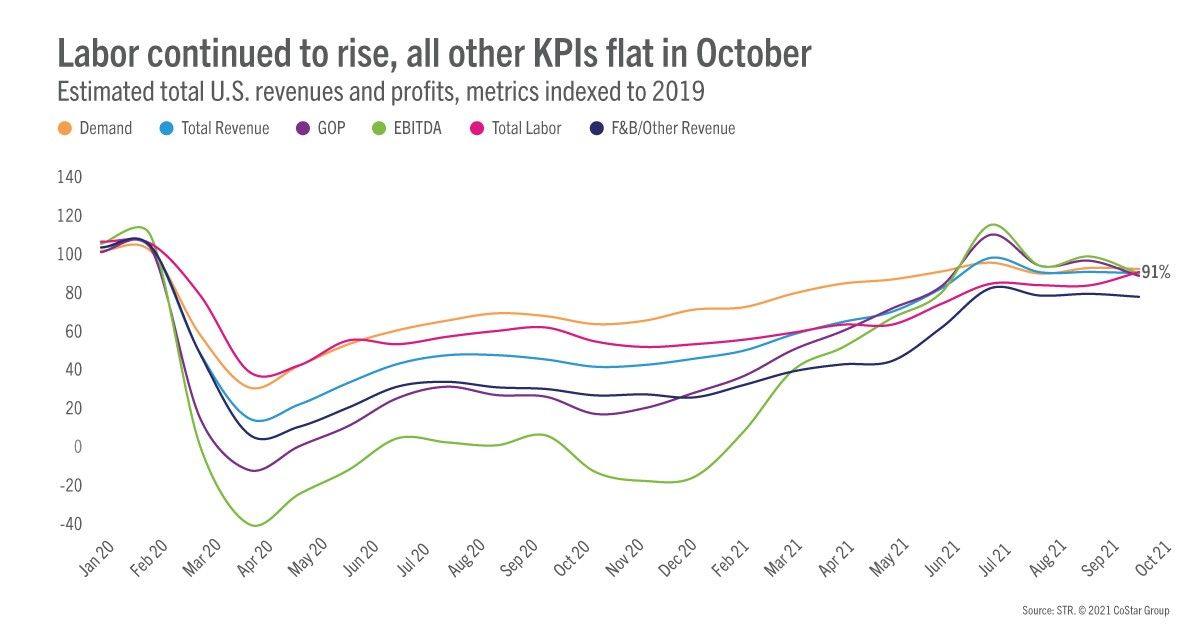 PROFITS ROSE IN October for U.S. hotels on a month-to-month basis, according to STR. However, the numbers are still down versus 2019, indicating a bump in the road to recovery.
GOPPAR for the month was $62.75, according to STR's monthly P&L data release, up from $46.29 in September. TRevPAR for the month was $165.03, compared to $140.94 the month before, and EBITDA PAR was $44.14, up from $30.47 in September. At the same time, labor costs also rose from $47.50 the previous month to $52.17 in October.
Estimated industrywide gross operating profit was 89 percent of October 2019 levels, after coming in at 97 percent in September. Labor costs reached 91 percent of pre-pandemic comparables in October after reaching a high of 96 percent in September.
"October data was important to analyze from multiple angles," said Raquel Ortiz, STR's assistant director of financial performance. "The metrics were up quite a bit from September if you measure by available rooms, but that's to be expected as October is usually a stronger revenue month due to conferences and group travel. When you extrapolate and bring in the comparison to pre-pandemic times, performance was lower. Fortunately, even with less corporate business this year, profit margins (38 percent) still came relatively close to what we saw in 2019 (40.9 percent)."
Miami hotels in October saw their year-to-date GOPPAR level exceed 2019 levels. San Francisco moved into positive GOPPAR territory when averaging the first 10 months of the year.
HotStats recently reported that concerns over the omicron COVID-19 variant could derail the hotel industry's fledgling recovery if countries like the U.S. move forward to tighten testing policies.
Overall, though the U.S. cost base overall remains stunted, revenue continues to lag 2019 levels, according to HotStats, with TRevPAR down 30 percent in October versus the same month in 2019. At $68.97, GOPPAR was down 37 percent in the month versus its 2019 level.