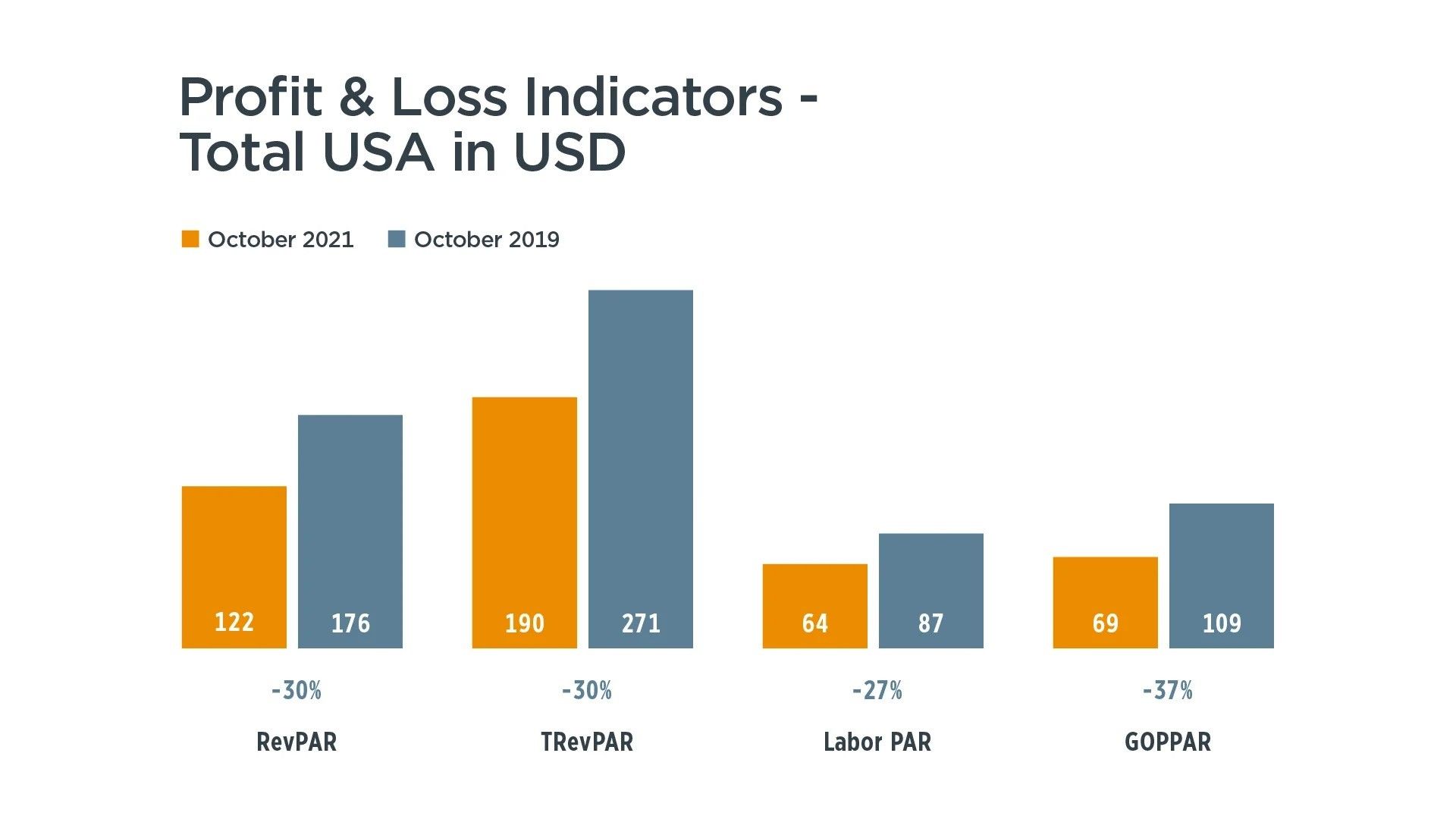 THE OMICRON COVID-19 variant could derail the hotel industry's fledgling recovery if countries like the U.S. move forward to tighten testing policies, according to HotStats. Future hotel bookings, meetings and other hotel-related activity will be impacted by the expectation of travel impediments, whether self-imposed, company-imposed or government-mandated, it added.
In the U.S., major indices were still down double digits in October 2021 compared to same month two years ago, according to a blog post by HotStats.
"Since a rapid uptick in occupancy from the beginning of the year through the summer, hitting an apex in July, occupancy in the U.S. has since more or less flatlined, a signal that the leisure boom could not be sustained at the same levels prior," said HotStats.  "Though much maligned, there is propitious data surfacing in corporate travel. In October, corporate ADR was $7 higher than in October 2019 and $35 higher than in the previous month. Corporate volume mix, defined as the proportion of rooms sold at the corporate rate compared to total rooms sold, has grown 6 percentage points since July."
Overall, though the U.S. cost base overall remains stunted, revenue continues to lag 2019 levels, with TRevPAR down 30 percent in October versus the same month in 2019. At $68.97, GOPPAR was down 37 percent in the month versus its 2019 level, it added.
"The problem for the travel industry is that the fear factor, whether science proves it to be justified or not, has returned almost overnight," said Gary Bowerman, director of travel and tourism research firm Check-in Asia.
Global recovery
RevPAR, TRevPAR and GOPPAR were off some 30 percent in October this year in Europe when compared the same month in 2019, the blog post said.
According to HotStats, the drop in performance metrics was made abundantly more difficult as the continent deals with a recent surge in COVID that is now being exacerbated by Omicron and prompting many countries to turn back to restrictions.
After Austria reinstituted a lockdown on November 22, it has extended it until December 11, becoming the first EU country to take such a measure in the face of the COVID-19 surge. Portugal also reintroduced tighter restrictions.
The October data, saw a resurgence in the Middle East, bolstered by Expo 2020 in Dubai, a 182-day World Expo that began at the beginning of October and runs through March, said HotStats. At $76, GOPPAR was 5 percent higher than at the same time in 2019 and a full 484 percent higher than in October 2020.
As Asia-Pacific continues to piece together its comeback, it, too, is tightening borders in response to the Omicron specter. GOPPAR in the region was recorded at $43 in October, down 38 percent when compared to the same month in 2019, but 126 percent higher than in September 2019, HotStats said.